Turning ten, The Mastersons are changing the way they do things. Wife and Husband, Eleanor Whitmore and Chris Masterson, came to the realisation that their music had to change when a moment of clarity hit them driving in the California sun.
"We were listening to the radio on a drive and a relatively new song came on about whiskey and it seemed so cliché," Eleanor recalls. "The Amazon was literally on fire at the time and it got us to thinking about what we didn't want to sing about and what we wanted to say on this record."
Eleanor and Chris perform in the country-rock duo The Mastersons, an outfit they've toured with for over a decade. Now, in the age of total power presidents and accelerating global warming, they've decided to wade in and release No Time For Love Songs, a diatribe against our current sociopolitical malaise.
No Time… more than a zeitgeist record, however. Eleanor and Chris have distilled into little over forty minutes a general feeling of detachment from modern times – from our acts and their consequences – and a perspective of justice that the world lacks at the moment – what with the Orange man and the blonde man doing their bidding.
"When we saw Brexit happen, we realized what fear and Nationalism can do, and what would probably happen in our own election. Artists have been responding to these types of things for centuries. You can hear the Gestapo knocking on the door in Shostakovich's string quartets. [But,] when we see an injustice in the world or feel passionate about something, we can channel that energy and hopefully connect with people about it through our music."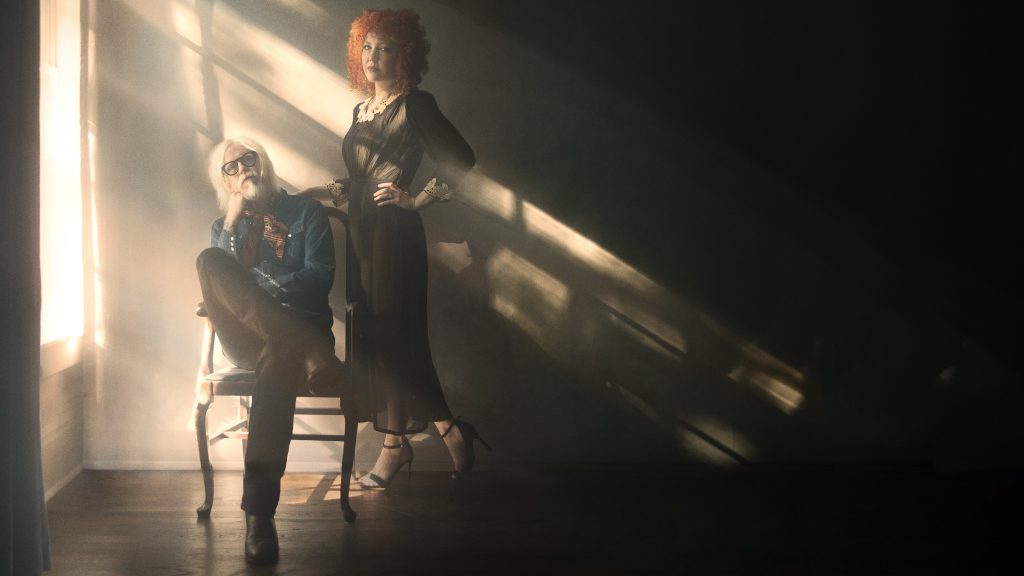 They convey their message in a blunt-but-powerful black-or-white way. On the album's title track, Chris summarises with a red hot poker: "There's no time for love songs, polar bears are drowning in the sea," a stark reminded that whilst artist's wallow in their genre conventions, writing about boot-spurred heroes and linen-dressed damsels, issues more important are playing out across the globe.
"Lyrics don't tend to stick with me unless they stand out. A lot of music these days sounds like wallpaper and I'm not really sure what people are trying to say. We [write buntly] on purpose. We hope that people feel less alone and hopeful through difficult times."
"Part of the challenge in songwriting is to be able to write about things that have already been written about over and over and somehow be able to make it new and interesting. The irony is that 'No Time For Love Songs' is a love song, and ultimately spells out what we are calling for, which is a little more love and empathy in this world."
Both members of Steve Earle's band The Dukes, Eleanor and Chris have spent their fair share of time studying how the industry and society has changed around them. They've travelled from one side of the country to the other and back again, meeting people, playing to people and generally absorbing what's going on around America. Most importantly in that time however, they've seen how The Mastersons as a band and a collaborative partnership has adapted and evolved.
"We've become better editors and not all of the songs we write get recorded. We find inspiration in everyday events and in the people we meet and get to know and love. If anything, we're just a little older and try to find gratitude in what we have because it can all end in an Instant."
Now ten years into the band, Chris and Eleanor are as creatively engaged as ever, an aspect they put down to something that not many others can fall back on: their marriage. "Proximity plays a large role in this," Eleanor tells me. "We're virtually inseparable so one of us is always walking in the room when the other is working on something so collaboration is inevitable!"
I recently spoke to Alaina Moore, one half of another married band called Tennis. Alaina recalled a similar scenario where the energy her and her partner share as a couple drives them together in their songwriting – check out that interview in Volume 7 HERE.
No Time For Love Songs was recorded at Sunset Sound in LA. The studio was famously created by Walt Disney's Director of Recording Tutti Camarata, at the encouragement of Mr Disney himself: legends Elton John, Janis Joplin, The Doors, the list goes on, have worked there.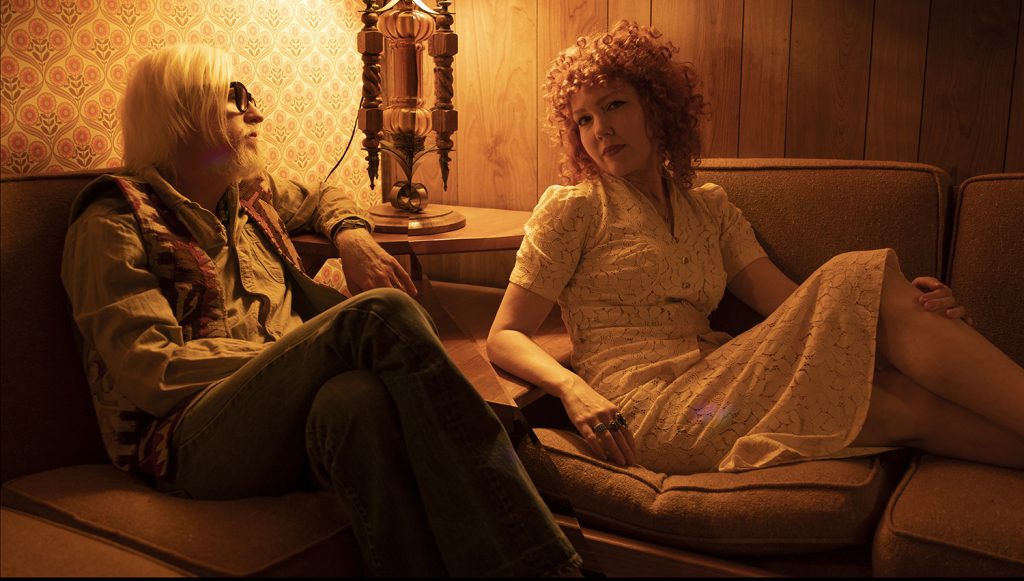 "We tracked with the band for 5 days at Sunset Sound with Grammy-winning producer Shooter Jennings on piano, Mark Stepro (drums and vocals), Tyler Chester (keys and bass), Bonnie Whitmore (bass and vocals) and 5 times Grammy Award-winning engineer Ryan Freeland. Each day we would gather around the piano with Shooter and work out the arrangement while Ryan would get us set up to record. "
With limited time in such a sacred space, Chris and Eleanor honed in on their work: "We averaged around two tracks in an 8-9 hour day. We have a pretty serious recording rig at home for overdubs and brought in Ainjel Emme to engineer the rest of the strings and vocals at the house. Our friend Aaron Lee Tasjan happened to be through town so we were able to get him in to sing on a few tracks." Only in LA could you record a string section in your front room…
Cutting tracks on Sunset Boulevard is most artist's dream. The place is practically the garden of eden for budding musicians and music lovers. You've got the Whiskey A Go Go down the road, Ameoba Records to look around on your lunch break, The Chateau Marmont to stay at on a night and the Roxy Theater to see a gig at. If you wanted to, you could literally hop from one monolith of music history to another without ever leaving one road.
There's nowhere like La La Land and Eleanor and Chris agree. Southern California offered them a special aura during the writing and recording process, making its way into the grooves of nearly every cut off the new album.
"There's definitely something to be said for the laid back and optimistic vibe of the West Coast. Musically we gravitate in this direction whether it's a Rickenbaker or Fender guitar or the Laurel Canyon vibe of the 60s and 70s and The Byrds.
"I dropped out of High School and moved to LA when I was 17. Though I've moved around a lot I've always felt a pull towards the West," Chris tells me before Eleanor recalls her upbringing: "I spent summers visiting my grandmother in Santa Barbara, and attended a summer program at UCLA (Henri Mancini Institute) that focused on jazz orchestra and movie scores. There's a vast array of music being made out here and it's always been a magnet for me.
"California is also one of the most progressive states and largest economies in the union, so there's optimism to be found there too when we think about how to face some of the world's problems."
In true country fashion, however, the band haven't forgotten their roots. Despite Chris being born in Raceland, LA, he actually grew up in Houston, Texas, and, Eleanor comes from Denton, also in Texas. The pair even spent some time in the early days cutting their craft in Brooklyn, New York City before finally settling in the sunshine state.
Their home of Texas is nevertheless something they've always taken with them. "Chris and I are both from the south, so although we may be anglophiles, there will always be something southern to what we do," Eleanor assures me.
The years The Mastersons spent city hopping from south to east to west, has created what many describe as an 'alternative' style to their music. Chris and Eleanor have always taken aspects of country and country-rock and pushed it, moulded and bent it into something different, something new.
The Mastersons are following in the footsteps – though perhaps tiptoeing rather than stomping – of artists like Orville Peck and Lil Nas X in this respect. They're creating their own unique amalgamation of genre and style that steps away from 'traditional country'; something that has historically been riddled with misogyny and racist tropes.
"We always have a lot of fun taking pop songs and spinning southern elements and turning our more traditional songs on their ear. The best someone playing this type of music can hope for is to take something familiar and make it feel new again. "
You can listen to The Mastersons on Spotify and Apple Music. Get the latest edition of our print magazine featuring cover star Soccer Mommy, grammy-nominated Black Pumas, Alfie Templeman and more HERE.
Get tickets for The Rodeo's first live show in May featuring Tiña, SKIA and Darcie HERE.