It's hard to do anything really well at the first time of asking. Sky diving, bobsled, curling, fine art. Yet, April, the new kid on the block from Ireland, has absolutely smashed her debut single. 'The Impossible Task of Feeling Complete' is brilliant, bloody brilliant. And so, as we enter March, we had a chat with April.
Could you tell us a little bit about what it was like growing up in Kildare. Were you around much traditional Irish music or did you have a more diverse musical upbringing for example?
Growing up in Kildare was a little bit boring for me, I always wanted to be living in a city or something. I was never really around much traditional Irish music, but my dad played music growing up and I was surrounded by that.
You said that the first song you wrote was about anti-bullying, was music a safe space for you to express yourself when you were growing up?
Yes & no. Music has always felt safe to me, it never felt like anything crazy deep but it was just always second nature, like, I can't imagine anything else. But, when I used to write songs and share them, people would slag me like any teenager that does something a little different. Also, I feel like where I grew up was a very close-minded area – not a lot of people [were] expressing themselves.
How did you go from Elvis and a Johnny Cash covers band to 'The Impossible Task Of Feeling Complete'? It's quite a transformation.
I occasionally sang with my Dad in his Johnny cash band. I don't think that shaped who I am musically much, but yeah, I did grow up listening to Elvis! I guess like everyone else, when we grow up we're listening to different artists all the time, so I feel a lot of different inspirations and artists are in my songs when I write them.
Do you think there are any aspects of that kind of music that you bring to your writing today?
I love the classic melodies of Elvis songs and ballads and stuff. Johnny Cash's lyrics are insane, I love that he tells stories and I do definitely get inspired from that kinda stuff.
You've said that the song is about not feeling yourself. What things make you feel like yourself?
Uhhh difficult question! Sometimes I don't feel like myself, I guess being with my friends? Being with people I love, like-minded people with a lot of passion. Painting, making videos and films, cooking a good dinner 🙂 Pushing yourself to do simple things is always nice and makes me feel like myself.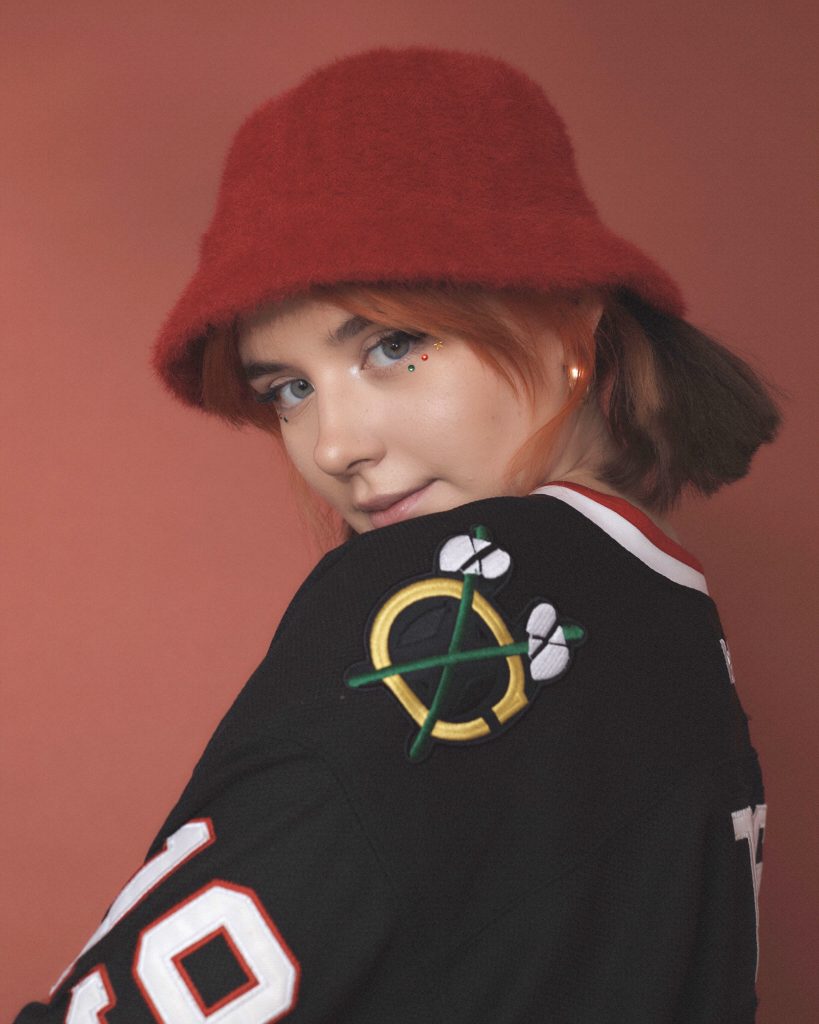 Though you've only released one single so far, your writing has the kind of maturity you'd expect from someone well-established in the biz. Where do you think that comes from?
Constantly writing songs I guess. I feel like it's nice to remind people that just because some songs you hear from artists are incredible, that doesn't mean they haven't written 100 songs that are shit to get there. I write lyrics every day and some of them are just nonsense hahaha.
We've caught you right at the beginning of your career. Did you ever see yourself doing what you are doing now? Was it always something you wanted to do?
I've always wanted to do music since I was a kid, but there were a few years there when I was a very confused teenager trying to figure out my career path and college, and I feel like I forgot about music for a while in school. It was when I started art college, when I was there I was very inspired again. I feel so lucky to be doing what I'm doing right now.
It's all come on quickly since your SoundCloud days, is it weird to think that's behind you?
Honestly, I haven't thought about that. I find it weird to think of myself in an official artist kinda way. It feels very weird because this has been a personal hobby coming from my bedroom for so long. I'll probably keep posting stuff on SoundCloud though…
Having released a single, and got some rave reviews I might add, is it now a matter of taking every step as it comes?
I'm just riding the wave, this is all insane and so new to me and crazy, so literally whatever comes my way I'm happy and excited with. I'm constantly writing and working with people for future music, and I have my first EP finished and ready to be announced soon!
What're your plans looking forward?
I plan on finally having my first headline show, I wanna play festivals, I wanna work with other artists – that's a huge goal for me – and my EP should be out in April – very fitting I know – so I'm very excited.
Listen to April on Spotify and Apple Music. Get the latest edition of our print magazine featuring cover star Soccer Mommy, grammy-nominated Black Pumas, Alfie Templeman and more HERE.
Get tickets for The Rodeo's first live show in May featuring Tiña, SKIA and Darcie HERE.