Two months late, but well worth the wait. That's How Rumors Get Started is finally here.
I've spent the last few months exploring 'punktry'. Even wrote a full article on the founder of 'punktry': Rosanne Cash (which you can read here). 
An outspoken genre, it was pioneered in the '60s and '70s by women with something to say. Combining the storytelling style of country music with the angsty arrogance of punk, the songs are purposeful and confident.
Since her critically acclaimed debut album, Midwest Farmer's Daughter, Margo Price has embodied the 'punktry' attitude pioneered by Rosanne Cash, Emmylou Harris and Bobbie Gentry – three names Margo is delighted to discuss, particularly the latter.
"I think [Bobbie Gentry is] one of the most underrated writers of our time," Margo states. "She's such a mysterious figure. She's completely disappeared, nobody knows where she is and she doesn't do any interviews. People have done tribute records to her, she's had roads named after and she never comes out.
"Everything that happened to her in the music business is really unfortunate because she produced a lot of her own work, she didn't get credit for it and people didn't understand what she was trying to do. She just embodies everything: it's country, it's soul, it's rock'n'roll, she's just incredible."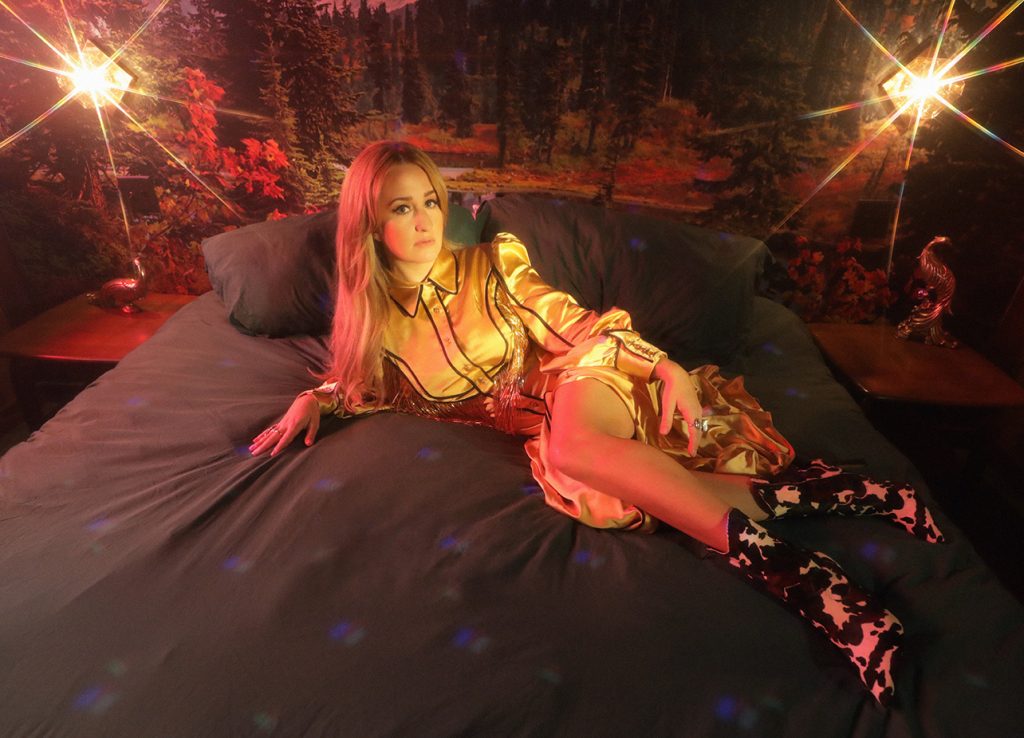 Bobbie Gentry's eclectic sound embodies this 'punktry' attitude. She wrote about topics considered taboo at the time – lust, sex and love – but she wrote about them in subversive ways, and always ensured to make a point with her music.
From the beginning, Margo has made a point with her music too. Writing with honesty, emotion and angst, she's keen to use her platform to make a difference, just like many of her musical heroes did.
"Johnny Cash did that whole concept album, Bitter Tears, about the struggle of Native Americans," she explains. "I've always been really into people like Joan Baez and Neil Young, people who really had something to say. That's not to say every song or album has to be political, it's just important to write about what you see and what's going on in the world… And there's a lot going on right now."
Margo's right, there is a lot going on right now. Since the killing of George Floyd, civil unrest has broken out across the world. Protests are happening weekly, Premier League footballers are taking a knee before every match and many musicians are using this time away from touring to educate themselves and join the fight against racism.
I would lose racist white fans any day if it meant speaking up for my black friends.
"There's a lot of misconceptions about where country music came from: it was derivative of the blues and black music – the banjo was from Africa. It's been whitewashed and made into this organisation that feels very elitist, sexist and racist. I hope that there will be change not only in the way they treat women but the lack of inclusiveness too. They really need to do better, it's embarrassing."
Margo is using her platform to raise the voices of her black peers, something country radio stations need to do more of themselves, Margo states. A few weeks ago, she gave Adia Victoria access to her Instagram, giving Adia a larger platform to speak to.
"I've seen a lot of women doing that and we really should be lifting the voices of black women. I've known Adia for a long time, I respect her songs and her voice and what she has to say so I thought 'Why don't I give her my platform?'.
"People were super receptive, super nice and she's gained a lot of fans. That was really cool and hopefully it opened some eyes. We can't remain silent any longer. I would lose racist white fans any day if it meant speaking up for my black friends."
These global issues, alongside problems in Margo's personal life (her husband and bandmate has been in a long and intense battle with COVID-19) forced the release of her third studio album, That's How Rumors Get Started, to be pushed back. Initially set for release in May, Margo's itching to put it out into the world: "I cannot wait [to release it]. It feels like an eternity."
Margo seems relaxed, despite the stress she's undoubtedly been under. Working from home, she's often interrupted by her children and our interview is no different, Margo whispering "I'm on the phone" to her youngster before laughing, apologising and expressing her jealousy towards my lack of children.
I miss being on the road as that's been such a huge part of my life. I feel like I've been running for 17 years… Maybe longer.
"It's a lot of chaos. It's great that I'm home more to spend more time with the kids, and we've definitely grown really close as a family but it's hard to separate things. If I'm home with them I feel guilty if I try to do everything. It'll be eight or nine o'clock at night, I'll have got the kids to bed and I'm like 'I should have probably answered these emails but right now I'm really tired and I want to watch Netflix'," she laughs.
Margo is trying to remain positive about the situation. After living life on the road, this static state is unfamiliar territory.
"It's a forced vacation, that's not a vacation," she describes. "I feel the restlessness and the urge to take a roadtrip. I miss [being on the road] as that's been such a huge part of my life. I feel like I've been running for 17 years… Maybe longer."
Being on the road is a big part of any artist's life, and many cite gigging as the highlight. So, to ease the pain of having no gigs to play or attend, Margo released Perfectly Imperfect At The Ryman a few months ago: "[Releasing it] at this time where nobody can play live shows, it's kind of bittersweet," Margo comments.
The show featured many special guests, including Sturgill Simpson, Jack White and Emmylou Harris.
"[Emmylou] is the queen of the Ryman: she's guested with so many people over the years. I just love her album, Live at The Ryman with Emmylou and The Nash Ramblers, I've listened to that and covered so many of the songs from that. It was surreal.
"I used to bartend at Layla's, The Bluegrass Inn which is right next to The Ryman. I'd take the trash out, look up at the back steps of The Ryman and think, 'I'm gonna play there someday'."
Perfectly Imperfect… shows off Margo's eclectic sound – the Nashville Friends Gospel choir joined her at the Ryman, meaning many of the songs have a soul feel.
"For so long people have only classified me as country but if they come to a show they're going to hear a lot more than one genre. I think even on the records, there's more than country, but it's easier for people to classify things if they think they can put it into a category," she laughs.
The new album is Margo's most eclectic yet. Grounded in country songwriting values, That's How Rumors Get Started flickers between rock stompers ('Twinkle Twinkle'), heart wrenching ballads ('What Happened to Our Love?') and disco-flecked pop numbers – 'Heartless Mind' reminiscent of Blondie. 
For so long people have only classified me as country but if they come to a show they're going to hear a lot more than one genre.
Margo's eclectic sound is another example of her 'punktry' attitude. She manipulates country traditions, adding in drops of other genres, refusing to stick to one sound or style.
This goes for her lyrics too. On That's How Rumors Get Started, she switches between first person narratives, third person observations and poetic fiction, making it a mature, complex, assured release.
"The first album was a concept record about my life. The second album was more an expression about the state of our country and this album is just more a landscape of humanity. I still can't help but write things that are personal, but there's more poetic license and more fiction [on this album]."
There's still several personal numbers ('I sacrificed my unborn child to the heavens up above', she sings on the powerful 'Prisoner of the Highway', an organ-driven song about life on the road and the sacrifices she made). But, while her debut was completely autobiographical, Margo's now writing from other people's point of view ('What Happened To Our Love?' tells the story of a breakup) and about the world around her ('Letting Me Down' is an isolation anthem, Margo wailing 'Everybody's lonely / Oh babe just look around' in the chorus). 
'Letting Me Down' embodies the lockdown experience, from its lyrics, to the music video. Originally, Margo and her team had a grand plan to shoot the video in L.A. – "It was going to be based on the storyline of these teenage runaways trying to get out of this small town, going on the run, Bonnie and Clyde style."
But, as this became unattainable, Margo came up with a new idea.
"We built a set in my home, then we filmed the second half of it in an abandoned mental institution – that was one of the coolest experiences I've ever had. 
"I hiked out there with the director and her boyfriend who was shooting, my sister came and quarantined with us. The four of us trespassed on federal property, hiked through two miles of really thick woods and thorns and then we had to climb under a fence with all these heavy backpacks with equipment. They had people patrolling the area, and the guy that led us out there was like 'We could get arrested I just want you guys to know' and I was like 'Bring it on. I've got nothing to do!' so that was quite the experience, it's something I'll never forget." 
This tale shows the outlaw, 'punktry' attitude that's been present in Margo's music since the beginning.
It's taken longer than expected, but Margo Price's third album, That's How Rumors Get Started, is finally here. She's battled to get to this point, and waited longer than usual to put these songs out, but it was well worth the wait. 
A powerhouse voice in modern day country, Margo Price is embodying the 'punktry' attitude of her predecessors. The eclectic sound, ranging viewpoints and poignant messages means that, with this third album, Margo Price cements herself as one of the greats. 
Listen to 'That's How Rumors Get Started', the new album by Margo Price on Spotify and Apple Music. Like this? Why not try our print magazine, available here.