The Nude Party are back with LP2.
"Covid completely disrupted everything. We were smack in the middle of such a fun tour, playing the new Midnight Manor songs for the first time live," comments Patton Magee, The Nude Party's lead singer, reflecting on a stop-start year for the band. 
"[We were] feeling so good about our performances and each other, it really felt like things were getting into a special groove – then everything suddenly shut down," Patton continues. "All our shows for the year were cancelled and the album release was delayed. It felt like someone opened the airlock and let all the oxygen out of the room."
An optimistic band, The Nude Party didn't stay deflated for too long: "I can feel it starting to come back," Patton confirms ahead of the release of Midnight Manor, The Nude Party's second LP – the follow-up to their superb self-titled debut.
Cooped up in the hurricane of the USA, The Nude Party are raring for a return to normality: "We are lacing up our boots again. There was a lot of fear and confusion for a while, there still is… But, it's cooled down a little and everyone's adapted to it. We all took a lot of personal time for a few months, exploring other avenues of life (working part time, fishing, building a recording studio into our barn) but we are starting to get back into the saddle as the album release gets closer."
The Nude Party established a cult status with their 2016, self-titled debut, full of retro rock 'n' roll. The wailing caw of Patton Magee added a raw touch, but the group's togetherness, chemistry and camaraderie both on record and onstage was the key to their quick rise – a rare word-of-mouth, underground sensation in this viral day and age. 
Developing a strong fanbase of hipsters, ale-drinkers and nostalgia seekers, The Nude Party's unique enthusiasm, tongue-in-cheek writing style and vintage sound attracted a host of A-list admirers as well, something Patton reflects on positively.
"It just feels validating when someone you idolise notices you; Alex Turner gassed us up on a radio interview or two and it caused a lot of UK Arctic Monkeys fans to become aware of us. Every artist wants to be heard and seen. I'm proud of what we make and how we perform and I want people to see us. So, when musicians like Jack White and the Arctic Monkeys use their platform to publicly lift up lesser-known bands that they dig, it really means a lot – probably more than they realise."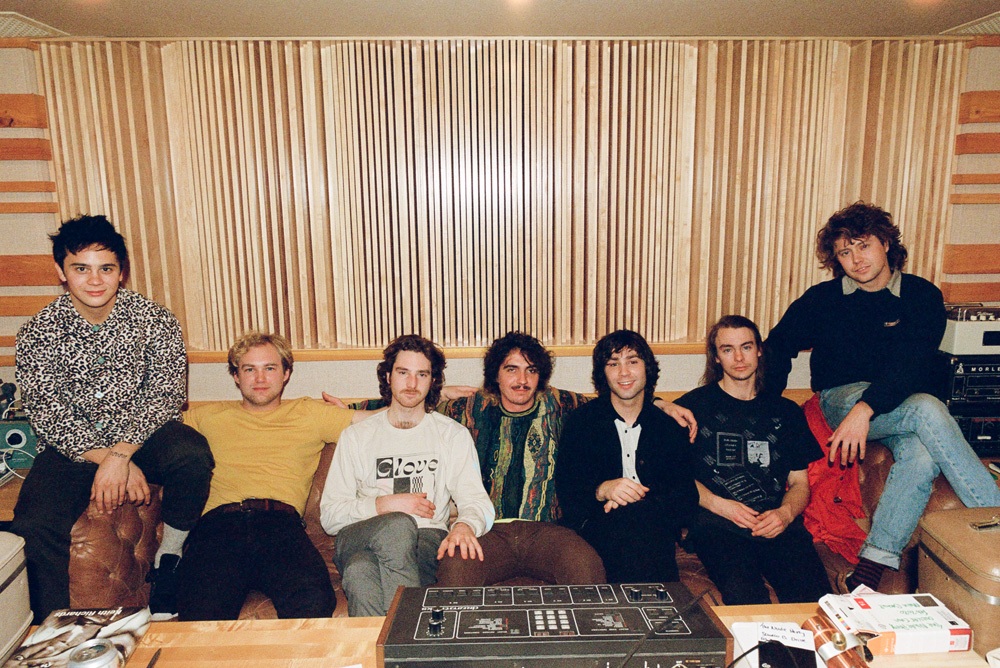 Arctic Monkeys and Jack White thought so highly of the band that they invited them on tour. These various support offers, coupled with festival appearances and headline shows meant the band had to wait a while to record Midnight Manor – "Good tour offers kept rolling in and we just couldn't turn them down. We got to tour Australia, the UK, Europe, Bonnarroo festival, Newport Folk Fest, All Points East and too many awesome shows to list."
A key part of their lives, life on the road naturally filtered into their songwriting: "You write what you know. A lot of life is spent on the road, playing music, so naturally that bubbles up in the songwriting."
Despite enjoying van life, The Nude Party finally decided to focus on their next chapter late last year: "At a certain point we just had to draw a hard line and get off the road and into the studio. By then it was a welcome change of pace."
So [when we come to record], the mind can step out of the room and just let the hands, lungs and feet play uninterrupted.
Swapping the spinning of their van's wheels for the spinning of the tape's reels, they finally parked up and settled in the studio, opting to record live-to-tape to maintain their signature retro sound: "The tape sounds naturally good. It's warm," Patton explains, detailing the process. "When you hit it hard with a signal it distorts with a special fuzzy crunch that I don't know how to get any other way – particularly on drums. It also forces an immediacy to each take; every sound is physically printed into the tape as you play."
Immediacy is key to Midnight Manor. The album opens with the rollicking, chaotic 'Lonely Heather' – it's in your face from the first second. A well-balanced, intentional and cohesive record, it nevertheless continues to put spontaneity first, as instruments and voices regularly pop their head round the door and offer something new to the conversation, including a bloody kazoo.
"We are fans of spontaneity in the early and middle stages of the writing process," Patton confirms. "There'll usually be a skeleton of a song worked out – the chord changes and maybe lyrics – then we'll jam the riffs repetitively as everyone figures their parts out and comes up with tweaks and changes. By the time we get into the studio, we usually have everything down. So [when we come to record], the mind can step out of the room and just let the hands, lungs and feet play uninterrupted.
"With six players, it's easy to get very 'busy' very quickly. Earlier on in our career, we would play straight through every song; EVERYONE hitting EVERY note, you know? But we're learning to layer ourselves in and out to create dynamics and hooks rather than full-band jam twenty-four-seven. I think 'Shine Your Light' and 'Nashville Record Company' are good examples of us ebbing and flowing with the feel of the song."
The Nude Party appreciate the art of restraint and release; getting the balance between the two is key to their sound: "Those full band loud parts are very fun live when you want to bring everyone up. In the studio I think the most powerful song parts are the quiet dynamic parts. 'Things Fall Apart' felt really amazing to record and sing."
'Things Fall Apart' is one of many 'love' songs on the album – Midnight Manor deals with the heartbreak various band member's have suffered over the past few years as long term relationships came to an end. Naturally, these important and prevalent life events filtered into Magees songwriting, but it isn't a sad or soppy record. No, as per usual, Patton writes acceptingly ('Things Fall Apart') and romantically ('Cure Is You').
"I'm a steady, rational-minded guy when giving advice to others but a bit of a blind romantic in my own life," Patton admits. "I tear up when anything remotely emotional happens in a movie. Love affects my mind very strongly for better and sometimes for worse… It can be hard for me to focus on anything else when I'm infatuated with somebody."
"It's like making shadow puppets. Playing with your hands and talking to yourself in the dark."
And, as a songwriter, Patton embraces his romantic side: "At the very least I always have something to sing about."
Patton's storytelling and clever way with words immerse you in his stories. It's never self-indulgent, or soppy; each song deals with that post-break-up lull in a clever and witty way. The anecdotal angle is key to the album, and central to Magee's songwriting.
"I like set up and conclusion. I like cleverness and turns of phrase […] There's never an intention to write a story into a song but you can feel it when a line wraps up the chorus into a nice neat ending. I tend to write and rewrite until I feel that satisfying *click*. Like a door closing all the way."
Despite the clearly personal nature of the record, the constant use of metaphor makes the songs seem like they're written in character. 'Pardon Me, Satan' seems to be sung from the perspective of an addict, while 'What's The Deal?' could be a rant from an eledery person fed up with today's youth. As a result, Midnight Manor can be analysed as a concept record – a large mansion housing a bunch of misfits fed up with the world, attempting to get by however they can. However, as I quickly discovered, the beauty of art is that you can misinterpret it all you like.
"I don't think it's a concept record," Patton counters. "It feels natural to layer hard feelings in metaphor. Rather than 'you cheated on me, get out of my house' it's 'take your silver and go, Judas'.
"It's like making shadow puppets. Playing with your hands and talking to yourself in the dark."
With plenty of time at home this year, I wouldn't be surprised if Patton meant this literally and had spent some of his nights making shadow puppets and talking to himself in the dark. Thankfully, for a few weeks at least, Patton and Co. will have a new album to distract them from the harsh realities of life.
"We're just trying to enjoy the little things and hope the world opens back up soon."
Listen to The Nude Party on Spotify and Apple Music. Like this? Why not try our print mag featuring Declan McKenna, Shame, Whitney and more. Available HERE.