Hanna Elion and JJ Mitchell from Overcoats are on two separate screens when they join our Zoom call – "it would take an hour for [Hanna] to get from her house to mine on public transportation," JJ mentions later on – but they seem just as connected as ever. They take it in turns to answer my questions and occasionally consult each other for clarification, having become well versed in video-call etiquette after a year of working remotely.
"It's been kind of nice to have the space to sit with ideas for longer," JJ says. "Having things in your inbox to work on when you feel inspired has meant that we are able to take more care with things than we ordinarily might have. The pandemic has shown us that we can write in a number of different ways."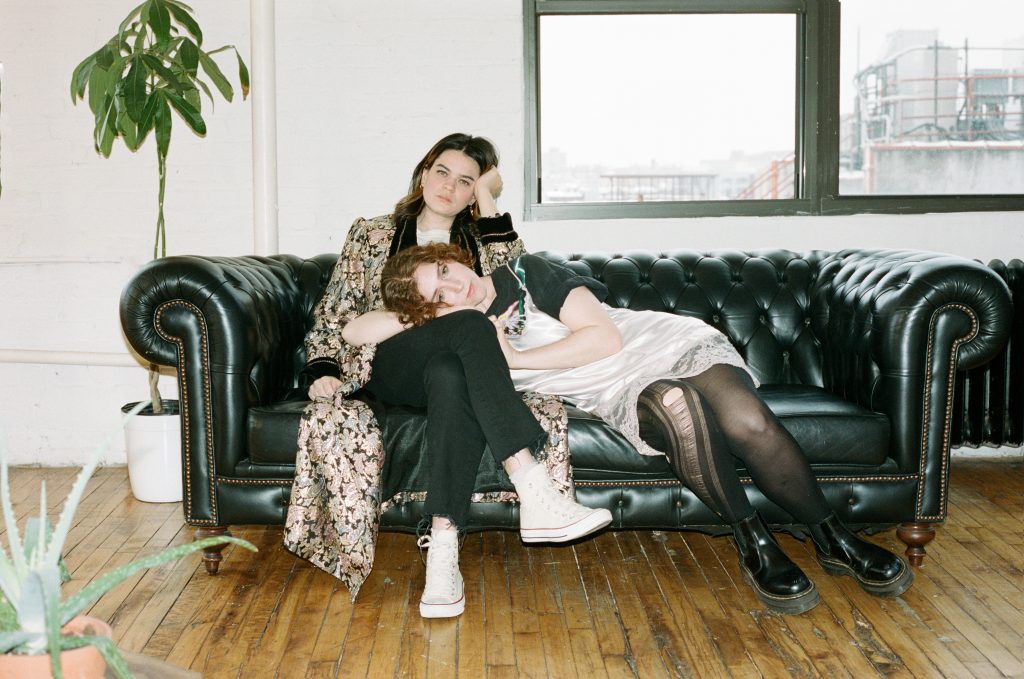 In the amount that they've achieved since last year, Overcoats has definitely proved their ability to collaborate from a distance. Between the full-length release of The Fight in March 2020, Used to Be Scared of The Dark this June, and remaining as active as possible across social media, the band seemed to thrive in a mid-COVID world.
"There were definitely periods of no writing and just having to live in the world, experiencing what was happening," Hanna explains. "Then there were other periods where it was easier to reflect. I think making music is very much like a healing process for us, so we wanted to be doing it as much as possible. It felt natural to keep going."
If anything, the pandemic has given them opportunities to take paths they've never been able to experiment with before. Three out of the four songs on Used to Be Scared of The Dark are collaborations with the varied sounds of Tennis, Middle Kids and Lawrence Rothman. Hanna describes an EP as an opportunity to experiment without the pressures of a full-length album, and how it all felt like the perfect time for collaborations.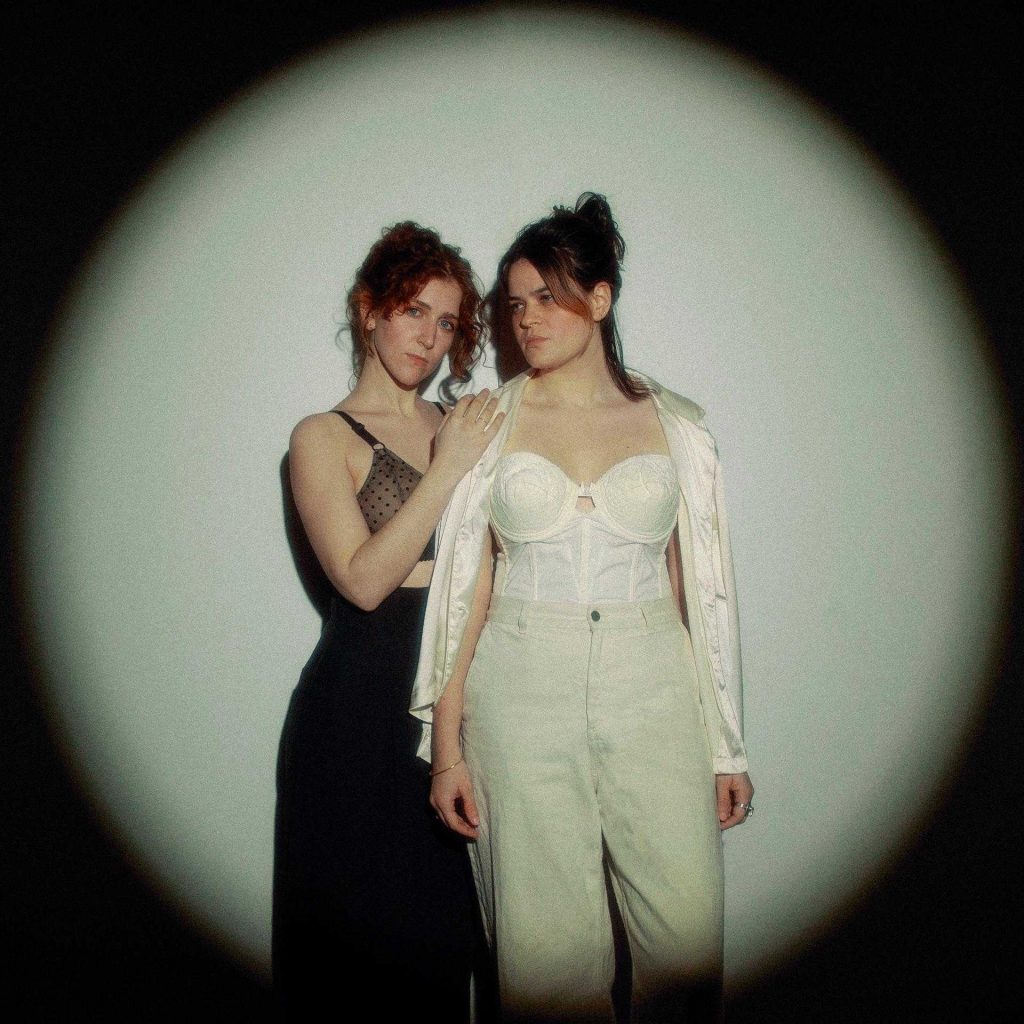 "We were really starved for the interconnectedness of music, so I think it also lent an opportunity to work with people and find some connection. Middle Kids were in Australia, so that had to be remote regardless, but we were just like 'let's do it, let's make music the best way we can right now'."
"Both Hanna and I in the past have felt a little bit hesitant about collaboration because we are already a duo, and we're collaborating with each other always," JJ admits. "But this was a really freeing experience; to be less precious, and to recognise the value of having other people's sounds.
"We wanted our collaborators on this EP to feel like they could let their own identities play a role and add to the songwriting itself. It creates a really unique perspective for each song to have different voices coming through. They're amazing artists; we're just humbled and honoured that they agreed to do it."
It's the unique range in sounds on the EP that makes it so gorgeous to listen to. Between the Overcoats-defining harmonies and the delicate incorporation of other artists' identities, the final product is something of a marvel. Everything's made even more beautiful, however, by the music videos that accompany each song. They all have a running narrative, following one night of a couple meeting at a rave and falling for each other.
"We had been wanting, for a while, to experiment with a visual narrative that spanned the length of more than one song – not quite as ambitious as [Beyonce's] Lemonade, but a story that ties in different songs. It was important to us because each song felt so unique, and we wanted to do everything we could to help bring them together despite sonic differences."
The protagonists of the series, a real-life couple active in the New York rave scene, are what inspired the overarching narrative. "We fell in love with this couple that stars in all three videos, Pauli and Omari," recalls JJ. "They're local to us in New York, and we just wanted to capture their love and the unfolding tale of a night where they connect. I think themes of being isolated then coming together felt very relevant and poignant, and creating a story that could touch on all of those aspects while remaining visually beautiful was our goal. We've very grateful to them for lending their story to our project."
As well as the couple themselves, New York as a whole acts as a strong source of inspiration for Overcoats. As the place they've called home for the past six years and the place that helped spread their name, it forms a foundation of their identity. 
"New York has a way of being very gritty and real and challenging…but at the same time, it represents everyone's dream and ideal place. That juxtaposition has always been really fascinating," JJ observes.
"I think that for anyone that's a writer and wants to tell stories, it's important to be able to look around and find common ground with people that are different from you," Hanna adds when I ask more broadly about their well-travelled lives.
The pair grew up living in a range of different countries, from Egypt to Uganda, before meeting at Wesleyan College in 2011 and connecting through their wandering ways. These experiences have allowed the pair to become so successful, with different cultures and lifestyles influencing their sound overall. Nothing can easily be placed into one box – every song is a mashup of genres and experiments.
Connecting with people, particularly the fans, is a big priority for the duo. In the absence of touring, the girls set up a Patreon called The Fight Club. For just £8 a month, you can get a wide range of exclusive content, from unreleased demos and video tutorials to monthly Zoom calls and a personalised birthday message.
"It's like a terrible replacement for touring in cities that we've played a bunch of times, seeing the people that always come and being able to ask them how they are or compliment them on their new haircut," Hanna explains. "It's really important for us to have relationships with our fans. It's the most beautiful thing when people tell us they've been affected or helped by our music. They inspire us."
"It's important to be able to look around and find common ground with people that are different from you…"
"We're the kind of people that have inside jokes with our fans," JJ carries on. "Patreon feels like a place to continue and expand upon those relationships that are not necessarily about the music. It's about friendship and being there for each other. We've become really close to the people from our Patreon, and we like to hang out with them."
These personal touches are easy to identify in the band's merchandise, too. A particularly clever item is a set of tarot cards portraying the songs from The Fight, created to reflect the significance of tarot reading during the album's production. Used To Be Scared Of The Dark won't be without a physical component that represents the EP, either.
"I think we're going to be offering a little envelope with a dried flower that relates to the album cover," Hanna tells me. "We're always thinking about those little accompanying bits that make it feel like we can connect with our audience, and our audience can connect with us. That's what it's all about."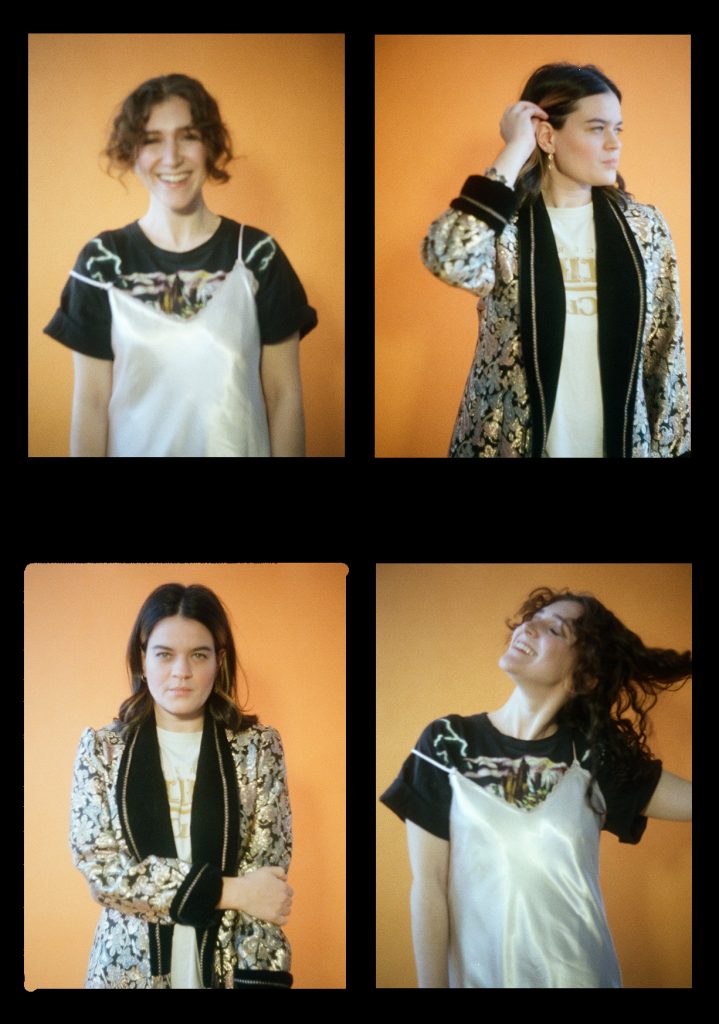 Amongst everything else, thought has also been put into the return of Overcoats' live shows. Many of their new songs are yet to be performed on a stage and the pair are eager to debut them to the world. Working amid a pandemic has allowed them to reflect on the balance between a good show and a good performance. 
"We definitely want to keep a lot of performative, theatrical elements, but at the same time this past year has shown us that the two of us singing in harmony is what it's all about," JJ states. "It's important to balance the desire for grand shows with fireworks and the core of what we do. The return of Overcoats will be a mix between intimate and rock show."
And when it comes to the potential of new releases before then? Hanna leaves me with a simple, auspicious statement: "you can always expect more music."
Overcoats' new EP, Used to Be Scared of the Dark, is out today on all major streaming platforms.