The UK is basically synonymous with grey skies. Luckily, 2021 saw SOFY bound onto the music scene, dead set on injecting a little bit of colour into it. Her sarcastic, larger-than-life depictions of what it's like being a woman in your twenties living in London have the kind of vibrancy the UK scene has been sorely missing – and 2022 is set to turn up the brightness even more.
Her first single 'Strawberry Milkshake' was heralded as Radio 1 Introducing's Track of the Week back in September, and follow up 'Lads! Lads! Lads!' cemented her as one of the most exciting artists around right now. Chronicling the grim, uncomfortable reality of the UK's toxic lad culture, 'Lads! Lads! Lads!' drips in mockery and sneers at how laughably tragic some of its perpetrators can be.
"Lad culture is such a big part of our lives and something I wanted to touch on in my music," SOFY explains over Zoom. "I felt like I wanted to do it in a slightly comedic way and ridicule that almost because I think some of the behaviours associated with lad culture, like catcalling, are just so ridiculous. It felt right to just ridicule them right back, which is why it was done in such a tongue-in-cheek manner."
The track interestingly took inspiration from the '4 lads in jeans' meme that gained wide circulation a couple of years ago. The quick rise in meme culture and how it has changed our social media use is often a fundamental jumping-off point for SOFY's writing. 
"I think it's such a big part of the way that we as young people interact with each other – all of my songs are about different experiences of being a young person living in London, going through all the shit you go through in your twenties," observes SOFY.
"Social media has a massive influence in our lives and it's something that I'm obviously addicted to – we all are, let's not lie. I always get a lot of inspiration from memes and meme accounts – one of my original demos that I put on Soundcloud at the beginning of last year is called 'Softboi Symphony', about [Instagram account] @beam_me_up_softboi. My life is quite boring, so I find other people's experiences from meme accounts really interesting to write about. My life has no drama in it, so I need to find drama elsewhere."
Whilst the dramatic leaning of her lyrics might be crucial to her sound, she still manages to maintain a chilled, light-hearted vibe regardless. 2022 will see the release of SOFY's debut EP, Bored In Colour. In what is becoming her signature sound, laidback beats and easy guitar lines place SOFY's distinctive vocals and striking, laugh-out-loud remarks centre stage. 'Game Over' manages to balance a lowkey, stripped back ambience with an upbeat streak running through. As she grapples with the quickly changing ups and downs of one's early twenties, sonically SOFY always keeps things steady.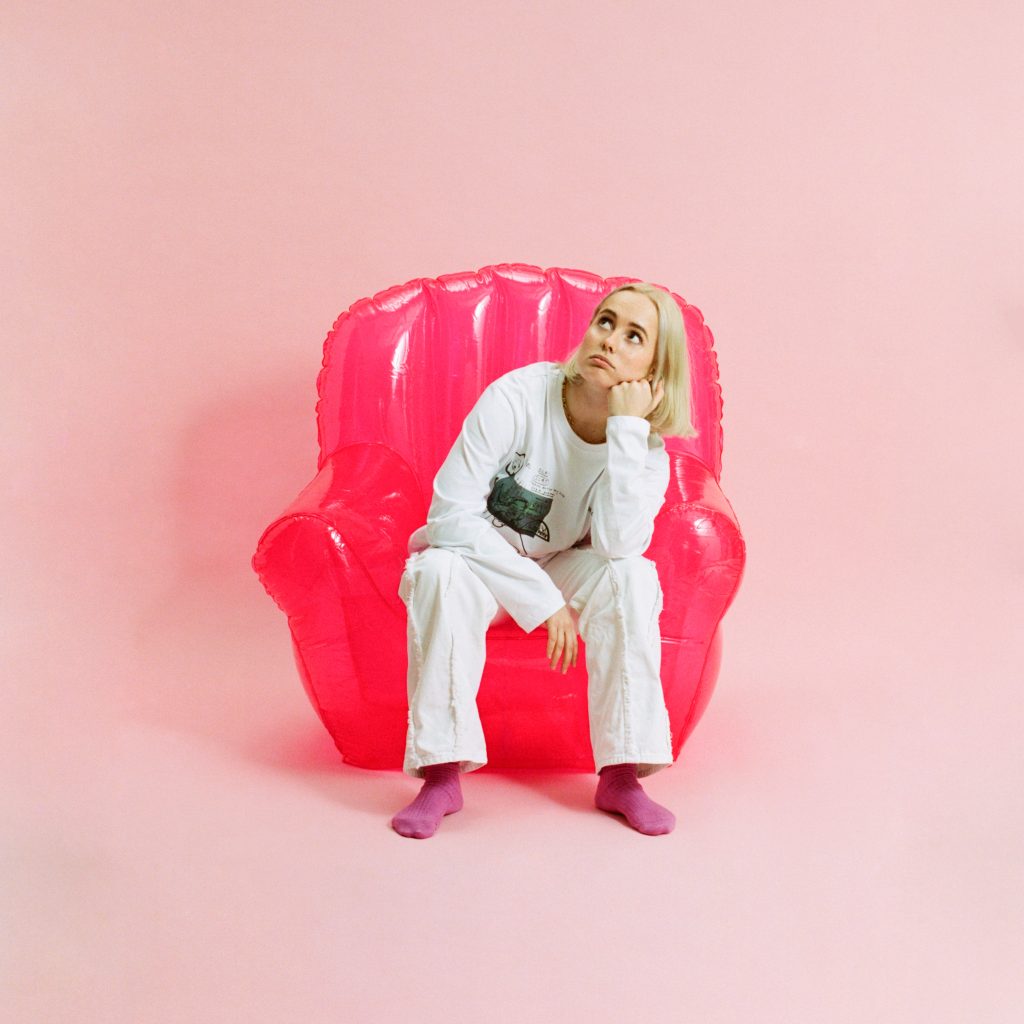 Elsewhere, 'Chameleon' feels like one big eye roll. It bristles with so much exasperation and frustration you can hear it echoing through every note. The song is broken up by an end-of-tether, sardonic interlude where she condemns a guy that has been shifting personalities every time he's around his equally shitty mates. It's innovative and immensely satisfying.
"I'm hugely inspired by the Britpop era. It's boisterous, it's fun, it doesn't take itself too seriously. Sonically, as well, I love how the songs are always quite anthemic – you can imagine people screaming them back to you at a festival. But I think in the past, all the massive Britpop bands like Blur, Oasis, Stone Roses, all of that lot, meant it was very dominated by men. I think there is definitely space for Britpop to have a comeback and I want to be at the front of it. It'd be the best thing for me, a resurgence of that genre but with a fresh take and females at the front of it. It'd be cool to have that sound back but lyrically have a fresh take without the misogyny. There's definitely space for that in the music world at the moment."
Those anthemic, festival-ready tracks are already amongst SOFY's discography. Despite still being early in her career, she has managed to form a band that have her back in her quest to deliver live shows reflective of the humour-filled, electrifying tracks found on her Spotify page.
"It's something that's really important to me. Me and the boys have a really strong friendship which I think comes across when we're playing together," SOFY remarks fondly. "We all just have so much fun when we're on stage. I think a lot of solo artists just play with session musicians when they do live stuff and they're not actually super close in real life. It makes a big difference to the vibe of the shows – we could be playing a show in a car park to no one, and we'd still have an amazing time doing it. We always say when we do a show, no matter what show it is, we always treat it like we're headlining the Pyramid Stage. Even if it was five people in the room, if you treat it as if it's the biggest performance of your life, I don't think you can really go wrong."
My life has no drama in it, so I need to find drama elsewhere…
Over our forty-minute chat, it's clear to see where that energy comes from: it's resoundingly obvious that SOFY is as bubbly and in love with music as Bored In Colour might have you expect. So much of herself is in her songs. They're also deeply resonant – her observations about 'cheeky Nando's' and contemplating faking a positive COVID test to get out of a party capture a shared experience immaculately. It's completely informed by her own identity and traits that in many ways she shares with her peers.
"It's important that I write in my own voice. I wouldn't put anything in a song that I wouldn't just say to my friends. I want my personality to come across in my music. I'm not a super serious person; I'm quite playful. I think about the people whose writing I'm inspired by and it's a lot of the witty, funny lyrics that really grab me and make me fall in love with a song. Matt Maltese's lyrics, I really love, and Remi Wolf. People whose lyrics are a bit off the wall, that's what always grips me as a listener. Having stuff like that weaved through my songs is important to me as well."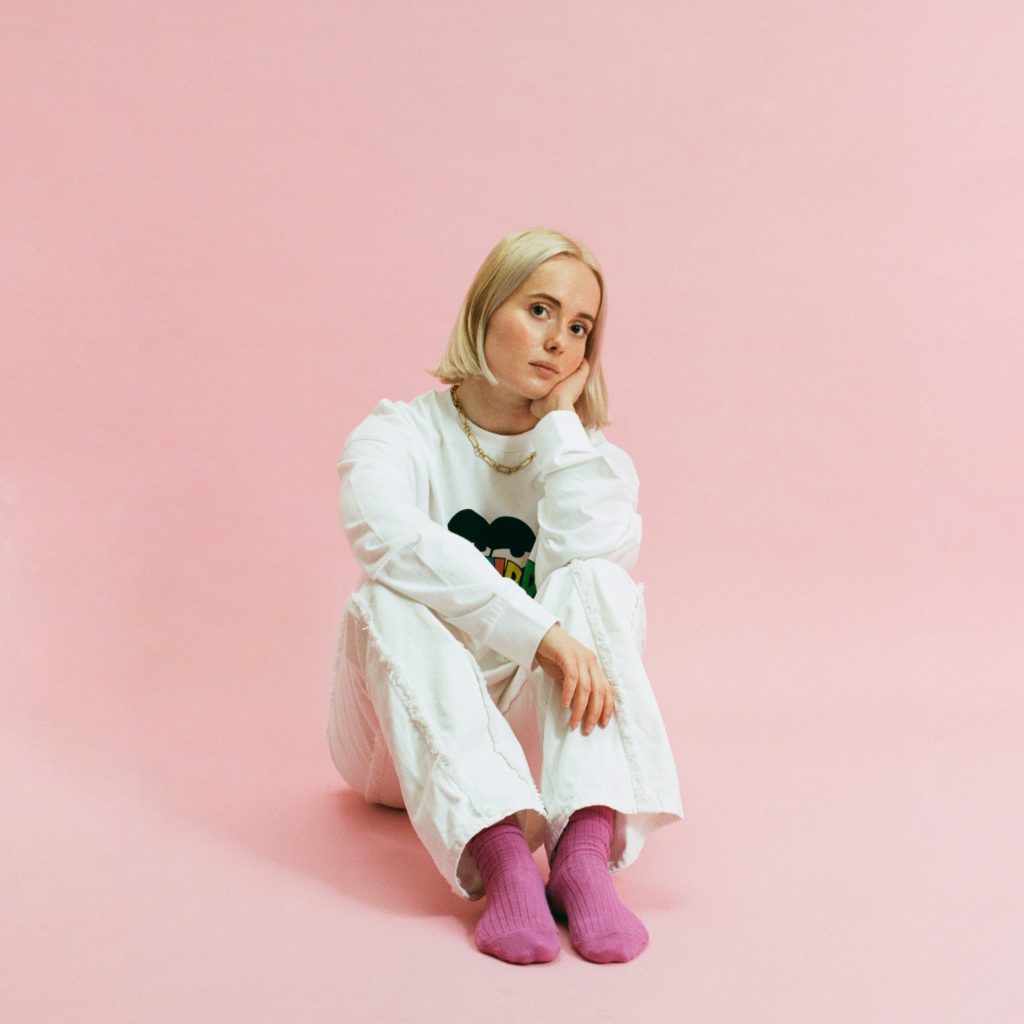 SOFY's playful side is crucial to her. If the last year is anything to go by, the kaleidoscopic, vivacious songs on her debut EP are a much needed burst of technicolour. They're set to propel what has already been an impressive beginning to her career to completely new levels.
And it's not just her songs that have her poised for success. In a tumultuously competitive industry, SOFY chooses to keep things light-hearted and on her own terms – a vital part of her story.
"I try not to overthink too much stuff because, especially with music, there are so many people doing amazing things that if you compare yourself to other people too much, you get sucked into this compare and despair cycle where you're like 'oh she's doing so much better than me'. That can just be so stifling. Don't worry about what everyone else is doing and do your own thing – if you're super passionate about it, hopefully other people will also end up liking it.
"The more you overthink things, the more difficult it is to do something that's unique or true to you because you just keep thinking about what other people want and not what you actually want. That's what I try to live my life by."
SOFY's fantastic debut EP Bored in Colour (Pt. 1) is out today on all major streaming services.