Exploring vulnerability and catharsis with Gigi Perez
New Jersey born, Florida raised Gigi Perez knows a thing or two about how to weave the kind of story you find yourself completely immersed in. Her first full project, 'How To Catch A Falling Knife', dropped at the end of April, and cemented her as one of the most exciting songwriters around. Ahead of her first headline show at London's Courtyard, gigi shares with us a little about her journey — from supporting Coldplay to the artistic process behind her acclaimed debut EP. 
Congrats on the EP! How are you feeling about these songs being out in the world?
Thank you! There's a lot of feelings there and they change by the second and sometimes the emotions are accompanied with other ones. So grateful and enthused, relieved.
It's your first full project. How did you approach that and when did it start coming into being?
What's different about this project than any other future one to come is that I wrote most of the songs purely for survival, with no expectation of them even being recorded. For a year, those songs just existed in their untouched form. It was hard to get in with any producer at the time, and the friends that I worked with were busy with college. And I don't think I knew what to do at the time. I also didn't know that having a voice memo and guitar was just enough. I worked with my good friend Aidan on the songs I wanted to be on the project, and then we added Jenn Decilveo into the picture and it all just flowed.
You supported Coldplay at their Florida stadium show, which was one of your first solo performances. What did you learn from that experience?
Supporting Coldplay was a very surreal experience. I learned that I can work under extreme pressure, which is a nice badge to earn. At the time, I was still in the early stages of building my team and no one on my ship had done a live show, let alone a stadium. Things have changed a lot since then and I have the right hands on deck to make sure I'm covered, but that was definitely a very insane transitional period in my career.
How did the title of the EP come about? It paints such a poignant image.
I remember coming across the phrase "never try to catch a falling knife" as part of a stock trading term. It means it's not worth the risk to buy a stock that suddenly drops because of the potential of it shooting back up with the likelihood that it may drop even further. I figured that phrase exactly embodied the emotional investment and debts I paid on the project.
Lyrically, you bridge the gap between personal and universal almost effortlessly. How do you achieve that? What's your songwriting process like?
To be honest, the process most of the time it just meets me. Once I have a really strong lyric or melody, the rest tends to flows out. The only way I can describe it is like for example, there's a beautiful progression occurring and my brain comes up with available melodic choices and then I grab them and sing them. Sometimes I don't even know what I'm going to say or sing because most of it is stream of consciousness, but I always love the moments where I see it light up in my brain, and I know it's going to be sick, and then I sing it and it fits perfect.
From the beginning of your career, really, vulnerability has been an important part of your musicality. Is that daunting at all?
I have never felt afraid of vulnerability in my writing because, for a while, it was the only way I was able to be real with myself. I find comfort in knowing that there are people who understand me and the things I've seen and struggled with and that I am able to be there for them in that same way. I find it more daunting when it comes to a person I wrote about knowing a song is about them if we don't speak anymore. But songs are purely moments that are captured in a contained space, and after that they are ever changing. And there's permission to let go of that after. But that's the songwriter dilemma, and I'll take it.
You come from a performance-based background, acting in musicals at school. How do you think that theatricality has filtered into your music?
Theater definitely played a key role in how I hear and feel music as well as create it. Everything feels grand to me and every detail feels grand. I grew up with the classic 'Legally Blonde', 'Wicked', 'The Light In The Piazza', 'Titanic', 'Jekyll & Hyde' — some really beautiful scoring. I think being in theater taught me how to completely surrender yourself to a moment and have it for yourself. Being comfortable with being perceived and trying weird things out with yourself and your body.
Sonically, it feels really rich and expansive. What did you go into this project hoping to achieve in terms of the actual sound?
I was hoping to make my emotions feel as big as they did, and I think that's the magic of Jennifer Decilveo and Aidan Hobbs.
Did you have any new directions you wanted to pursue, or perhaps a side to your sound that you hadn't explored before?
Oh, definitely. It's been 3 years since I wrote most of those songs, so a lot has changed. I'm really excited to show people where I'm at soon. A whole new ray of colors!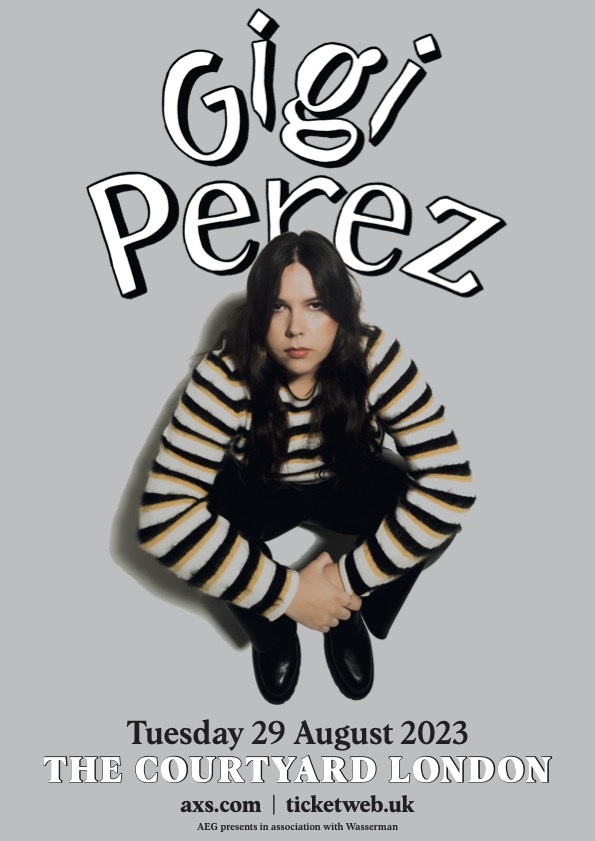 A lot of the tracks seem to expel some really raw emotion. Did you find some catharsis in the process?
The entire writing and recording process was very cathartic and healing for me. I was carrying a lot of grief inside of me, and by the time this project came out I felt comfortable giving that away.
'Karma' is a real standout track – it's bold and says it how it is in a really satisfying way. Could you tell me a bit more about that track in particular?
'Karma' is a track I wrote for fun. I wasn't really mad when I wrote it, I was kind of poking at the situation a little bit. My friend Mike put on a hard beat and I was like, "I want to try the harmony engine. I feel like there's something there if we really try to lean into it." Then we got Aidan on keys and the rest was history. It was so effortless and fun to make.
Which track do you think epitomises the story you're aiming to tell here most?
'Glue'. It painted the most accurate picture of grief and viewing all of the cards I was given, laid out in front of me with nowhere to run. Completely bereaved.
What's next on the horizon for you?
Discovering more about music the more that I'm creating and finding new ways to feel it and experience it. And eventually sharing what I find with the world again.
Catch Gigi at her first headline show at Courtyard this August. Tickets for the show are available here.