Only one thing that can unite the United Kingdom now, and that's a return of this classic Welsh and English love story.
Everyone has something they revisit each Christmas. What is it, Love Actually? The Muppet Christmas
Carol? It's A Wonderful Life? Very original, well done you). All valid answers, but all wrong. Christmas is a time for Gavin and Stacey.
Its Christmas special has sparked annual joy since it was first broadcast in 2008. Now – almost a decade later – Christmas has come early, as co-writers James Corden and Ruth Jones announce a one-off Christmas special, due to hit the BBC on Christmas Day 2019. Fuck. Yes.
SO, as the good news settles in, let's look back on some of the most iconic scenes from G&S in the only way we know how: with its soundtrack.
5. R. Kelly, 'Bump n Grind'
"Don't get me wrong, when I look at it there… all hot and dripping with butter… I've got a real hankering for it."
There is no better combination than sexual tension and a takeaway. During a greasy, dirty midnight scran, the tension is almost palpable as the two draw out the big question over an extensive euphemism – "Do you want me to have the corn on the cob?". It's unbearable, but weirdly sexy.
There's a pause. And then suddenly, between gazes, just as they fall into a hot, knowing silence, we hear the opening lines of 'Bump n grind': "My mind's telling me no, but my body, my body's telling me yeah". And as for the corn, I'll leave the rest to your imagination.
4. Arctic Monkeys, 'Brianstorm'
"Wow, never seen one like that before," "You've never seen anyone bowl like this before."
Slow-motion, she turns, black talons wrapped around a freshly-polished, dragon-branded cannonball, Nessa sets her eyes on the ten-pin prize. Behind her erupts a crash of heavy guitar and rolling drums, the
tension builds as our beloved Arctic Monkeys jump onto the scene. She takes her stance as the intro just keeps going, exhales as it seems like this impossibly fast pace could break at any moment; arm swings back, ball rolls forward and in one… clean… STEEEEEERIKE!!
3. Dolly Parton and Kenny Rogers, 'Islands in the Stream'
"Get these on birthday girl, yer havin' a barn darnce!"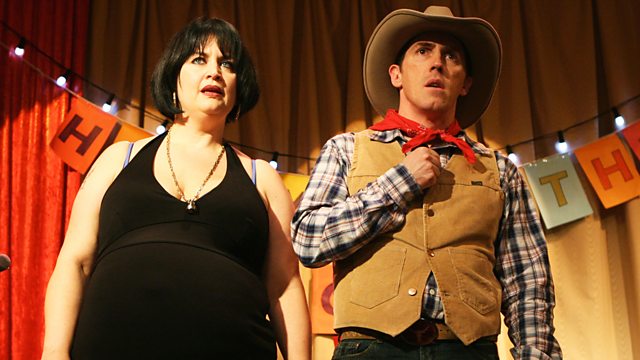 It's hard to say which is the best bit about Bryn's barn dance. Is it how hard he strives to keep it a surprise from Gwen? Or the brewing tension between our lovebirds? Is it the hats? No.
Look at them: Nessa is huge ("I mean colossal"), Bryn closely resembles Woody from Toy Story and the entire cast suddenly bursts into a perfectly choreographed line-dance. Amidst an inexplicably ridiculous party theme and simmering conflict between the characters blossoms a moment of pure harmony. It's beautiful. Better than the original. British TV at its finest.
2. Madness, 'House of Fun'
"SMITHY DARLING, LETS. DO. SOME SHOTS!!!"
Man, oh man, I hope you've been at a gaff like this. In the early hours of the morning, empty bottles litter the floor and the entire group has now fallen into complete hysteria. Your shirt is no longer fully buttoned, but you can't remember why, nobody can stand straight, one mate is trying to light the wrong end of a cig, another is passed out on the sofa, and absolutely everything is funny.
Then, in the heat of the moment, someone screams out "SHOTS" and the voddie is passed round generously as the running playlist shifts from current to classic: Oasis; Hey-Yah; Stevie Wonder; fucking Madness. Banger after old-school banger hits the stereo, and you're dancing on the couch screaming the words to a song you haven't heard in years, surrounded by your very best mates. Welcome to the House of Fun.
1. Band Aid, '(Feed the World) Do They Know It's Christmas Time'
"Throw your arms, ar– NO JUST GO MATE! –at Christmas tiiiiiiime"
GET. YOU. A. MATE. LIKE GAVIN. Six missed messages from Smithy only to be met with a rendition of 'Feed the World' upon calling him back, and Gavilarr joins in. What a guy.
Between Smithy's road rage and the pair's eternal bromance, it's no wonder the original Carpool Karaoke sits here at number one. In a single verse the boys' friendship is showcased to its fullest: a bond, an acceptance and an understanding that would no doubt survive the weakest of phone signals. It sets us up for a whirlwind hour of mint Baileys, tinfoil wrapping and that bloody turkey, and I can't begin to imagine how they'll top this come December. Wholesome, festive and iconic, I dare you not to sing along.
Gavin and Stacey is back this Christmas. Goosebumps mate. Goosebumps.
The Gavin and Stacey Christmas special will air on Christmas Day at 8:30 PM. Get the latest edition of our print magazine featuring interview with Black honey, Mattiel, Matt Maltese and more HERE.