Musician, visual artist and part-time disc jockey, Tim Koh is preparing to release his 'pop' debut titled 'In Your Dreams'. Dubbed the experimental artist's most 'straightforward' release to date, we delved in to discuss Tim's approach, 'process' and recent appearance on Tim's (Burgess) Twitter Listening Party.
Hi Tim, where are you and what are you doing?
Hi, I'm in Weimar, Germany. I'm just having a mini vacation here, writing some new music and taking in some of the sights of the city.
I read that you didn't get into performing until your late 20s, now on the cusp of releasing your first solo debut, what would you say to your younger self?
Yes that's true, I was around 29. I've released music under my own name but not in this modality of pop music, so in that sense yes, it's my debut album. I'd tell my younger self that I should've done it earlier, but nonetheless pat younger me on the back.
Having had such a diverse musical and arts background, when it came to creating something with your own name on it, what did you want to create?
I wasn't so interested to make the songs so overtly biographical, but I wanted to work with themes that I thought were culturally quotidian. I wanted to create something easier to digest, focused on life's calamities, broken love… things like this. These seemed like common musical tropes that I could play with that people seem to relate with. I guess I was interested in creating a sort of psuedobiography of sorts.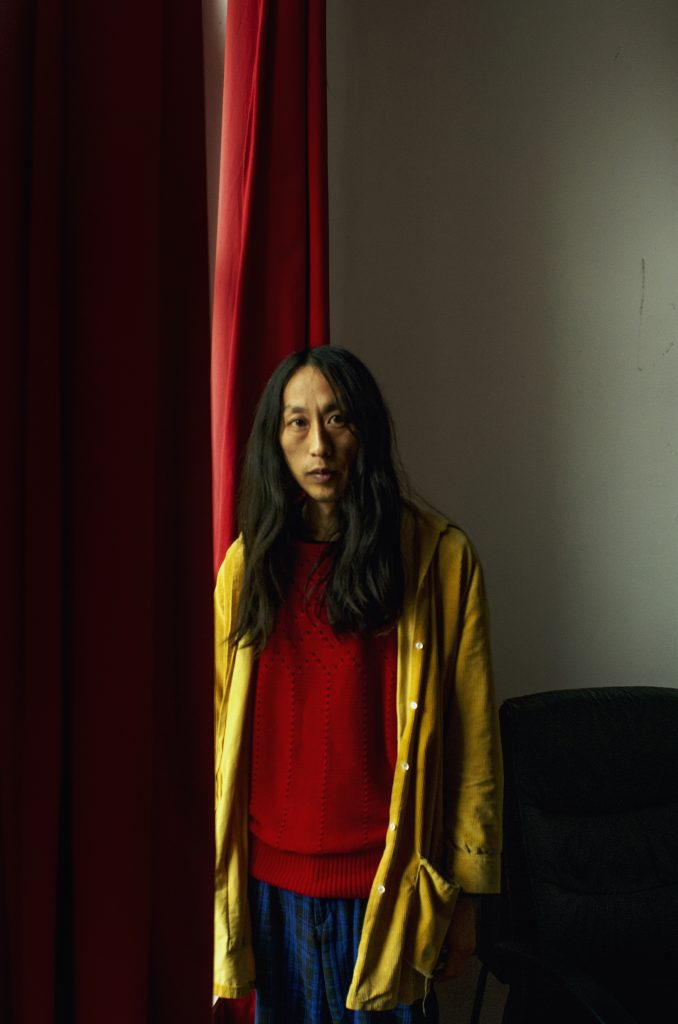 Your musical ventures have always included a quite diverse soundscape, full of oddities. What do you enjoy about contrast in music? Or, perhaps more suitably, why do you pull from such a broad range of sounds?
I've always been interested in sound. I like to think of my artistic practice, whether it's art or music that my medium that I work with is time. I like the juxtaposition of different styles and modes to create something new. I've always been interested in psychedelia but not in the sense that I see most people seem to use or view it. I think people hear that word and it's always some fuzzy guitar with delay, perhaps some collage thing. it's always style driven. I bring this up because I've read sometimes that I'm labeled as psychedelic pop/rock music. What I like about it is that it distorts your worldview, it melts the world around you and fucks it up. I don't think I went too crazy with that on my record to be honest, but I don't have any rules with music that I have to only use certain instruments or keep a certain style/sound at hand. I like to think of this record as pop music, but more of something like hectic pop music [ha]. There's lots of sounds all the time. I also tried to restrain myself at times too, but I like to pull from whatever source possible and it helps the idea/narrative I'm going for.
I like to think of this record as pop music, but more of something like hectic pop music.
With such a broad set of influences. Did you find that you had to limit yourself in the studio, or, was this project more about exploring the possibilities of your own writing?
I was limited in the sense that I did it all alone at home. I don't have much gear so I had to work with the availability of what I have laying around at home. In regards to writing I don't really know what I'm planning to do besides the initial riff or idea of the song itself. The songwriting process just builds from there. Most often the end result is different than what I had started with and had intended to do. That's the beauty of making stuff I think. The journey of getting from one point to the next and the surprise element involved. If I had done it at a fancy studio with tons of gear, I think it would have taken me much longer because there would be too many choices. I'm always exploring my own possibilities within the creative process. I think it's important to fail and that was a big part of my explorative process as well.
Having gone through a tough year – the aftermath of which you can hear in the end result – how honest did you want to be on 'In Your Dreams'?
If you mean 'honest' as in how much of my personal life made it into the record, I feel elements of my life are used as a way to create some narrative of sorts but I had not intended it to be a statement of my own personal self. It's more a general statement that everyone probably experiences in life at one time or another. Maybe they will relate to it and it will help them, maybe they'll hate it… As long as it does something.
I'd love to be a sushi chef.
As a previous member of Haunted Graffiti, you took part in Tim Burgess' listening party. How did you find the experience? Did you learn anything new about what you'd help create?
It was an interesting experience listening to the album that way. It was a bit stressful because so many people are tweeting as you write and listening to the album that way goes by so fast. It was a bit surreal. I appreciate Tim Burgess for giving us that experience. It's amazing how many he's done now with so many great artists/albums.
It was strange to revisit that record and have to think about the process of how we made it. It was the first time Ariel had recorded with a band and not on his own like he did in the past. It was fraught with difficulties. I never intended that it would have the impact it did on people and for that I'm very grateful, it speaks to so many people. I learned I like being part of a band and the whole process of making an album, but I don't think I'd enjoy being the leader of a band. Ariel is good at it and I've learned a lot through him. He's very generous and methodical with his process. I learned so much how to make music through working together.
Harking back to your previous collaborations, what was the best advice you've ever been given?
And, how did that advice help you create your full-length debut?
The best advice I've been given was from Chris Cohen. He told me with writing music: if there's a will, there's a way. I don't like working on things for a long time but on this record I really worked into the songs and made so many versions of the same song. I spent a lot of time on this one and just kept chipping away at it until it felt good to me.
Lee Scratch Perry also told me to "have fun forever."
You've ventured into blog writing, radio, visual art and more, are there any other mediums you'd like to explore in your lifetime?
One day I'd love to be a sushi chef.
Listen to Tim Koh on Spotify and Apple Music. Pick up a copy of our latest print magazine at our store, HERE.