Alba Torremocha, Melissa Carter and Lillie McDonough – collectively known as ALMA – have been nothing if not busy. On the day they released their debut record, Mosaic, they took time away from rehearsing for their release party to speak to me about their journey so far. Lillie was just a few days out from getting married, and on top of that, the New York City based trio just endured another horrendous storm. To keep with the spirit of New Yorkers, they didn't dwell too much on the flooded basements they had to take care of, but rather gleefully shared with me a video of a man in the Bronx, laying back in a flooded alley on a floatie, as if he was relaxing in a pool.
"We wrote this song called 'Water Rises', which is about a hurricane coming to New York, and how Sandy will happen again. To have literally just come through this a week before the album's release… it feels a little bad to sing that in New York right now."
For context, Lillie told me this back on September 7th.
With every intention of getting the article written as a post-release celebration, I ended up inheriting their bustle. Suddenly, it's the end of October. It is because of this that I make the public declaration that I owe all three of them a drink if we're ever in the same neck of the woods. I digress.
Back on release day, ALMA were trying to revel in the high that only a new record can provide. Alba, who spent her summer visiting family in Spain for the first time in two years, described being on the verge of tears. Melissa was looking ahead to her bandmate's wedding, where "the real celebration will be." And Lillie was debating whether or not the three of them were crazy.
"One of my friends was like 'wow, there's a lot going on this week! That's ambitious!'" she laughs. "Honestly though, we work well under pressure. There is a bit of a thrill from it, just doing it all at once. We like the challenge, and we like to do things better than we've done them before."
That ambition comes through in waves on Mosaic. It is a delicate record imbued with gorgeous soundscapes and three-part-harmonies that interlace so well, it's as if the three ladies are connected at the vocal chords. Stylistically, it is as diverse as the city it is a tribute to.
"ALMA came about through the magic that is New York," Alba says fondly. "We each come from completely different backgrounds; I landed here as an immigrant from Spain to study. We had this conversation about how interesting it is that a city that is so huge, with so many different people, can mean so many different things to those people. Every song [on Mosaic] is just a moment in time that happened at a very specific place. It's important to us personally, but also speaks to everyone's personal relationship with their city."
With the way they've crafted the record, their hope is that people can physically visit the places they reference in each song – a sort of "all-inclusive" listening experience. The three ladies underwent this exercise themselves the day before our conversation.
"There's a song that takes place at the Vesuvio pool, which we had only been to via the imagination of our bandmate," Lillie recalls. "Yesterday, we all went together to shoot canvases for our Spotify page – it was such an amazing experience! We hope anyone who listens to our music could go and find the scenery and experience the song at the same time."
"We rode the Wonder Wheel yesterday!" Melissa says excitedly. "Lillie was the lead writer on 'Big Green American Dream'. There's a lyric '9 minutes and 50 seconds to decide' – the Wonder Wheel takes exactly 9 minutes and 50 seconds to go around."
Little Easter eggs like this are all over Mosaic, making it almost like they're sending listeners on a scavenger hunt around the city. There are scenes within certain songs that transport you to the middle of a bar on a Saturday night, or an intimate cocktail party, for example. And every single moment is carefully orchestrated.
"For 'Mornight', our husbands and roommates supplied cat calls," Melissa remembers. "I was directing my roommate, who's a queer man, being like 'you need to be more gross'! Haha. We went to acting school together as undergrads, so he and I have acted together in a bunch of things. But he was so uncomfortable."
"It's really fun to involve everybody. It feels like this group project by the end," Lillie adds.
In addition to Easter eggs, there's a good amount of history to some of the songs. 'Big Green American Dream' is one of the many standouts on Mosaic, as it almost morphs in real time from Beach Boys-esque pop to modern folk to, most surprisingly, jazz. It's an eclectic, genre-busting song that is memorable for not only its uniqueness, but its inspiration.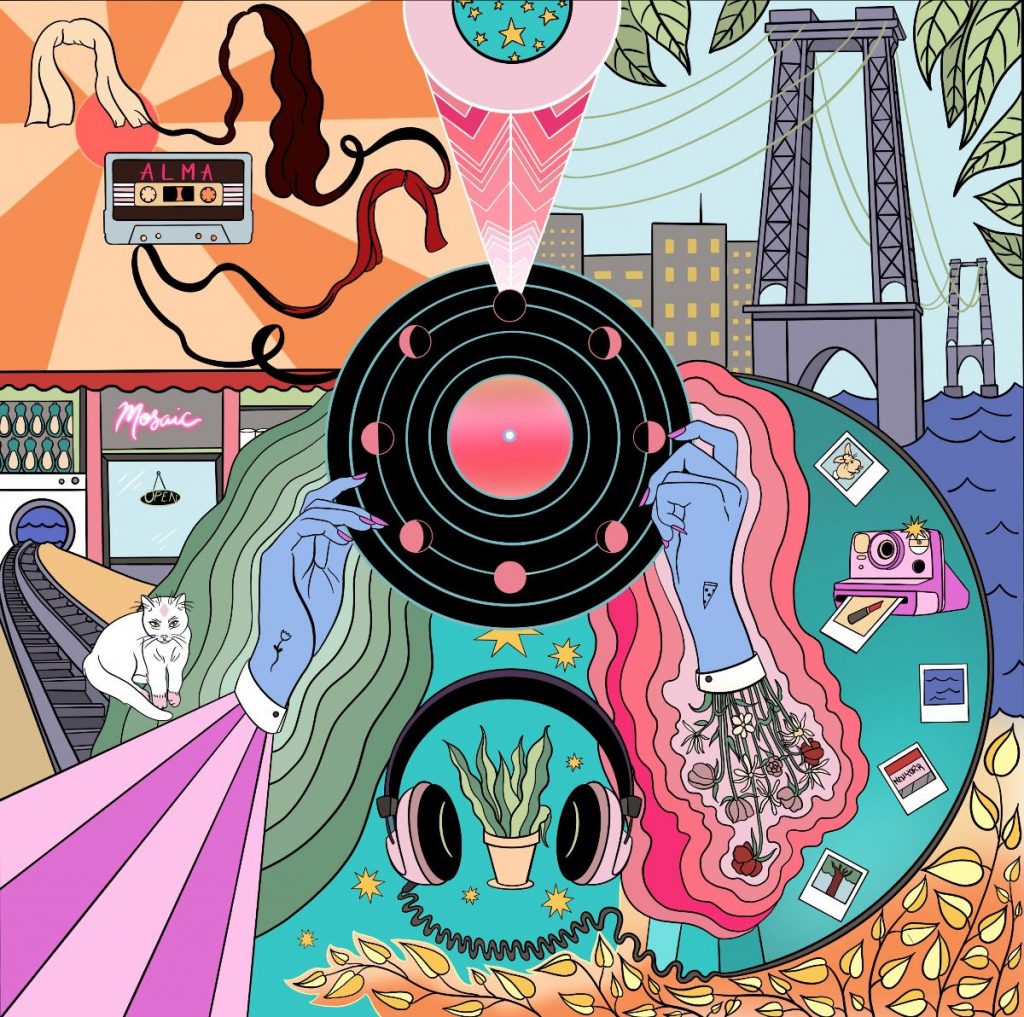 "The timing of all of this was just weird," Lillie says. "This song is about my grandparents; my grandfather immigrated from Ireland when he was a kid. When we walk around New York, it's impossible not to think about how much has changed. Is the American dream still available for everyone? What is happening for immigrants who arrive now? That's sort of been on our minds as we've chatted about things over wine… haha.
"Ironically, my grandmother – who's the lady from Long Island, the "Long Island Miss" – she just passed away a week and a half ago, as this song is finally coming out. That was also kind of a special thing, to be visiting their first date location. They met at a cocktail party which was way too fancy for him as this little Irish dude. He's dirt poor, and she's some fancy Long Island lady. We wanted to put you through this journey of being at that cocktail party. It's all about storytelling and trying to see if we can support that theme in a sonic way."
As zealous as that sounds, ALMA makes it seem effortless. The songs, no matter how diverse, all proceed naturally from start to finish, thanks in part to the film scoring backgrounds of Alba and Lillie. And I was initially surprised to find out that, although their voices fit together like puzzle pieces, not only are they not related – they don't even follow any traditional vocal arrangement "rules".
"There are no laws," Alba laughs. "It honestly started out really intuitive."
Melissa disagrees. "I wouldn't say the arrangement is lawless… Both [Alba and Lillie] are very good at arranging harmonies."
"You are too!" Alba interjects.
"Thank you! I just wanted to compliment you, rather than me. TJ's going to write, 'Melissa only complimented herself…'"
Wink.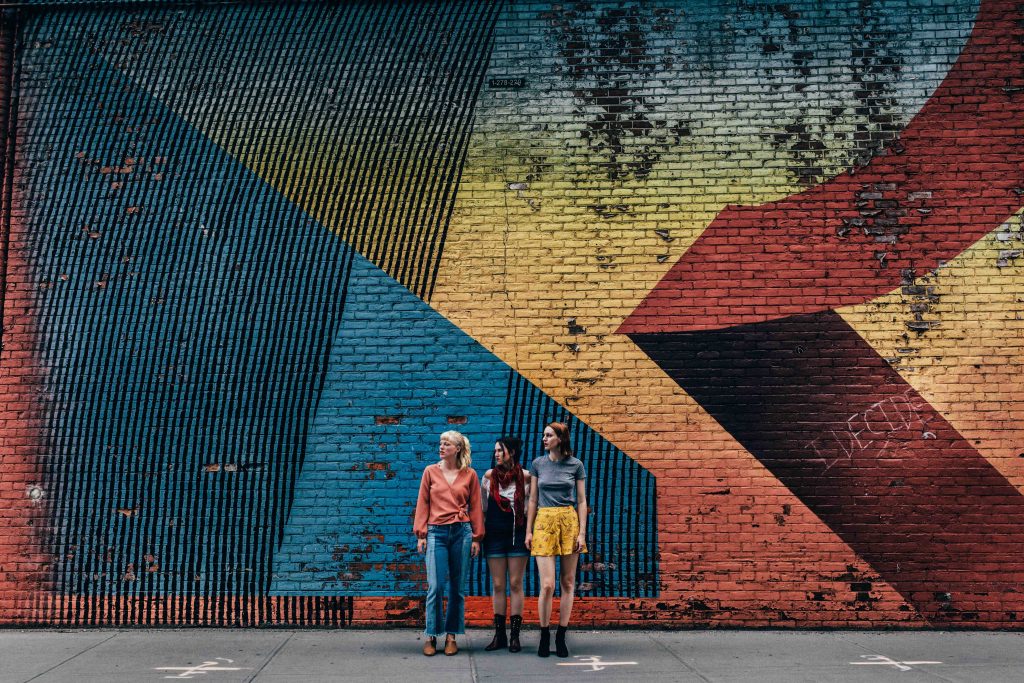 "We all have very specific timbres in different areas/registers," Alba explains. "Depending on – do we want a more airy feel here? Do we want a more forward sound? Throughout the process of writing harmonies, we've swapped parts multiple times, because we've found that in that specific moment, it worked better.
"Some of these songs were fully written during the pandemic while we were all in very different places," she continues. "We got really good at sending parts out and working together in that sense, but we realized when we had to put together a live set, there were some songs that we've never actually sung together. We had recorded our parts separately and so that was a whole other animal. It's been fun."
"Also ambitious," Melissa adds. "We don't write for a specific key that fits for our voices – we don't think about any of that stuff that a vocalist might think about. We're just like 'fuck it' and do whatever creatively comes, and if it's really low… okay. As long as we can produce the sound, let's do it."
Putting out your first record as a band is challenging enough in normal times. But doing so in such volatile conditions is a whole other ballgame. Their go-with-the-flow attitude was an asset; they weren't afraid to tackle the bulk of the recording process themselves when it became necessary to do so.
"Overall, it was obviously challenging, but in a lot of ways it's actually been a strengthening aspect for us as a band. We got a lot more hands on with the production because it had to be done at home," Lillie says. "All the instruments, our own vocals, the sound design – it was all recorded at somebody's house. In a lot of ways, I think our songs got deeper from it. And then, in terms of communication, we just kept working on getting better and more organized to the point where we now have this entire ecosystem online that allows us to basically be anywhere and still be an effective team. It's kind of incredible."
With their beautiful ode to New York City, drawing influences as eclectic as the city itself, ALMA has given us one of the best debut albums of the year. And something tells me they're just getting started.