I'm sitting in a small room in Liverpool, about to ring Gus Unger-Hamilton of the legendary Alt-J. I won't lie to you dear reader – I'm bricking it.
My love affair with Alt-J has been a long, and emotional one. Throughout their decade-long run, the group has served as a soundtrack to my growing up, relationships and first ventures into the music industry. In this, I'm not alone – we've all heard the abstract, synth-filled etchings of the group over the years.
Even if you aren't aware of them, Alt-J's music has been used in a variety of movie soundtracks, TV trailers and more, and has even inspired a beloved viral Youtube video featuring the band Fleece. Alt-J's mark, therefore, is one that to a lesser or greater extent we have all felt the impact of. In many ways it's a legacy that surpasses any of their musical achievements, cementing them as an alternative UK cultural figurehead – one that makes my heart race as Gus jumps on the phone. 
Instantly chatty, Gus' warm demeanour eases my frantic air and settles my stomach. He begins our back-and-forth with notable openness: "We're off on tour in the next few weeks, so I'm just gearing up for it," he says, breezily. "I went suitcase shopping today, so it's becoming more and more real. It'll be lovely to get on the road again though; I feel like 2022 will officially begin for me when I get on a plane in a few weeks time."
Spearheading the direction of alt-rock, the group's known for their playful approach to their craft, feeling most comfortable thinking somewhere beyond the proverbial box. Audiences heard this first on their stunning debut album An Awesome Wave, which proudly displayed Joe Newman's abstract falsetto mutterings, alongside walls of synth-led instrumentation and samples of everything from a children's choir, to a roll of tape mimicking a sitar.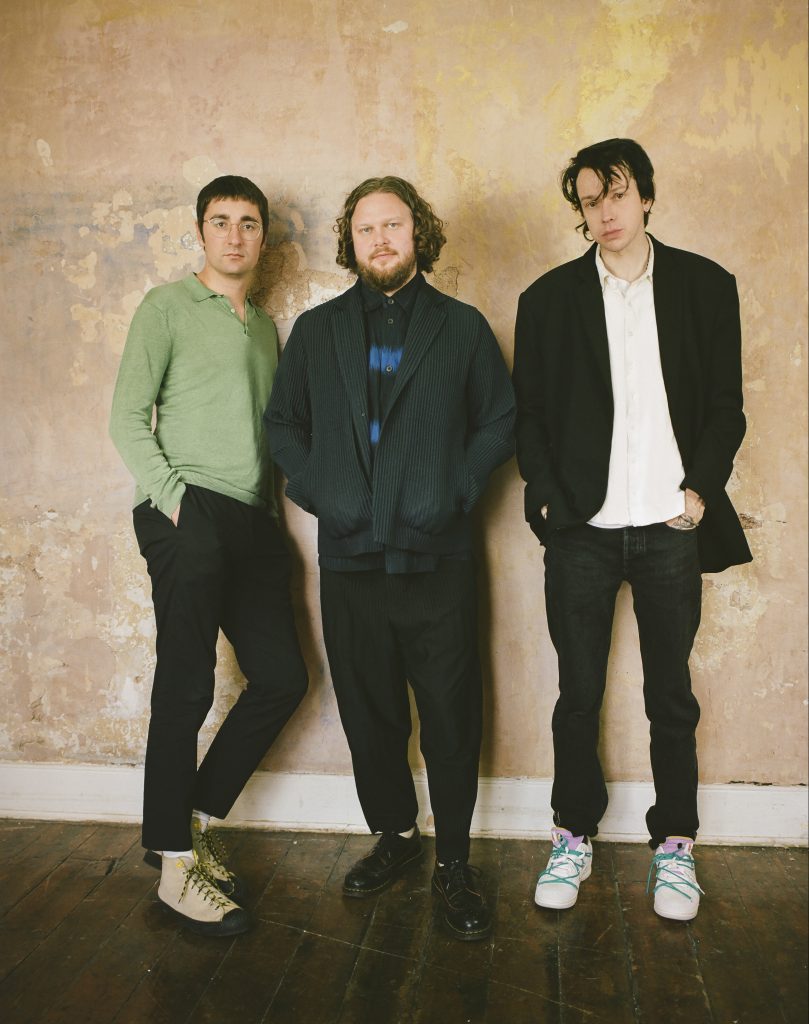 The band's need to innovate was obvious from the start and Gus makes it clear that their fervour for something new has only ever developed since.
"When we started the band in Leeds in 2008, I think we were very influenced by the dubstep movement that was going on over there," he reflects. "We would have a 'build' and a 'drop' in all of our early music, but over the years we've moved away from that.
"Now, we're a bit more considerate about what we put into our songs, especially in terms of lyrics. But on the whole we've always tended to follow our instincts. We could be working on a post-punk or a house track that inspires us; but as long as we keep open minds and have four pairs of ears to listen with, it always seems to work out," he reflects.
"We don't have a meeting to decide what we'll be looking to make," he jokes. "Instead, we're inspired by all sorts. What will start as an idea can sometimes transpire into finding ourselves in a church a few weeks later surrounded by four crumhorn players!"
The group's innovative streak has worked alongside the UK music scene's tendency to reinvent itself cyclically over the last ten years, as Gus is acutely aware of: "It's strange, because I think we joined the UK music scene at a time when major shifts were happening.
"We entered on the fringes of change, just at the end of the time where people still bought CDs in semi-respectable numbers. But now, whenever we release something new, all the promotion is related to TikTok and social media. It's taught me that music is a constantly evolving business. As much as you can convince yourself that it cannot get any more innovative or crazy, if you wait 10 years the landscape will inevitably change again. Spotify, Soundcloud… who knows, they may not even exist in a decade."
"More than anything, that makes me feel grateful that we're still able to make music and be working musicians…"
With the dawn of a new decade, comes their much-awaited fourth offering, The Dream. Their first new music in over three years, the release comes after a period of hibernation for the band: "There was no question about whether we wanted to do another album, but we knew we needed to take a break as well.
"After touring three releases we were burnt out, and so, we took 2019 as a year off. Obviously, as soon as we started work on the new album in 2020, the pandemic happened… But, in hindsight now, I think the lockdowns allowed us to look at creating with a new outlook."
There's a brief pause as the phone line goes quiet. Taking a deep breath, Gus confesses: "It's hard being in Alt-J sometimes because you want to make music your fans will like, but you also want to keep to the brief of being 'abstract'. 
"We'll never be the same as our first album – no matter how much fans may ask. We are a band that has to keep moving forward. We will continue to make music that we find interesting and inspiring, and I hope people will join us on the journey."
Encompassing an array of new styles, genres and acoustic leanings, the album offers up a distinct new layer onto the group's already dense sound. 'Philadelphia' builds it's hook around a beckoning operatic sample, contrasting its brashness with pizzicato strings and brooding bass melodies. 'Walk A Mile', begins with barbershop quartet-inspired harmonies, giving an underlying Western tone to the track, before climaxing into a brooding vocal-lead descent. These works are experimental to the fullest extent, and yet, still contain the staple foundations of the hook-led scoundscape, and poetic lyricism that are at the foundations of Alt-J's sound. 
"We felt freer than we ever have before creating this album," Gus remarks. "We tried a bit of house, opera, everything we could and I think the pandemic really taught us to not give a fuck. I don't want to say YOLO but, basically, that.
"We're lucky to have this job and people like us because we're a bit weird, so let's get weird as possible. If we have an idea we'll always find a way to try it out, whether it's getting a different musician in or using various new techniques. Joe, for example, really fell in love with the guitar on this album. It became more than just a tool for him and he really took to it. That passion really shows in the end result, I think it has some of our best guitar playing to date, and all because he found a new relationship with his instrument."
Perhaps the most obvious standout track on the album comes in 'Get Better', a heartbreakingly stripped-back ballad that focuses on a lost love in the midst of the pandemic. Recounting the real life tragedy we all currently face from a first-person perspective, the track is the band's only offering that is grounded firmly in reality – cementing itself in the hardship we have all shared. This change in tone is stark, and brutally emotional, as Gus recounts, sharing his own grapplings with the song.
"I find that track very emotional," he explains. "I cried when I first heard it. I think after four albums, Joe feels like he has more life experience to put into the track's message and subject matter. He's said to me before that he felt like a bit of a fraud writing lyrics, as he was only 21 and had a moderately sheltered upbringing. But after some time, I think he came to the realisation that everyone's voice is valid, no matter what your surroundings are.
"No one's life makes them less qualified to write and 'Get Better' is more confessional and honest because you can hear Joe really coming out of his shell. It's a testament to the song really, because it took me a long time to get over it's sincerity – it's only now that I can listen to it without breaking down!"
This emotional resonance carries over the whole album and has even wormed itself into the group's current activities; their ongoing world tour, starting with a string of American live dates.
While live dates are still a mammoth feat under our new circumstances, they carry a deeper meaning. With so many listeners only now returning to experience live music once again, the impact of the group's return to the stage is obvious. But, as Gus explains, even without the implications of the pandemic, live music will always carry a colossal importance.
"I don't think people realise how much we observe the audience when we're on the stage. We can see you, we are watching and we are taking notes! It's how I keep my brain active on stage, by looking around and seeing who's having a crafty cig or who's kissing who. It's the ultimate people watching job really.
"There is something very special about listening to music with people, being able to dance and interact. I hope we won't lose that. Mark Zuckerberg talks about the metaverse and how reality as we know it will become digitalised, but I think the world is over if we don't ever leave our houses."
As the music industry continues to evolve, and the world as we know it returns to some post-pandemic state, the future remains uncertain. Yet, Alt-J's music will continue to lead the charge when it comes to experimentation and evolution.
"I just want to get back on stage and play our old and new tracks," Gus says humbly. "Then… I suppose it's onto album five."
As the world moves on, and changes continue to bombard us, one thing is certain: Alt-J will continue on their path of irresistible, innovative sound. All we have to do is sit back, buckle down, and see what's in store next.