Ever since Taylor Hawkins tragically passed away recently, the lingering question has been what will happen to the Foo Fighters? Arguably, they are the last true big Rock-and-Roll band of our generation. Their performances are a spectacle, they've released some of the biggest and most recognisable singles in the genre in the last 20+ years, and Dave Grohl knows how to command an audience like very few other frontmen. Are we doomed to spectacle-sized rock-and-roll being a legacy game from now on?
I'm here to tell you that, after seeing Death Cab for Cutie live this weekend, rock-and-roll-with-a-capital-R might not be doomed after all – we may just need to look in more unusual places.
Sure, the indie rock darlings from Bellingham, Washington might not be selling out baseball fields, but what they brought to the stage Saturday night was a performance rife with true Foo Fighters spirit. It was chock full of integrity, raw talent, and an overwhelming sense of freedom. I know that Ben Gibbard – someone I've looked up to as a songwriter for nearly 20 years – will never match the charisma of Dave Grohl; I don't think anyone could, to be frank. Gibbard barely addresses the audience between songs, and certainly doesn't rile them up into a frenzy, but the way he commands a stage is undeniable. When not singing, he spends the majority of his time swaying over to each of his bandmates as if to make sure they're getting the attention they deserve, constantly cracking smiles proving that after all these years, he's still having the time of his life.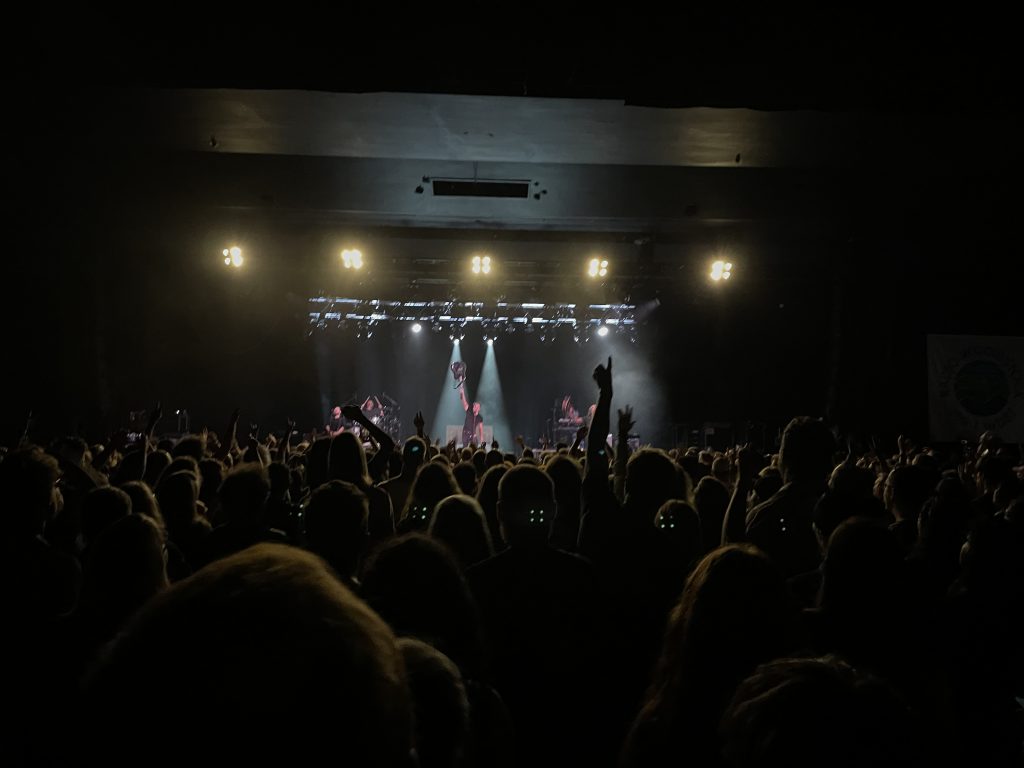 The night kicked off with fan-favourite 'I Will Possess Your Heart', its extra-long intro almost foreshadowing what the audience was about to experience the rest of the night. The song selections from their vast catalogue rarely strayed from this path, with 'Bixby Canyon Bridge', 'The New Year' and new single 'Roman Candles' getting the nod over the more mellow, typical set inclusions like 'Transatlanticism' and 'Marching Bands of Manhattan'. As someone who's seen them live close to double digits now, it was nice to see a few songs performed that I'd never seen before.
Near the end of the set, they turned Transatlanticism highlight 'We Looked Like Giants' into a nearly 12-minute jam, ebbing and flowing through loud and soft dynamics for the song's instrumental section. Simply put, it was jawdropping. Drummer Jason McGerr was especially impressive, with ample time for improvised drum sections that, at points, got so loud and fierce, I wouldn't have been surprised if he broke right through his drumhead. (To come full circle, it was as if he was channeling the raw energy and passion of Hawkins himself, albeit without the long blonde hair.)
On the precipice of a new album – due out September 16th – Death Cab for Cutie ushered in a new cycle with fervor, the fans at MJN Convention Centre cheering (and singing) along every step of the way. Their seminal record Transatlanticism turns 20 next year, but even after so much time, the band hasn't missed a step. Quite the contrary – they seem more fired up than ever.