When the presale for The Backseat Lovers show at Brooklyn Steel sold out in under two minutes, I have to admit I was a bit surprised. Their second album, Waiting To Spill, had yet to be released and the entire premise of the tour was that they would be playing said album front to back. However, the fans put their faith in these four young lads and were well rewarded.
Before getting into the nitty gritty, I want to commend the band for choosing to donate a portion of their merchandise proceeds to charity organizations that were specific to the area they played in. We all know music brings us together, but it's truly special when artists that aren't necessarily "raking it up" choose to set an example by putting their money where their mouth is. 
For Brooklyn Steel, The Backseat Lovers chose a charity in a NYC borough further north, the Bronx, called the Kingsbridge Heights Community Center. My love for the band grew even greater upon hearing this as the Community Center is in the same neighborhood as my university. I've never felt so good about buying merch.
For this particular show, the band was supported by a phenomenal five-piece, Bendigo Fletcher. Based out of Louisville, Kentucky, they brought the indie-folk vibes, but not without the ability to rock, surprising me in particular with their song 'Evergreen.' They leaned hard into the Zeppelin-esque vibes that slightly grace the song on the recording and it was fantastic. Lead singer and guitarist, Ryan Anderson, used their 40-minute set to display his range, both instrumentally and vocally. One minute he was strumming his acoustic guitar and humming his harmonica, the next he was plucking a banjo, and suddenly he was shredding an electric guitar. All the while, he never missed a sustained power note, dominating the venue without ever sounding like he was straining. They quickly won the crowd over and certainly picked up some new fans (myself included). 
When The Backseat Lovers finally took the stage, the four-piece was giddy and grinning. This was their first show of their tour, so it was perhaps an advantage that 'Silhouettes', the first song off the album they're supporting, is a six-minute track that's heavily instrumental, allowing them to find their groove while still giving their anticipating fans the moment they'd been waiting for for over two hours.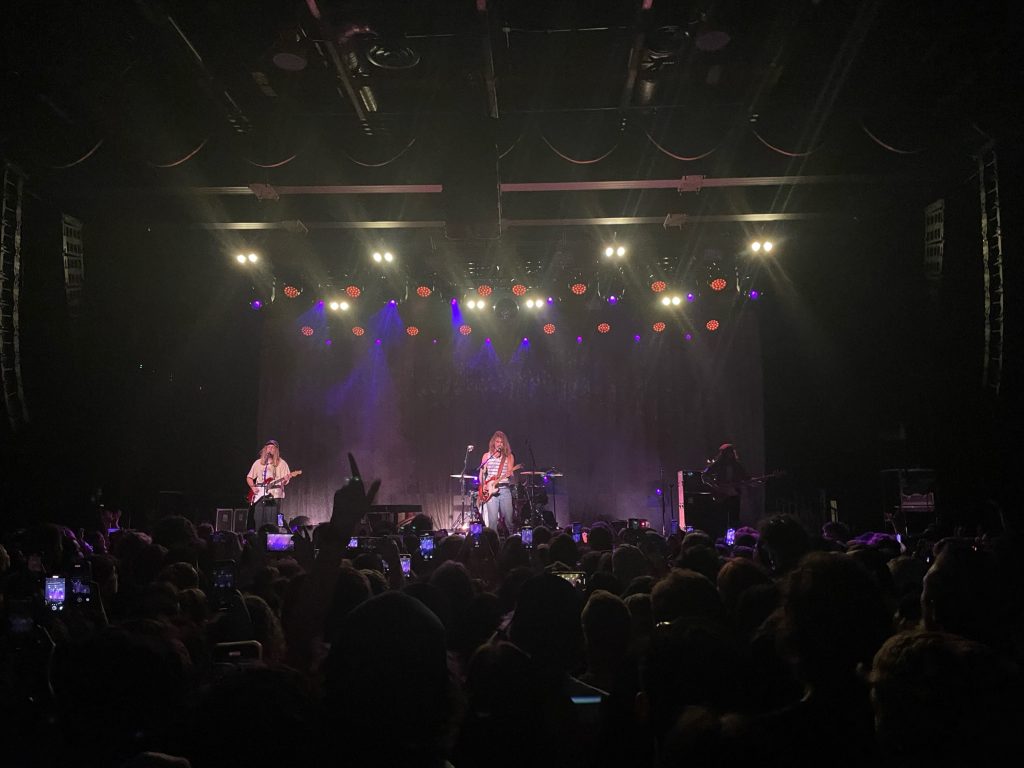 In between songs, lead singer Josh Harmon would raise his hands to his head, looking out at the crowd in visible awe, while bassist KJ Ward would smile and laugh, similarly shocked and thrilled. Drummer Juice Welch seemed to have his own fan club in attendance, his name being shouted or chanted every few minutes as he held it down towards the back of the stage. They came across incredibly authentic.
A particularly raw moment occurred during 'Words I Used,' the only song that guitarist Jonas Swanson took the lead on. He sat down behind the piano, clearly a bit nervous. While the crowd had been shouting along with Josh during 'Growing/Dying' just before, they were silent during this one, whispering the words, frozen by Jonas' beautiful vulnerability. I've experienced feeling part of a community singing along with the band, but I've never been united through collective silence before. Special doesn't feel like a strong enough word to describe it and I hope all you concert-goers get to feel that once in your adventures, too. 
During 'Know Your Name.' KJ, Jonas, and Josh jumped around stage together, headbanging with hair that's impressively longer than mine, fully living out their childhood dreams and energizing the rest of us alongside them. 
After this explosion of energy, right before beginning the final song on the record, Josh took a minute to make a confession: "We were so freaking nervous for this." The entire time you could see the gratitude and excitement on their faces to be playing to a packed house who had already learned all the lyrics to their new album within two weeks.
If you can manage it, absolutely snag yourself a ticket to see either of these groups, especially while they're still in small settings so you can get that truly intimate experience.
---
What follows is a list of charities that the band are supporting on this tour. If you would like to learn more or contribute, follow the links below:
Kingsbridge Heights Community Center (Brooklyn)
Brave Space Alliance (Chicago)
Joseph's Coat (St. Paul)  
Atlanta Community Food Bank (Atlanta)  
The SAFE Alliance (Austin)
Downtown Women's Center (Los Angeles)  
Community Mutual Aid (Salt Lake City)  
Women's Reproductive Rights Assistance Project