Back in the mid-2000s, I started a post-rock band with a few of my friends in college. We achieved – by our standards – a moderate amount of success (if for no other reason than we were able to sustain ourselves on little DIY tours here and there). Life happened, as it does, and we mostly went our separate ways from about 2013 to just last year.

Throughout that time, our drummer Ryan Crosby decided it was high time to learn guitar and write some music all his own, which led him to the project No Time For Caution. Having just released his second album on Mint 400 Records, I thought it would be a lovely time to catch up on the harrowing journey that led him to these songs, and serve as a bit of a shakeup from our usual text exchanges consisting of Jurassic Park memes and pictures of our kids doing mildly cute things with musical instruments.
Our chat – conducted via email for the sake of timing – is in full below. A great soundtrack to the interview is the aforementioned release (The Days Are Long, But The Years Are Short), which is a masterclass in vocalless layering, packed to the brim with emotion, determination and even a bit of mild thanatophobia for good measure.
---
While I know this… pretend I don't in the name of "journalism". What's the story behind the album cover?
The X-ray is actually my leg after I had surgery in the Fall of 2021. I had a pretty significant leg injury happen while playing hockey (broke my tib, fib, and fractured my ankle) and it ground my life to a standstill. At the time of the injury I was pretty much halfway through writing the album which already had The Days Are Long, But The Years Are Short as the title. When I originally landed on that title it was more in reference to the slow daily grind of life, but also seeing my kids growing too fast and life was zooming by. Kids have definitely sped up the time process and it has done wonders for my already heightened fear of mortality. The injury just absolutely enhanced all of this as I literally was on the couch in recovery watching my two kids grow in front of me while all I could do was watch. Every day was a painful grind but the calendar dates just kept flying by. I also like to joke that I really just wanted to spend a lot of money on an album cover.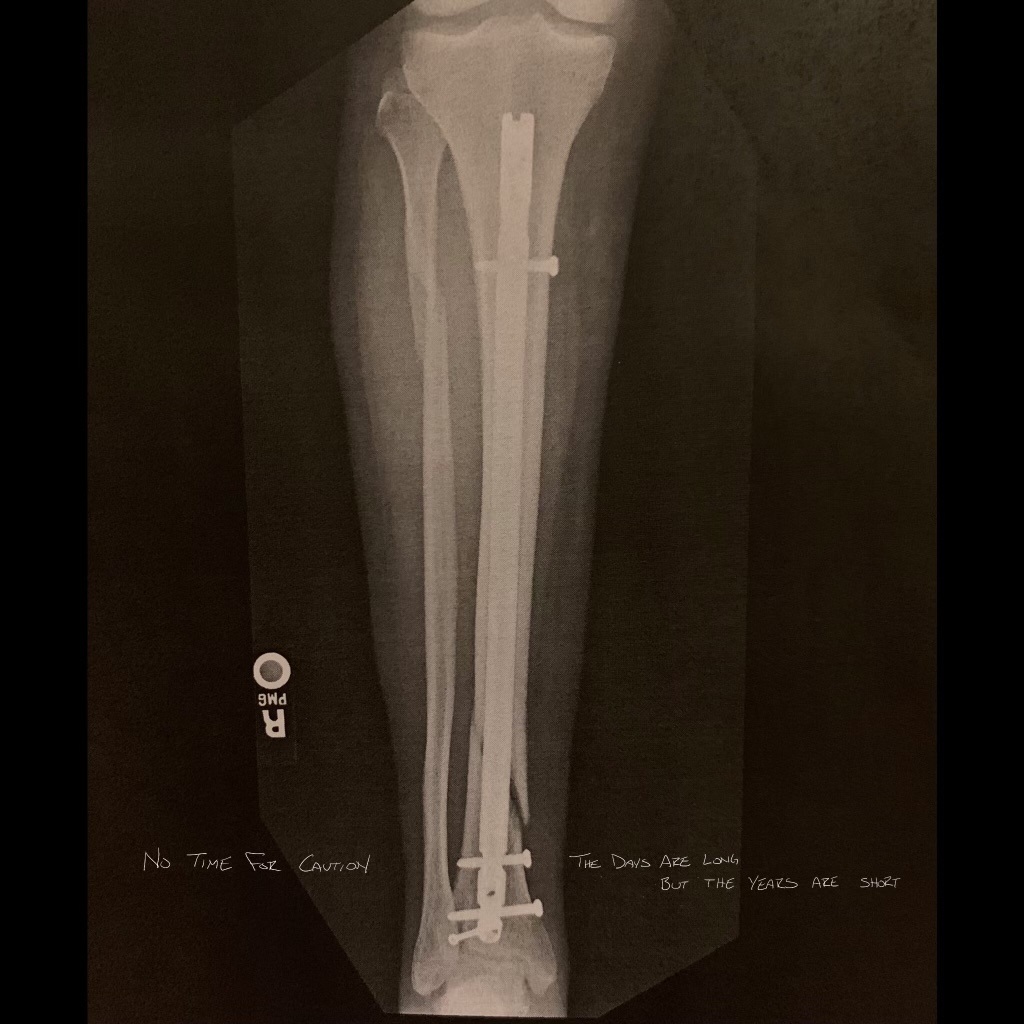 How did you juggle the recovery process with the writing/performing process?
Before the injury I was cruising at a pretty good clip, had all the skeletons put together for each track and had actually started sending a couple to my writing partner, Lars Ewell (The Cast Before The Break). Once the injury happened it was 100% halted for over 3 months. My doctor finally gave me the go ahead for me to put weight down on my leg and I had to work up the courage to booty scoot down my basement stairs to get in the studio. Once I got past that it was still pretty challenging as I had my Leg Armor on and my leg would swell/fatigue pretty quickly. As recovery progressed I could spend more and more time down there. I actually got to a point where I needed to record some drum tracks and ended up playing them with my left foot. Man, what a feeling it was to get down there and play again though. I absolutely love my Physical Therapy guy (yup, still going) and really enjoyed going 2x a week. Playing drums and guitar kind of ended up being PT at home the further along I got.

Before you started this project, you did not know how to play guitar. What made you decide to pick up a new instrument? And what's the process been like teaching yourself to play?
I purchased a guitar way back when we were writing for The Cast Before The Break with the hopes I could learn and better be able to communicate ideas. I completely overestimated my ability to pick up a new instrument and got frustrated and just gravitated back to playing more drums. Fast forward about 10 years and I would always mention to my wife, Katie, that I wanted to write an album. I believe she got tired of me saying that and just told me to do it already, haha. Little did she know the sleeping beast that she was about to awaken. I now have 3 guitars, a bass, and a lottttt of pedals!

The learning process has been interesting. I still don't really think I can play it all that well, but I think you can hear the progress with each album that comes out. With this album, I'm not sure what clicked but I really feel like I've made some big steps here. If I'm off of work the next day I usually go downstairs after everyone goes to bed and just noodle around. I find a melody I like and then my brain tells me the end picture it wants to see/hear. I then spend hours working through notes and placements to connect the dots from my brain to the guitar. When this doesn't work, I just turn on all the pedals and go nuts.

Talk to me about post-rock. I feel like this genre, and the few offshoots of it, often get pigeonholed into a very specific bucket, where, if it's soaked in reverb and delay, it's post-rock. If it also has vocals, it's shoegaze. But there are so many little intricacies that can diversify within those genres I think are sometimes ignored. What's the niche you're hoping to carve out within the post-rock realm?
I think the genre gets a bad rep from people like my younger self. In my opinion there's just as much variation out there as the major genres if you want to find it. Even the big guns This Will Destroy You, Explosions In The Sky, God Is An Astronaut, and Maybeshewill are all really unique. But once you find yourself listening to Bruit, Caspian, Secret Gardens, and The Echelon Effect is when you start to scratch the surface on the variations available. I think a reason many think this is that the main exposure is movie/tv scores and I think that version of the genre finds itself in a somewhat predictable formula, but I'm not sure it's any more predictable/formulaic than some of the other genres like rock, rap, or metal instrumentals – the lack of vocals just make it stick out a bit more.

I honestly just want to be me, if that makes sense. I don't go into it saying I want to sound like XYZ's version of the genre. Some of the stuff I wrote sounds like other stuff, but the motivation behind it is really just however I'm feeling that day and if my fingers land on the right combination of notes. I'm hoping that I find myself in a place where people can listen to the music, take a journey for 30-50 minutes and escape to wherever their minds take them.

What does the genre as a whole mean to you?
You know, this is interesting to think about. I was a "music needs vocals" chest thumper for a long time and the guys in the [The Cast Before the Break] changed my perspective on that during our road trips on tour. I think I discovered this music at the right time. Having gone through a really devastating loss of a family member around that time there was a lot of time with my thoughts. This music was the soundtrack to my life as I'm sure it is for others. One of the great things about it is that any song can mean anything to the listener. Your experience probably will be 100% different than mine. Some may hear a song and feel hope, others may hear the same exact song and feel despair. You choose the narrative and I think that's kind of beautiful.

Tell me about the process of building The Days Are Long…. There are so many layers that seem to be carefully put together like puzzle pieces.
I think a lot of that is a byproduct of how I write/record. My sessions are usually only once or twice a week for a couple hours which kind of means I can get a part done at a time. Since I only get such limited time I get to let ideas bake pretty well once the juices get flowing. One of the things that I find most fun about writing guitar for this project is crafting walls of sound type soundscapes. Being a drummer has helped me as I've spent a lot of time learning to leave space and then when you fill it, it needs to make a difference. When I let things breathe with guitar lines I think it adds to the wall and creates some fun interweaving melodies.

What was the hardest song to conquer here?
The problem child of this album was "Let It Burn". I had the skeleton but I could not finish the thought. It was the last one to get finished and it took Lars spending some time with it to really flesh it out. The middle section was just missing THE thing and he sent me his idea for it and it worked great, it was just what was needed. He also added some fun little pop punk/post hardcore riff at the end and it really just sealed the deal. That song was definitely the hardest to make come together from a writing standpoint.

The hardest to record was "See Those Lights?" as this was start to finish written during my recovery. The opening I figured out by just vibe'n out with a reverse delay and then I tailored the drums to fit me having to play with my left foot. I think it worked out pretty good though.

If there was another instrument you decided to learn for the next record, what would you choose to teach yourself?
Easily piano. I can work my way through things and do studio magic with a keyboard, but I'd love to be able to play it like an actual pianist. Maybe I just need to say that to my wife for the next five years and it'll happen.
The new record is available now, and can be streamed/purchased over on Bandcamp.