Irish born up and coming band The Academic set their fan's expectations high with their number one debut album, Tales From The Backseat. Five years later, they have made a triumphant and mature return with follow-up Sitting Pretty. 
Catering to the fans who have grown with their music, the band's newfound lyrical wisdom may offer some reassurance to early twenties music lovers. If you defined The Academic to one genre, it would certainly be indie, but this record sees them exploring different nuances of the genre. Each track is united by its running motif of exploring the entrance into adulthood and the emotions and experiences that come along with it. The psychedelic style artwork depicting a protagonist staring at four different doors also fittingly matches the imagery associated with this.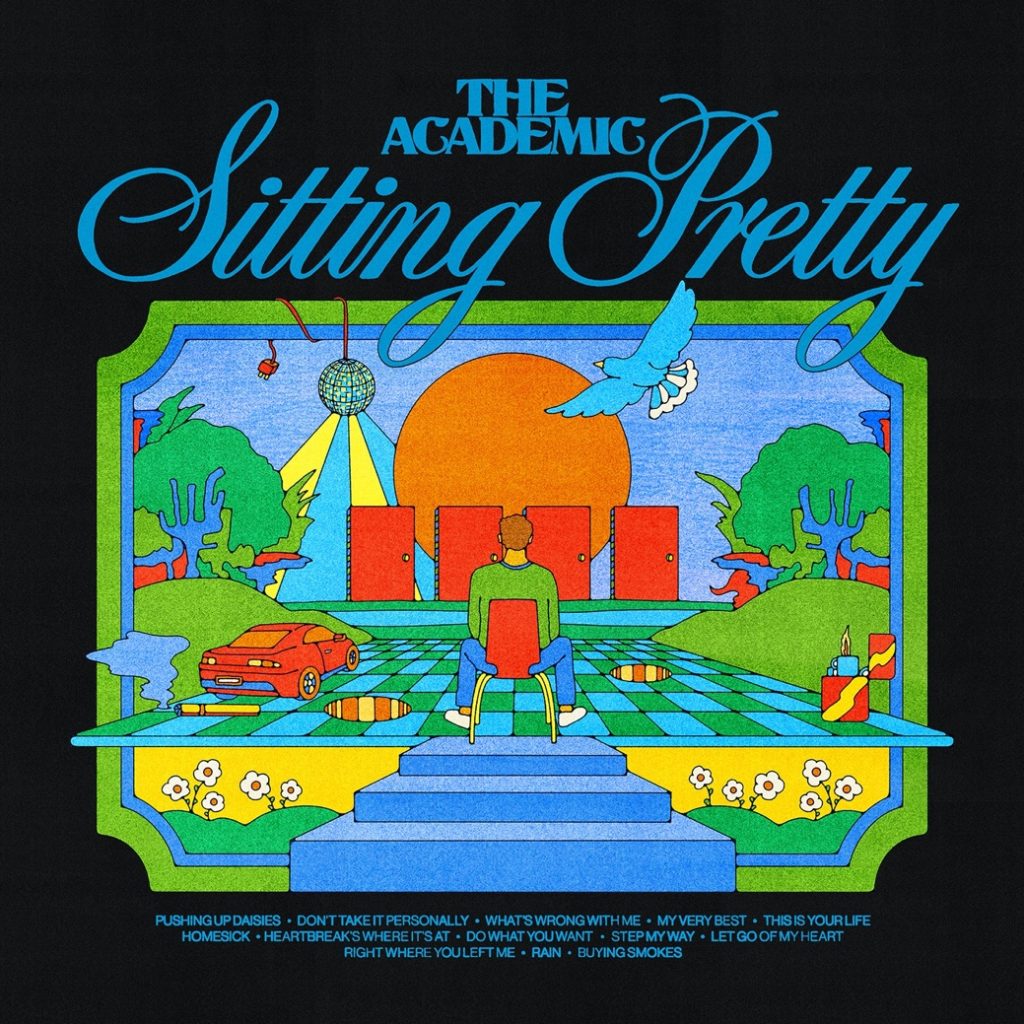 While the band play to the indie's strength of electric guitars and defining drumbeats, this is balanced out by mellower moments, which are welcome to show their ability to bend the constraints of the genre. 'This Is Your Life' and 'Step My Way' switch electrics for acoustics, and almost have a folk-like feel to them. The latter also doubles as a sweet love song, with lyrics of longing to be reconnected with a past partner also explored in 'Right Where You Left Me' and 'What's Wrong With Me'. It wouldn't be an indie record without a love song, of course.
Yet the album would not be complete without some gig-worthy instrumental backing. Big outros seem to be common on most of the tracks, as the electric guitars and drums work together seamlessly to capture the listener's attention, particularly in 'Let Go Of My Heart'. Electronic additions of synth in 'Heartbreak's Where It's At' also add to the dance-able nature of the album even more.
The basis of the album is feel-good music which can easily be translated to a live setting, which is done impressively well considering the deeper lyrical content of some of the tracks. Particularly in 'What's Wrong With Me', metaphorical references to paper bags floating in the air and the singer revealing his inner thoughts of 'how do I end up in these situations with no control?' emphasise the emotional roots of the album being a cathartic release for those entering adulthood.
Die-hard fans of The Academic will not be disappointed with this more mature release from the band. You can catch them on tour in the Spring bringing this album to life across the UK.
HAIKU REVIEW:
Bending indie rules
The Academic are wise
A band on the rise
Sitting Pretty is out today via EMI. You can stream / pick up a copy here.