It's been a little over a month since vivi rincon released her astonishingly honest and mature EP crash landing. She was kind enough to answer a few questions about her journey to date, which includes, of course, going viral on TikTok for her debut single 'if we lived on the moon', a confessional ballad about her struggles as a multi-cultural, queer woman. You can read the entirety of our chat below, which was as insightful as the music itself.
[RG]: How have you been feeling now that your EP, crash landing, has been out for a little over a month?
[VR]: I am so thankful for everyone who has listened and for all the personal stories that have been shared with me. It really makes me feel like we are all connected through this music and it helps me feel less alone. That's why I wrote these songs in the first place so it's truly amazing. But of course I am always writing and thinking about what comes next. I am so excited to see what happens next.
You're a Houston, TX native which, for those of us outside of the state, seems synonymous with all things country, but there's some Latin music mixed in there too. How would you say your hometown influenced your personal music style?
Even though I grew up in Houston, I was raised in a Latin household which truly shaped who I am. I am half Mexican and half Venezuelan so growing up in that culture was so incredibly inspiring and it makes me feel so proud of who I am and where I come from. My parents would always play Latin artists like Mana, Juan Gabriel, and Franco de Vita. The honesty and joy in their writing is something that I try to incorporate into my own. I want to create music that makes me feel the way those songs make me feel.
You started out as a dancer and later turned to music. Can you talk a little about that transition?
I loved dancing so much and I was certain I would eventually move to New York and start auditioning and working professionally as a dancer. But dancing became really hard for me and my mental state. I started having really bad body image issues; staring at the mirror for hours was too much for me to handle. So I had to give up dancing for my mental health which honestly made me really depressed. And in that highly emotional state, I started writing poetry and songs. I picked up the ukulele and it felt so special. It was a beautiful thing having a place where I could put all of these feelings and difficult thoughts. I honestly think that without music I wouldn't be me.
You released your first single ('if we lived on the moon') back in June of 2022 because of an overwhelmingly positive response from fans on TikTok. Tell us what it's been like to find your footing as a musician both on the app and now outside of it.
I am so appreciative to TikTok and for everything that it has done for me but honestly, some days it is hard. I try to remind myself that TikTok views do not define my worth. I am so thankful for the viral moments I have had, and they have really helped my career, but I also know that there is more to my music than a 30 second clip. Finding who I am as a musician is an incredibly personal journey and I am still finding myself every day. I think that I am close to being the artist I want to be.
We're coming up on almost a year since you released that song. What are you most proud of yourself for between now and then?
I am proud of my growth as a songwriter and as a person. I am so excited for people to hear the new music I have been working on. It feels honest and it feels like me. I always want to try to improve as much as I can.
What was the most challenging part of putting together crash landing? The most rewarding?
Most challenging part was definitely the process of saying "ok, this is good, I am done!" I am such a perfectionist and I can always keep changing little things to make the song better, but it drives me crazy, haha! The most rewarding part was listening to the completed EP, on my own, and letting myself be proud of it. Of course, hearing what everyone had to say was also incredibly validating as an artist.
A lot of the tracks on the EP feature this beautiful, brutal honesty. Was there ever a moment where you were afraid of putting yourself out there like that or thought about pulling back?
I am a terrible over-sharer, which actually works in my favor when it comes to songwriting. I have been in therapy since I was 14 and I think that has helped me in being honest and vulnerable. I think honesty is the most important factor in songwriting. I love it so much, I love writing about a feeling that feels so isolating, and then having someone tell me they have experienced that exact same emotion. It connects us all through music. It is so beautiful. I can't remember a time where that scared me.
You've been pretty open about being an intersectional role model, from living with BPD to being openly queer, (something especially important during a time where we keep seeing bans in the US targeting the LGBTQIA+ community). Have you been able to use spaces like TikTok and live music to connect with fans who resonate with your music that speaks to this?
Definitely! That's one of the most beautiful things about TikTok and live shows. I always try to write about my experience as a lesbian or my experience with BPD because it needs to be talked about. There are so many people out there going through similar things that I went through, and if I can help them in any way through my music, I will definitely try my hardest. Having people tell me things like, "I feel like you wrote exactly what I am going through," is the best comment I can get. I want to help people feel less alone.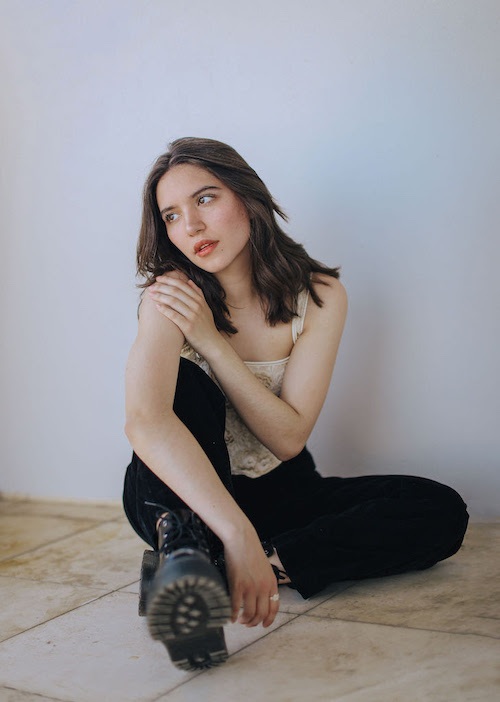 You've been asked a lot about 'if we lived on the moon' and 'overflow,' which is totally warranted because they're fantastic songs. But is there another track you've been dying to talk about?
Thank you!! 'can't breathe' is my favorite song off the EP. I think it perfectly describes that emotion for me of wanting someone so much but being terrified of what might happen when they leave. This is something I have experienced a lot and I am honestly very proud of how that song turned out.
I'm a big fan of speaking things into existence so on that note, who would be your dream artist to collaborate with?
Phoebe Bridgers, Nessa Barrett, PARAMORE! There are so many artists I would love to work with but those are just a few.
What are you looking forward to this spring and summer, musically and personally? Rumor has it that you're headed to LA after graduating from Berklee, so that must be pretty exciting.
I am SO excited to move to LA. I honestly really love LA. Something else I am so excited for is I am playing Bourbon and Beyond in September with artists like Brandi Carlisle and Bruno Mars. That has me freaking out but I am so excited, it's insane! And just writing more music and creating more.