Esther Rose is ready to move on from heartbreak. The now New Mexico-based country singer is ready to explore new territory as she gears up to release her fourth album, Safe To Run, on April 21st. We caught up with her over Zoom to chat about road trips, life lessons and what makes Safe To Run her "metal album".
---
[VG]: We're only a few weeks away from the album release, how are you feeling?
[ER]]: I just looked at my calendar this morning and realised it was two weeks away and got a little knot in my stomach! But I think teasing the singles out slowly, I'm ready for everyone to have the full record in their hands.

How soon after How Many Times did you start working on Safe To Run?
I'm always writing, you know. I think the first song from this new batch would be 'Spider' which dropped last week. Almost three years, maybe even to the day.

Did that set the tone for this record?
It in some ways set the tone, because I was like, 'This is the last heartbreak song.' So in some ways, it does tie into How Many Times, because with that album I was really exploring this heartbreak situation. And so with 'Spider' it was like, I've figured it out. Not that I figured anything out but I somehow released. So then every single song after 'Spider' was me exploring anything else but heartbreak.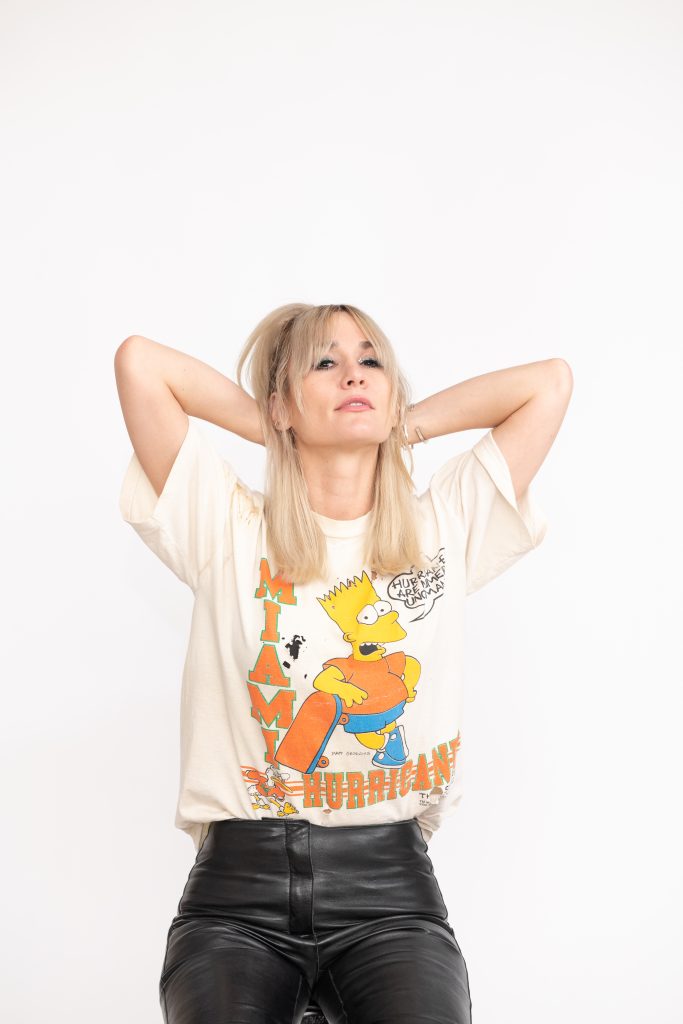 What does the title Safe To Run mean to you personally?
I like to name the album after the song that, for me, feels like the capstone of the album. I would say learning the lesson that there's nowhere safe to run was pretty much the feeling of the past three years for me. If you listen to my earlier records, there are songs like 'Keeps Me Running', and I've always just been like, "I'm out of here, see you later." Running away from hurricanes, wildfires, heartbreak or the pandemic. But the pandemic taught me that there's really nowhere safe to run. And that was a really good lesson.
I want the songs to be as clear as possible, so they strike the nerve that they need to strike. When it comes time to talk about my songs, I like to tell stories and anecdotes but it's hard for me to synthesise the titles apart from the song. It's all in the record, it's all there.
When people write about the album, I always feel like people really get it and they write about it better than I could explain it. Which means that I'm coming through, which is great. For me, when I feel like I'm not being understood is when people say it's whimsical, ethereal, dreamy. That's when I feel misunderstood.

The album was made in New Orleans, New York and New Mexico – how much do different locations inspire the music that you're making?
I moved to New Mexico two years ago after living in New Orleans for a decade, so I think that separating myself from the music community that had held me up for so long and working with new collaborators in New Mexico changed the music naturally. I love allowing the people who collaborate on my songs to really share their voices through their instruments. I'm not going for a certain sound, particularly, I just like the people who are in the room with me and I'd like to welcome that.
One of the interesting new flavours with the New Mexico-based folks is that they were more into metal and had played more in metal bands – the bass player and the lead guitarist in particular. So there's kind of a heavy metal vibe that runs through that we can feel and are nurturing. I don't know if it's perceptible to the listener. This is our metal album, basically!

I read about that with the title track, and I could really hear that metal influence when I went back and listened out for it.
Nick Cohon [of metal band Cormorant], on that very metal ascending guitar outro on 'Safe To Run', we worked on that together and it's just so intentional. I was more into punk and screamo, I somehow missed metal growing up, so now I'm getting into it. I'm getting into metal and techno.
I think that comes from coming to a new place. The techno community in New Mexico is amazing. People don't sit around and pass guitars quite as much as I wish they would. I'm trying to bring that out! But I'm also embracing what is already here which is electronic.

Tell us about the road trip you took from New Orleans to New Mexico for the 'Safe To Run' music video.
I was feeling really precious about how to make this music video for a song that I love so much. The more tender I feel about a song, the more caught up I get in its presentation.
I figured if this video totally sucks, at least I got to go and see my friends. I think that Rett [Rogers, director of the 'Safe To Run' music video] was able to show a side of me that shows a more dynamic version of who I am, which was really nice to share. I want my art and visuals to feel as real as the music.


You've taken the album out on the road a bit already. What have been your favourite songs from Safe To Run to play live so far?
When we play 'Spider', that opening riff, the band really gels so that one is always great. But 'Dream Girl' has turned into a little rock song. And that one's really exciting, that one has changed a bit from the studio version. It surprised me! Recording is amazing that way, it's a little time stamp. I think digging into your early catalogue and playing with your first record and switching stuff up makes perfect sense.

'Chet Baker' looks back at your life when you were 23. Was it strange to relive those experiences now?
Yeah. This is the beauty of being a songwriter and why I believe that it's going to work. We have these whole lives to dig into and memories to mine from our own experiences. I got such a late start; I didn't start writing and recording until I was 28. So I had lived this entire lifetime and when you're looking back on a memory from ten years ago, it feels pretty distant and there's a little perspective there. It was healing, it felt great.

You say that you had a late start in songwriting, do you think that's given you a different perspective in your music?
Everyone's on their own timeline. Some people are amazing writers at 16. So I don't necessarily think that you can compare. I think for me and my timeline, finally figuring out that I could do this thing, wanted to do this thing and was energised by this thing – that changed my life in the best possible way.
I'm just really grateful that I picked up the phone, finally and was like, 'Yes songs, I hear you. Let's do this.' I had always written a song maybe once a year and it was just something that I did or something that happened to me. Actually writing down the idea, actually making the voice memo, really sticking to the demo and finishing the song and completing it – then you're a songwriter.
That's my biggest piece of advice, just finish the song. Even if you don't believe in it, even if you think it sucks, just finish it and send it to a friend. You can decide if it sucks later, because it might be good.
The new album from Esther Rose is out tomorrow, April 21st and can be streamed/purchased directly from her Bandcamp page.