Cheddar born and raised Jo Hill is on a mission to achieve all of her ambitions with her homegrown indie musings. Fresh off a new single and a signing to Parlophone Records, we caught up with Jo to chat everything from beginnings, to the future and what goes on behind the scenes.
[AV]: Why music? What first inspired you to get into the industry?
[JH]: I've always been writing songs since I was young (even on the way home from school with mates) and I grew up knowing that I wanted to be a performer, but I didn't know how to get into the industry. I hated practicing but loved writing songs, coming up with melodies and telling stories. My nan trained to be an opera singer but got pregnant too young to continue, and my dad studied music at Uni but sadly didn't pursue it as a career…so maybe I'm trying to continue their legacies! I was massively encouraged by them both to pursue music. No matter what I was doing in life I was always singing in bands, writing songs and gigging on the side. I kept this going even when I was living in the Middle East (I studied Arabic and Anthropology at Uni) and then I finally moved to London post-uni and have kept myself busy in sessions and gigs and away I went…
Who would you say your musical influences are, in general but particularly on your upcoming releases?
Kasey Musgraves, Stevie Nicks/Fleetwood Mac, Miley Cyrus (the more country/rocky stuff), Clairo, Rachel Chinouriri, and Boygenius.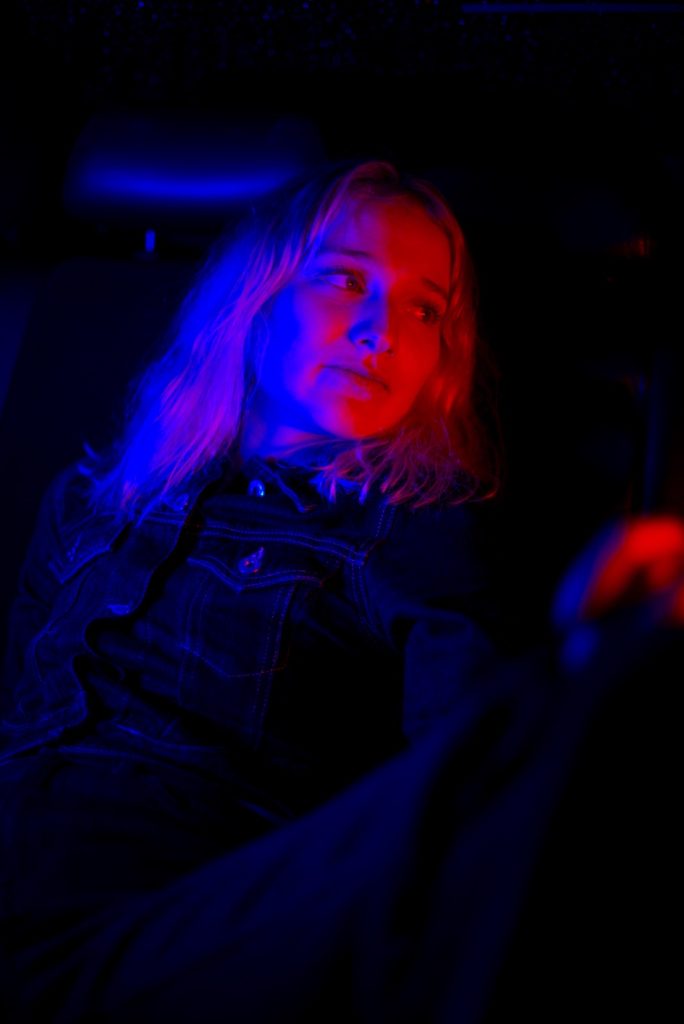 How will your new releases differ from your previous ones?
I feel like I'm coming at the release of 'Off The 45' with a much clearer vision of who I am as an artist, the world that I come from and what this next wave of music is about. I feel like I'm really tapping into my perspective of the world I see around me and how I exist as an artist rather than just promoting 'a song.' I want people to fall in love with me, my tone, my vibe, the lyrics and the stories, as opposed to just one song, and I feel like 'Off The 45' is a real gateway to doing that. The visuals, the sound and the creativity around it feels so much more thought through and true to who I am as an artist overall than any song I've released before. It's been a lot of work but it's really exciting to be able to present something you feel is true to you, and maybe even draw more people into you as an artist.
What has the writing and recording process been for these new tracks?
I wrote 'Off The 45' on a random Saturday in November 2021 with the baddass female producer that is Madde Faker in a windowless studio in London. It was literally written and produced in a blink. We were meant to be writing for someone else, but I played Madde my own music and she was like ''shall we write something for you?'' Madde then started playing the HARDEST guitar riff and encouraged me to spit out the words ''slutty guys,'' ''off the 45'' and ''beachy head.'' In about an hour 'Off The 45' was born into its bare bones and Madde produced the whole track on her flight back to Sweden! I remember cycling around Brixton listening to the first version of this song and feeling so excited and empowered.
'Off The 45' taps into a new and exciting sound for me as an artist and explores that raw, rocky Fleetwood side of my project that accompanies the dreamier sound of 'Honeymoon,' for example. Fleetwood are a great example of a band who do rockier and more driven anthems along with the dreamier 'Gypsy Woman' style songs. This is what I want to do!
'Honeymoon' has had great success in particular. Does it feel daunting following this up?
Not at all- I'm ready to release my next success or just keep releasing until I reach success. I'll always be proud of 'Honeymoon' as I released it all by myself with no label and no management, but I wasn't really aware of who I was as an artist at that point. It was more just that I loved the song. Now, I feel like I'm ready to release 'Off The 45' as part of a world and not just as a song that people stream but don't know the singer (I hope).
'Off The 45' has a raw, angsty feel, and the video seems very homegrown with its production. How did the music video for that come together? It looked very fun to film!
It was a completely mad idea that my manager Sam encouraged. I told him about these boy racers in my hometown that get a lot of stick in the local papers because they do donuts in the streets and ruin the roads. They gather on Friday nights and it's kind of like a regional version of 'Fast and Furious.' 'Off The 45' is about driving away from somebody who's either about to hurt you or has hurt you. We put two and two together and thought that these boy racers would make an epic backdrop for the music video. They're from my hometown and I've grown up with them. The planning involved a lot of chaotic WhatsApp groups, dancing in the rain, tractors, goats, and making the locals in my village wear t-shirts that said 'slutty guy' on them (a lyric from 'Off The 45'). It was mad and I'm so proud of everyone involved.
Is there a debut album in the works?
YES. I've written the bulk of it… just you wait.
If you envision your career five years into the future, where do you hope to be? What are your goals – any dream shows to play or dream collaborations?
GLASTO…I have to play Glastonbury. It's super local to me, I've been going since I was 12 and I don't even care what stage I'm on – I just have to play there. I'd like to say Hollywood Bowl but maybe that's more of a 10-year dream. I'd love to win Brits Rising Star, win a Grammy for my debut album, sell out a headline tour in the UK and US, play in Australia and smash a Tiny Desk. Oh, and I'd love to be on the front cover of Rolling Stone with my girlband. There we go…VERY ambitious.
But more importantly, I dream about doing a homecoming gig at the Cheddar Reservoir and for people to travel all the way from London to get there. 
Follow Jo Hill on Spotify for updates on new music, as well as on all social media platforms.