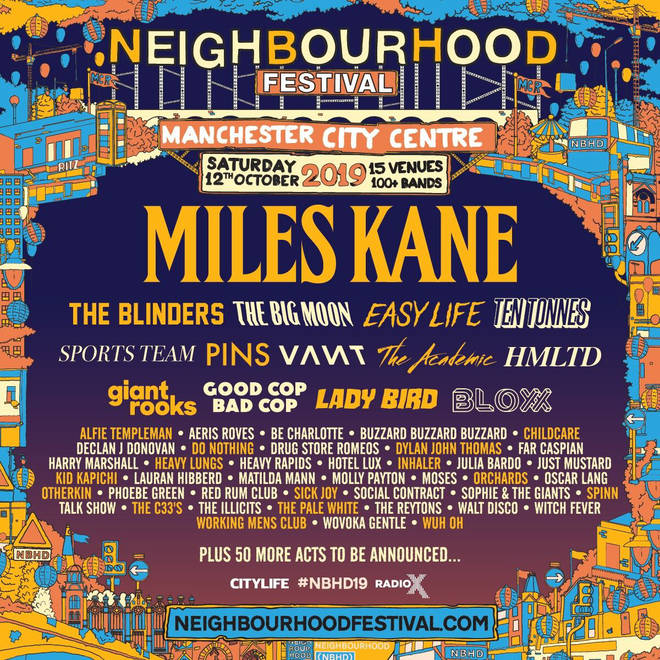 Spanning fifteen venues with over 100 acts, NBHD is back, slamming Manchester with
another belter of a line-up. Just picture it: the attitudes, the guitars, the blazers. It's almost too much. So, who
made this year's cut? The results are in.
Best dressed: HMLTD
Between the animal print, whacky suits and extravagant
makeup, HMLTD are bold and
outstanding in more ways than one. With a sound that breaks all the rules, these
guys are bound to bring some absolute scenes in October, and we're willing to
bet their outfit will make a statement too.
Most Likely To Break A Bone On Stage: Sports Team
There is nothing more epic than an enthusiastic
frontman. Alas, there is also nothing more dangerous. Sports Team's Alex Rice is the perfect example, his footwork alone
from is like something from a 60s rock n roll gig: gloriously groovy, but prime
opportunity for a twisted ankle. We hope not, of course, so… break a leg?
Best Newcomer: Julia Bardo
With just one single out so far, Julia has made an
intriguing first impression. 'Desire' shows a cool and understated new talent,
effortlessly smooth in both vocals and composition. Her performance come
October is due to be her first with a full band, and no doubt an exciting debut
at the festival.
Most Likely To Drench The Crowd In Alcohol: Lady Bird
Welcome back to some good old-fashioned British punk:
satirical, sweaty and mostly shirtless. Heavy drums and heavy words are to be
expected from Lady Bird, and with
that we wouldn't be too shocked if the bass player took a swig from a pint
before chucking the rest over the front row. Classic stuff.
Class Clown: The Big Moon
The music is great and they're effortlessly cool, but
above all, these girls are FUN. Their smiles are infectious as they kill it on
stage, and it's utterly refreshing to stand before a band that doesn't take
themselves too seriously. The Big Moon
are here for a good time, feel free to join.
Most Likely To Steal The Show: Easy Life
If you haven't heard these guys yet, close the article
and find them. Right now. Hitting all the sweet spots of hip-hop and neo-soul,
the lyrics read like poetry and the ensemble of brass, bass and synths is a
welcome escape into the world of Easy
Life. I'm telling you, these boys are heading for the top, and their live
performance is as slick as their music. Buckle up, buster, you won't wanna miss
this.
Most likely to headline in the future: The Blinders
Attitude? Check. Style? Check. A repertoire of rock
songs that'll make you want to down your drink, dance your way to the middle of
the crowd and scream out the words til the lights come up? CHECK. The Blinders have it all, and we
guarantee it won't be long before their name is up in bold.
NBHD returns to Manchester city centre on Saturday 12th
October 2019.


Words by Liv Cowle