We spoke to Lola Marsh fresh of the release of 'Echoes' and the announcement of a European tour (that includes the UK don't worry, it's not over yet).
First of all, how's everything going?
We're fantastic. We just landed in Austria on the way to a really cool festival – Pohoda in Slovakia. It's the 4th time we're going to play there.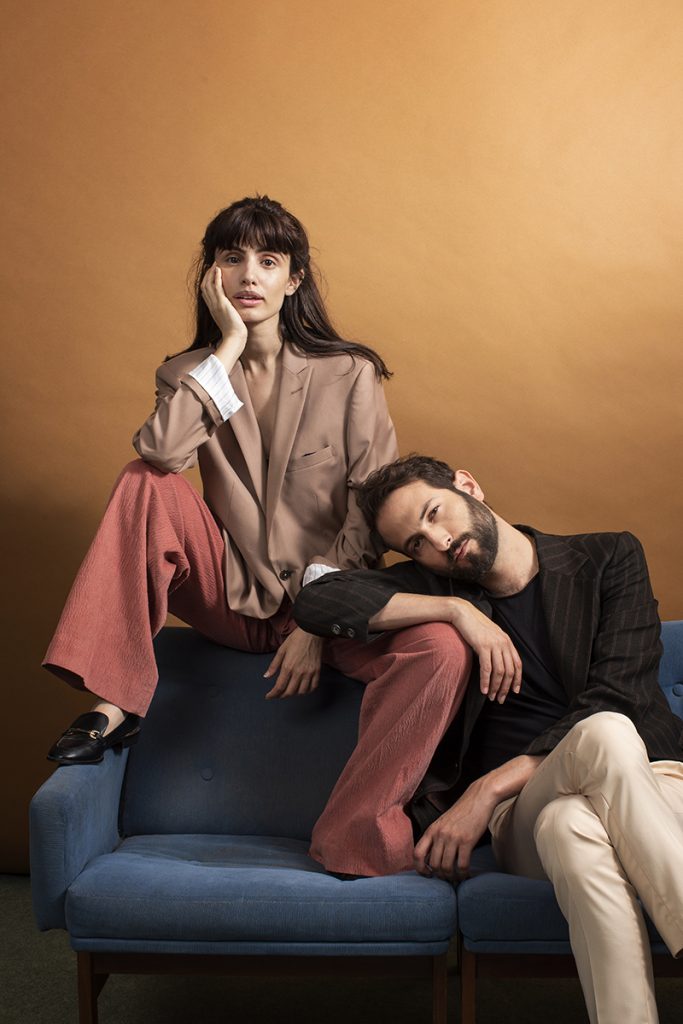 What can we expect from the new record? Does it tackle any specific themes?
We tried to explore new sounds but to keep the original essence of the band. This album continues the nostalgic and cinematic vibes we had in our first one. We try to tell simple stories through a bigger picture. Stories about friendship, childhood, fears, relationships. Every song had this trigger that led us down an unexpected path. It felt just like the songs found us.
Your new single, 'Echoes', has a 60s surf rock vibe, there's definitely aspects of the laurel canyon sound in your further work to me. what draws you to the California coast? Perhaps it's not the Californian coast at all?
One of our favourite movies in the world is Pulp Fiction – Yaeli even has a necklace that says 'Be cool hunny bunny'. We love the soundtrack and we're sure it influenced us when writing this song. It's funny but it's not at all about California. When we wrote this song we immediately envisioned our local landscape – the deserts we have, a place clean of thought, a place that fills you up and empties you out at the same time. The lyrics of the song lead us to the specific arrangement.
You've worked occasionally with soundtracks. What's your experience writing for film or tv like? Is it easier maybe to write within a pre-set world and narrative? As opposed to having to create those yourselves.
No doubt, it's so much easier within a pre-set. For example, when we worked on the cover of the song 'Something Stupid' for a Better Call Saul episode, we had restrictions that the musical supervisor gave us, we still had to work under them and it actually focused us and we were really pleased with the outcome. When we write our own songs, there are always so many possibilities and it can be really confusing.
When we wrote [Echoes] we immediately envisioned our local landscape – the deserts we have, a place clean of thought, a place that fills you up and empties you out at the same time.
Do you have an interest in moving into other mediums? Film? Writing? Perhaps you've had experience already?
We are always open to suggestions! Gil was in acting school and I have a dream to write a fantasy book with two of my best friends.
What was your experiences growing up, was music something that was always there? Was it something that you knew, from a young age, was what you wanted to do?
Yes.
Gil: I remember my dad used to sing all the time in our house. I grew up in a musical environment. I started playing the piano from the age of 6 and guitar from the age of ten. I always knew this is what I wanted to do.
Yaeli: since I remember myself, I loved being on stage, performing in front of my family and friends, I played the guitar and performed in so many coffee houses and shitty bars, and always knew this is what I want to do.
You've played some of the biggest festivals in the world, how do they stack up to smaller gigs? Is your motive as an artist the same regardless?
We love the fact that our lives are very dynamic. One day we can perform in front of a huge audience, getting massive energy from the crowd, and the day after we can perform in a smaller venue where the energy is still massive, but in a different way.
You have style you lot! How important are clothes to your identity as artists or as a people? Are they a way of further expressing yourselves? Or perhaps simply just something you enjoy?
Thanks for the compliment! we feel that our outfits have an effect on how we move and perform on stage, that's why we like to feel comfortable.
Yaeli : I feel the prettiest when I'm comfortable (never high heels!)
Recording can be a long or short process, how did you find it for the upcoming album? What do you do to help it keep moving? And is there a 'right time' to do it?
For our debut album, like some bands, it was a long process to figure out who we want to be. For this album, however, we were more focused, it took us a year, so I guess we're improving. There are artists who can write and record while touring. For us, we needed time off from touring to focus on writing and creating an album that we are proud of.
I feel the prettiest when I'm comfortable (never high heels!)

Yaeli
As musicians and artists your ability to put yourselves in positions that make you uncomfortable or nervous is almost your entire job description. But does that ever take its toll?
We really love what we do, sometimes it's really hard and stressful but it pays off.
Finally, what's the plan for the rest of the year?
We're playing some really cool summer festivals (we're actually on our way to Pohoda festival in Slovakia right now). We're going to shoot another video in Kiev, and can't wait to share our new songs to the world. We're especially excited about playing in London for the first time on November 5th at the Camden Assembly.
You can find tickets for Lola Marsh's upcoming European tour here