Australia is creating new talent time and time again. I think we may actually be in the midst of an invasion from down under. Anyway, Jade Imagine is the latest to come out of the music wizard of Aus, Milk Records. She spoke to us ahead of the release of her debut LP…
First song you ever wrote…
I can't remember exactly what the first song I wrote was, but I do remember that it was written on guitar and I recorded it into the microphone of an old massive boom box tape player that we had in our house at the time. I was probably around 13 years old?
First instrument you played…
My dad taught me to play guitar on his old red semi-acoustic Maton. He showed me a few chords and then gave me some songbooks which had all these old 'classics' written down in tablature and musical score. From there I taught myself how to play various songs to expand my skills. Mostly though I would listen to songs I liked and try to work out the guitar parts by ear. I feel that really helped me to become and intuitive player.
First band you ever saw live…
I went to Livid festival when I was 14 I think. Heaps of gross bands played but I do remember one of the highlights being No Doubt on the main stage. I remember having never felt so tired in all my life at the end of that day. I hadn't drank any water or eaten anything from having been too excited to be amongst such a huge amount of people and just too many things to look at… but I do remember feeling a deep knowing of destiny – I wanted to do what those bands did on stage. To play!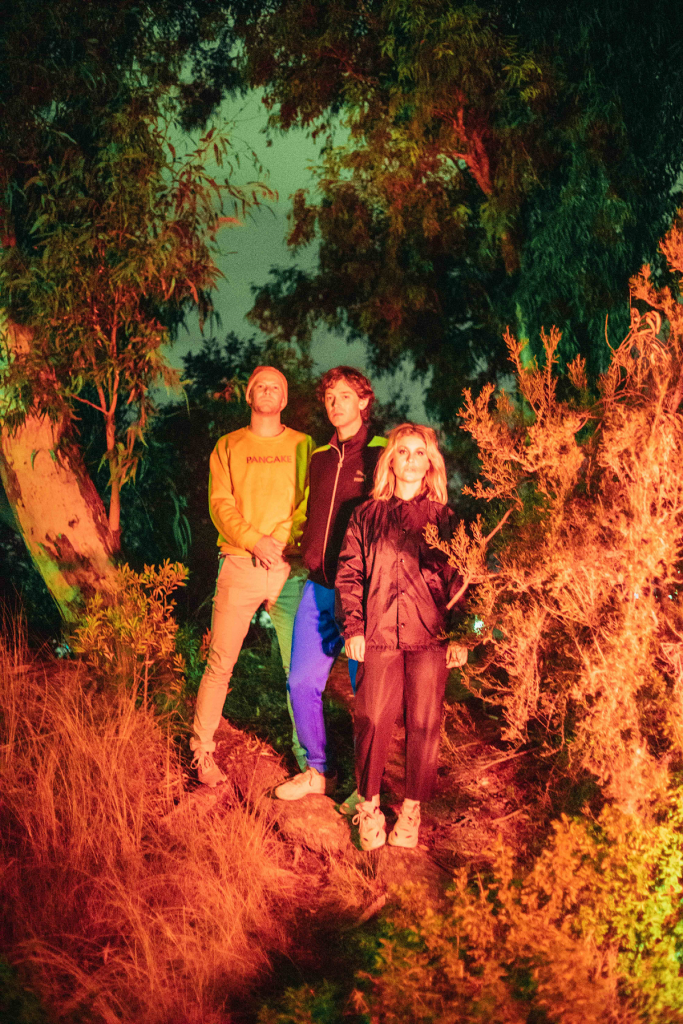 First gig you ever played…
I think my first official gig was at a blue light disco in the sunshine coast with my high school band.
Getting into the present, there's a growing Aussie scene right now. There's always been top music from Down Under but there's a strong scene growing now it seems – who should we be on the lookout for?
There's always been an amazing Aus scene (even if you haven't heard about it)… bands from the Easy Beats to The Church, etc… I mean, right now, there really are too many bands to mention in one go. A few of my special friends come to mind at this moment, bands like Gena Rose Bruce, Poppongene, Body Type, Angie McMahon, Elizabeth, anything from the Ocean Party crew's side bands…
The band is obviously called Jade Imagine, is there a concept behind your music then? Maybe the songs relate to Jade's imaginations?
I try to create a world with my songs and artwork. I guess you could say an imaginary world… but it definitely stems from something real and tangible, in its essence.
Your debut LP takes on the simple versus the abstract, what intrigues you about both the simple and the abstract?
Well, I suppose the simple can represent anything relatable. Love, the mundane, 9-5, but I use simple objects or concepts as a key to explore the deeper meanings underneath it all. I suppose I'm just trying to process this life I've got – as abstract and as simple as it can be… and at times it can be both!

There's other battles going on in the album, romance v sci-fi going up against each other. Again, what draws you to these quite different things? Then, can you name a few of your favourite romance and sci-fi films for us?
When writing this album I was obsessed with the idea of living in-between worlds. I came up with this idea of "Nature-sci-fi". Nature representing the earthly elements and warmth, and sci-fi represented the unnatural, inorganic and cold for example, the country versus the city or guitars versus synths, etc… I'm getting off-topic. I don't really watch romance films but our guitarist and producer Tim likes Harold and Maude. My fave sci-fi films are the Alien films and the original Planet Of The Apes.