Being a band in lockdown is not easy. There's the closing of recording studios, the logistical nightmare of trying to be in the same room together and, for Melenas, there's the problem of trying to promote an album from their bedrooms.
Their sophomore record Dias Raros (meaning 'Strange Days') perfectly encapsulates what it's like on earth right now – stuck inside physically and mentally, whether you're in a band or not. But, this was not their initial intention.
"It was a happy coincidence!" the band exclaim.
"Obviously it was decided before because the production of the album and everything was sent before this happened, so it's completely a coincidence," lead singer, Oihana tells us. "At first we were like, 'How the fuck is this going to be related to what is happening?', but the meaning is a little bit different. We were thinking about playing in our bedroom, thinking about [our] own stuff and in the meantime the world keeps going – people keep leaving outside but you are inside having your own thoughts."
The songs fall anywhere between energetic and emotional, the array of instrumental skill and vocal ability wonderfully portrayed throughout. Dias Raros maintains Melenas' dreamy psych-garage sound, with jangly jams and punk-like change in tempos – a real all-encompassing triumph. The songs don't take long to get sorted, the band explaining their writing process on both Dias Raros, and their self-titled debut release in 2017.
"We start a song and then we think, 'What do we want it to sound like?' I think you can see that a little bit in the album too because there are different moods and songs that are quite different, even though you can see all of them have the same basis and are from the same band," Oihana explains But we knew how we wanted to sound in general and we knew how every song had to be in particular. [For] each of them it's a different detail: it could be more psych, it could be more jangly, depending what the song asks for – we search for that."
Creativity is something that the world is being pushed into at the moment, now that people seemingly have more time to learn new things – whether that's learning a new instrument or attempting a new recipe. Melenas have felt that pressure, as keyboardist Maria explains: "At the beginning I was more creative and now I can't do anything with this situation."
"In the beginning it was different," Lauri (drummer) agrees, "but now we have our routine to work. We have to do things related to Melenas and we don't have so much free time I think. I'm the same as always but at home." Oihana had a similar take: "For me at the beginning it was creative because finally you have time for you that sometimes you don't have in your regular life and routine, but after a while you don't have energy for that. It's like they take something out of you."
Many records have seen their release date delayed because of COVID-19, but Melenas stuck with the date they set – a risk that is now paying off in lockdown.
"We've been doing promo work, so it's been good – we've been focusing all of our energy on that because we couldn't practice," Oihana explains. "We are not going to play as all the shows have been cancelled, so all the energy has been going into the interviews and stuff, so somehow it's been good!"
"We've been working on merchandising too and the last video we made was at home, so we've been pretty busy," chimes in bassist Leire.
The Dias Raros album cover has the look of a classic. It would not be out of place in the 1970s, the four members of the band resembling The Beatles and The Kinksin a way Oihana describes as "somehow together but all of us are in our own worlds, looking to different places."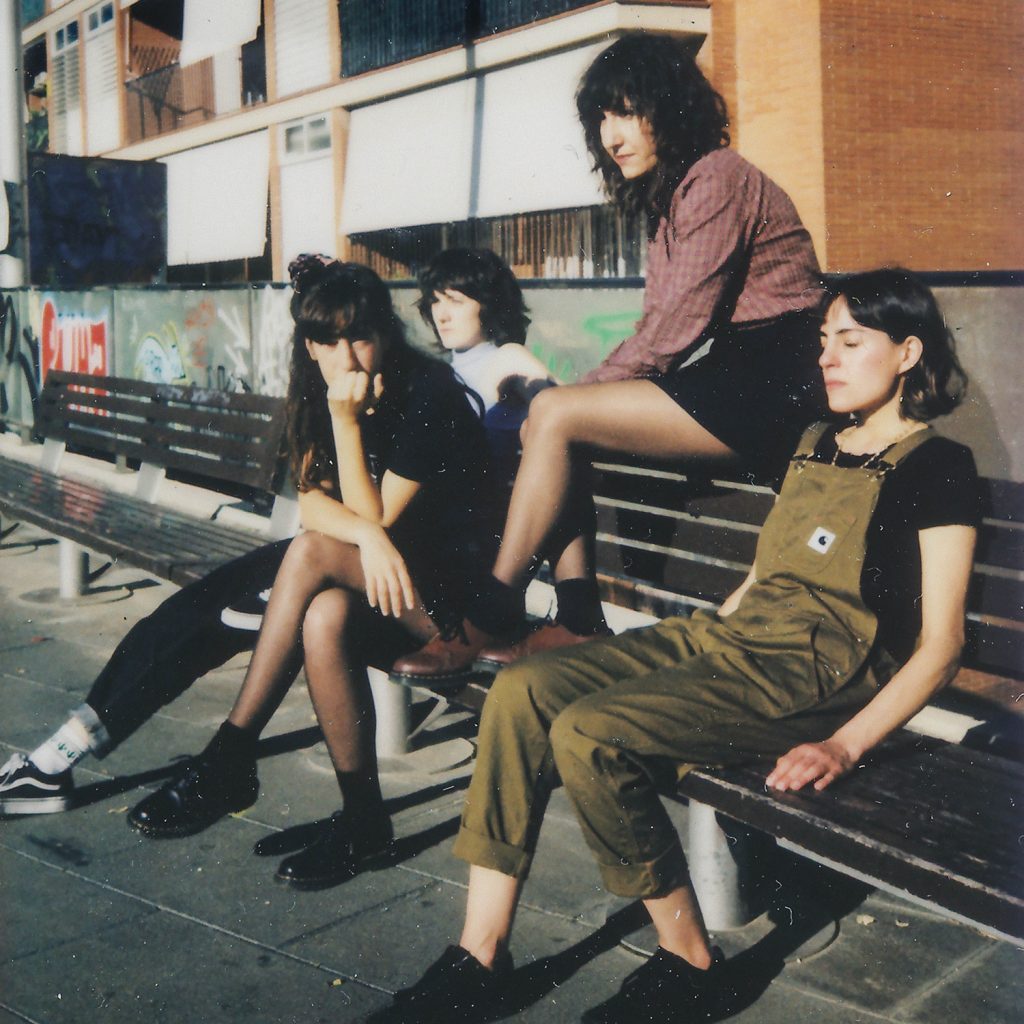 "It just happened!" Lauri explains. "It was super-fast. We had recorded a TV show in Barcelona, and we were with a friend of ours, he's a photographer and so he took some photographs of us. It was a very sunny day and so we sat on a bench, he was using a polaroid camera and it happened very fast. It was a photo session of 20 minutes, or something like that; he took five photos with the polaroid and [the album cover] was one of them – we loved the image. We think that it was somehow very related with the mood of the album."
One thing that is immediately apparent when listening to the record is that the songs would kick off live; the anticipation of playing live is one that a lot of bands with new records will be feeling right now. After months of writing, recording and mixing, the chance to finally go out and share the record with the world has been delayed. The band assure me they'll be raring to go once they can return to playing live, even more so because some of their album pre-sales sold out: "It's amazing! It's not out yet so it's like wow."
Melenas have been around the block of Spanish festivals, performing at both Primavera and Benicassim in the last couple of years (it turns out we were both at Benicassim in 2018, but only one of us (me) discovered the drunken skill of sleeping-while-standing during Liam Gallagher's set). Oihana explains that her favourite shows have been in the UK, though, specifically Freakender in Glasgow.
"We like playing in small venues quite a lot, we didn't even have a stage there. When you feel the crowd close to you, that's our favourite thing. In Europe you can feel people moving a lot, we enjoy that so much."
Melenas also ventured south last summer, performing in Derbyshire at Indietracks. "It was great!" Laura shouts. "It was a very special and pretty church."
Oihana joins in: "As it was in a tiny church, I don't know how many people were there – maybe 50 or 60 – they were all sitting on benches and at the end there were people standing up. So, when we finished everyone stood up and started clapping, it gave us a different feeling you know."
The band continue to praise the audiences they've encountered around the world, bouncing off one another's retelling of different gigs and experiences. Oihana puts the support of different crowds down to the band's songs.
"I think somehow our references are more connected with people in the UK, and when we have played in Austin (Texas) we've felt that too. I think it's the kind of music that maybe isn't that popular in Spain so that's the reason." All of the band set out their dream destinations to tour in the future, including Berlin, Paris, Chicago and L.A., letting slip that they were supposed to be touring the whole of Europe with this album. Bugger.
The band are based in Pamplona, the picturesque capital city of Navarre, in northern Spain. The city is filled with beautiful 14th century gothic architecture, but beneath the surface is a buzzing community centred around an underground music scene, in which Melenas are firmly a part of. "There's a small musical community in Pamplona," explains Maria, "like an underground community – we are all friends and we are all in bands. It has a lot of movement for being such a small city."
A particularly popular hang-out for the band is a bar called Nebula, one steeped in history and which seems to be known throughout the underground of Spain and Europe.
"Pamplona is in a place that you have to cross when you come from France to go to Barcelona or Madrid, so a lot of bands stop there and play for about 40 people, which is this community we were talking about," Oihana explains, "then the next day they play in a super big venue in Barcelona for example. It's a privilege you know, we have bands that come from all over the world and they stop here for us. They are treated nicely by Pedro, the owner, and we hang out with them – we go and have lunch or something. We have had connections with bands this way, and they come back afterwards, like when they come to tour again they come here because they had a great time. It's very cool."
With a light dabble into other bands from Pamplona and Spain (Mujeres, Exnovios, Cariño) which Melenas recommend, it is clear the effect this community has had on their music.
"I think it is probably connected because we share music. For example, our friend is always DJing at Nebula; maybe we don't love all the music he plays, but we discover a lot of bands that way, and when I discover one I send it to him. Somehow we are all connected by those references that we share."
Pamplona may famous now for its beautiful buildings and picturesque surroundings, but soon, the band tying that all together with jangly garage music will surely be the main attraction. Estoy enganchada (I'm hooked).
Listen to Melenas' full repertoire on Spotify or Apple Music – the new album is out now.