"This feels like a question out of The Dating Show and I like it," Lauri Raus, guitarist and songwriter of Holy Motors responds when asked if the band would class themselves as cowboys. These off-kilter answers come to characterise the interview, making for an interesting and unique conversation ahead of the release of the band's sophomore album, Horse.
"Did you know the producer of [The Dating Show], Chuck Barris, was secretly working as an assassin for the CIA?" Lauri continues. "The agency denied any part of his claims, but then again, how intelligent would it be for them to announce their illicit operations? Barris later backed down from his confession, but only after his daughter died of alcohol and cocaine overdose I think. Ain't life sometimes just strange."
Eventually, Lauri returned to the question: "I wouldn't mind at all the prospect of being a cowboy."
Holy Motors appeared in my inbox one day described by their publicists as 'Ex-Soviet cowboys'. Listening to their single, 'Endless Night', and sophomore album, Horse, I was hooked, and firmly agreed with their publicist's pitch. Hints of the Wild West and vivid images of long tiresome treks on horseback across open plains and romantic dinners for one by a campfire seeped through – the music was just like it is in the movies. Upon this discovery, I was like a kid in a sweet shop, or a confused 22-year old in a Western apparel shop surrounded by strange elderly men…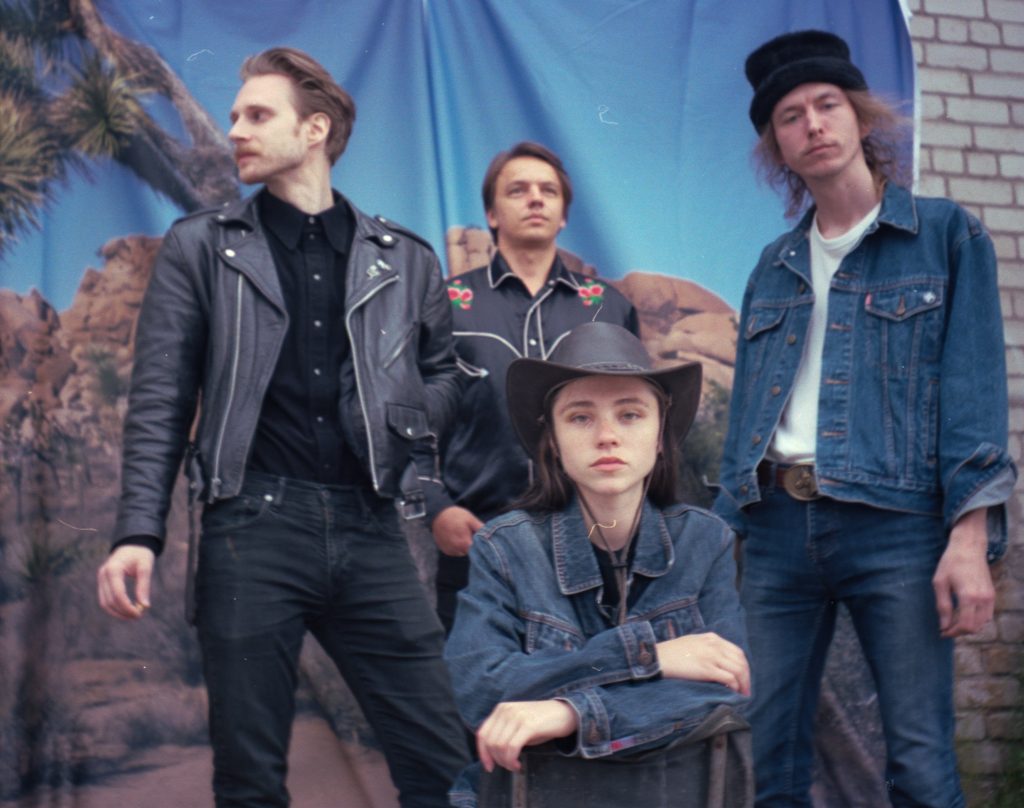 Despite what this imagery, soundscape and unnecessary anecdote may suggest, Holy Motors are not a country band. Instead, they possess an Americana sound subtly mixed with their native European influences – think Mazzy Star and Juanita Stein, rather than Johnny Cash and Dolly Parton.
Unconventionally, like everything about the band and our interview, Lauri stumbled across the sound after listening to music he didn't like.
"I used to think I ain't suited for a Fender Telecaster. Listening to Screaming Trees, Love Battery and other grunge as a boy didn't particularly have any appeal over me. I only saw one photo of Kurt Cobain ever playing a 'Tele' – it was light blue or something. David Roback had one in hazelnut with a bigsby-style tremolo mounted on top. I got mine by accident and it was the best guitar I ever played. I think it's just that Fender tone."
After sending Fender an invoice for this product placement, we continued to discuss the band's influences: "I liked the Gun Club, especially the song 'Mother of Earth'. Also, I dug the punks of Compulsive Gamblers, Spindrift, not to mention Jet Harris, James Wilsey, this band called The Pharos who performed a song called 'Pintor', and Morricone… I didn't watch a ton of Western films. I liked European cinema."
This long list of influences goes a long way to explain why Holy Motors sound like they do, something Lauri refuses to shy away from.
"My attraction to country-folk music is real cognitive, much like the discourse of French philosophers. I can't say why I like it, but that I like it – for now at least… I like that in country music your song can be about burning diesel without sounding funny in the wrong way."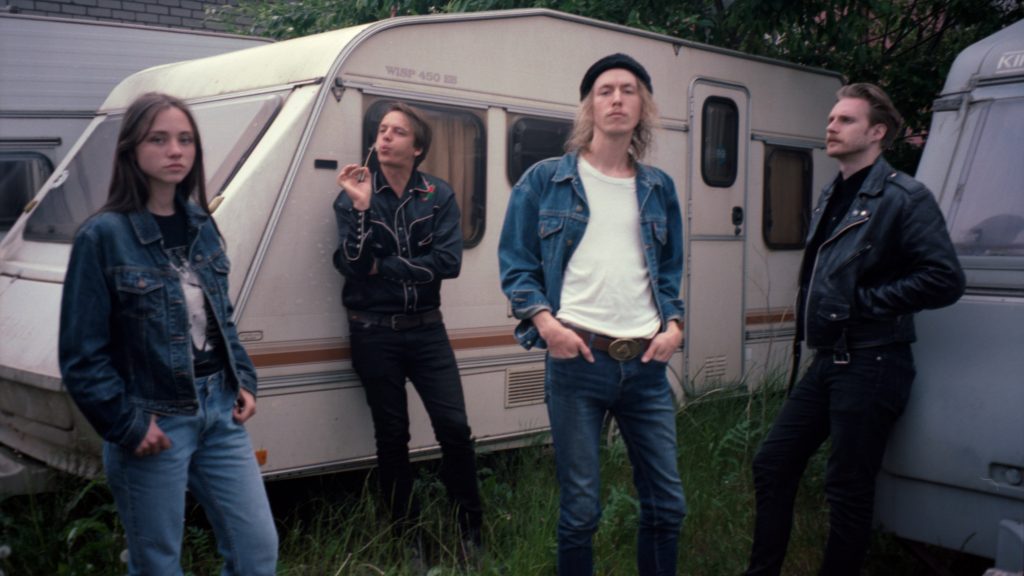 Unlike other trends, the recycled obsession with the Wild West hasn't faded away, and many still embrace the cowboy, Outlaw spirit.
"Maybe the colourful cowboy outfits and the premodern guitar style are a means of creating harmony for people living in the time of cool server rooms and space tourism."
But, as the culture, fashion and sound of the Wild West returns, Lauri hopes society doesn't progress that way: "In no way do I see it as a gravitation towards the Old West. That place was simply a mess."
Perhaps because of this desire to stay away from chaos, Holy Motors sophomore record, Horse, captures the more relaxed side of the Old West. Generating evocative imagery of the era, the album is less gun fights and shootouts, more horse-back rides and stargazing. Such is the visual nature of the record, I was intrigued to know whether narrative is central to the band's songwriting process. Alas, Lauri decided to embark on an equally vivid story about a breakfast buffet in Spain…
"It wasn't a continental breakfast. Please take a seat, said the waiter. 'And what for you?' I stood there like an idiot. Picture me in a hotel morning robe with my hat on. They suggest I sit down and take it easy. Sitting opposite me is our driver Martin. He's half way through with some toast. There are condiments on the table. Taking the order was a lot like reciting the alphabet backwards. I wonder if the highway police still utilise the recital method or even, if they ever have. I should investigate this. Anyway, then the waiter asked if I wanted my croissant roasted. Why not? I wasn't paying attention. A roasted croissant split in half looks a lot like a King's hawaiian french toast. Some fruit would have been nice instead. A date would have been nice. This reminds me of Jerusalem. Lots of sticky dates there – 'Country Church's' bedrock is about dates too. For lunch we had calamari rings and red wine. On the road there I saw some cumulus clouds and thought of Baudelaire. His love for clouds are scripted in his poems. You could tell he was a visualiser. And so the sun set hard on Spain. I had a hunch this next hotel of ours will serve good old bad continental breakfast."
Albeit left-field of the question, this answer demonstrates the storytelling talents of Holy Motors. They treat each song like a novel, ensuring to include every detail in order to develop a fully-formed image of the setting, characters and plot. Despite the detailed nature of each track, Lauri confesses each song came naturally to the band.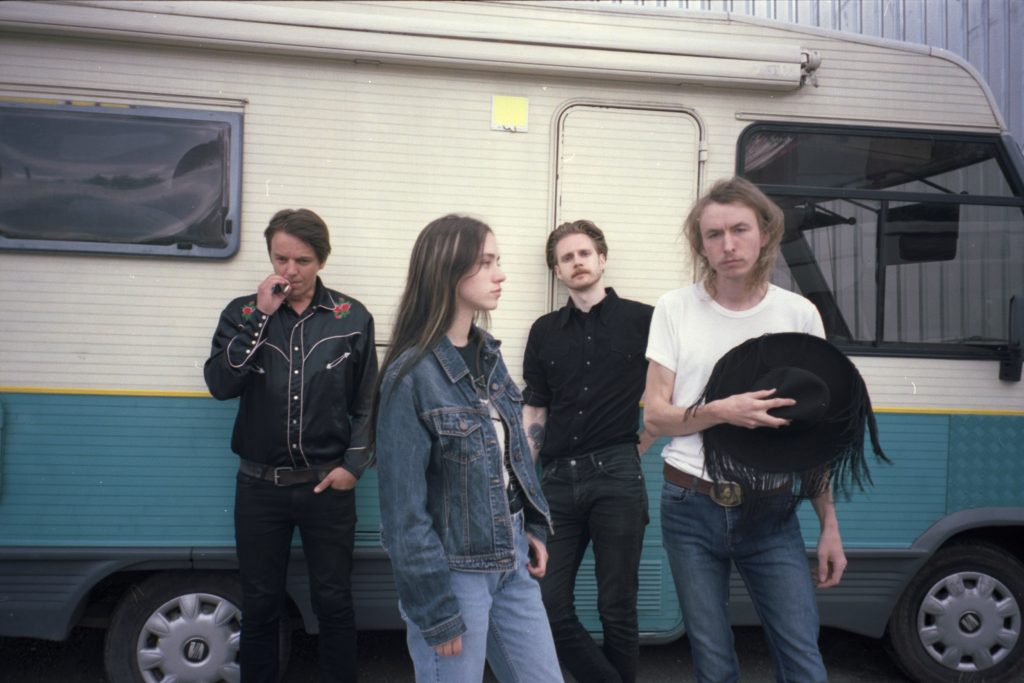 "The songs [on Horse] were done in a relatively short time by […] a group of friends. [We were] doing our thing in Berlin with the help and aid of other good friends from The Underground Youth. It was a good January. Well, unless it was in February. But you get my drift…"
January and February were probably the only two months of the year where life felt somewhat normal. Since, most of the world has been subject to lockdown. Nevertheless, Lauri didn't ever feel the need to write his own 'lockdown anthem'.
"Every time I tried [to make a lockdown song], I felt really stupid. Nevertheless, the radio was banging out hits about washing your hands, being bored at home, what the news were telling or god forbid the economy, only that sometimes it rhymed. It was mostly rap-kind of music. I didn't dig it so I didn't want to contribute to the paradigm. I just want to say that it became clear again how it hurts at times to be alone among the stars, and how it hurts a lot more to be alone at a party."
This loneliness Lauri refers to is captured throughout Horse. A detailed collection of short stories, similar to an Elmore Leonard collection, it's intentionally thematic, poignantly personal and cohesive, like it's been tied together by a lasso.
"This album is more honest, which naturally makes it a lot harder to talk about, because you can't be completely honest with strangers you've never met," Lauri admits, hinting at a possible reason for his abstract answers.
"Like many, I think there is a pool of themes that dominate the psyche at one point. They call it periods, times of certain artistic motifs and I get that too. But nothing is bound by one rule, because life is perpetually more complex and themes are arbitrary… Or something like that.
"I don't need to sweat too much about it, because I know with comfort that the listener would make his or her own sense of it anyway. And that's cool."
Moments of clarity, in the midst of uncertainty, sum up what it's like releasing an album in 2020. One minute, you're on the home straight, everything is clear and moving smoothly. The next? A group of Outlaws are stopping your train, pointing a gun at you and robbing you dry as you start to question everything. Luckily, Holy Motors have an answer for everything, and can be confident their new album will be a success.
Check out Holy Motors on Spotify and Apple Music. Like this? Try our print magazine, HERE.