When you think of fantastic country artists, which city comes to mind? Nashville? Houston? Both good answers, but not quite what we're looking for. The correct answer is Berlin, home of the Americana-country outfit Rodeo FM (great name, by the way). Just after the release of their phenomenal third album, Upgrade of Truth, I was lucky enough to sit down and chat to the band's founder and lead creator, Patrick Carter, to chat about all things country, Berlin and the issues of being a self-published band.
"It's quite a story, this band has been around for 15 years," Pat told me of how the band – his "passion project" – first came about. "We used to be a pure country band and then recently we turned more indie or Americana. There have been loads of lineup changes, but it's my baby so I've been running this whole thing." 
The topic soon changed to the band's name – obviously, as a fellow rodeo lover, I had no choice. "We used to be called Sweetheart of the Rodeo up until our first album and we realised there was a band called that already. At the time, .fm URLs were rouge, but it has a marketing angle and it's really easy to recognise."
Running a band since 2005 is bound to be difficult, but running a band with an fluctuating lineup in a time when money is short can be a truly tricky thing. "It's been, at times, quite a challenge to get good musicians together. We started out as a bunch of friends and as we grew we did some tours, we did an album and it became more difficult to keep those musicians; we've had some pros in the band and they always have like five projects going on and want paid gigs. It's not always been easy because this genre is not so huge in Germany – trying to maintain this and keep it going has been quite a challenge over the years." 
We turned to touring, or the lack thereof, and Pat told me more about the undulating Berlin scene. "Right now the lineup [of the band] is pretty steady, but obviously we haven't been touring recently but we hope that changes in 2021. At the moment there's quite a scene for singer-songwriters who can just travel with a guitar and that's really all they need, but for full-blown bands not making too much money it's quite a challenge."
Berlin is a great place to play music, but a hard place to earn money.
Such is the scope of the music scene in Berlin, the band's lineup is constantly changing. "The lead guitarist keeps changing, we've had a guy from Italy, Ukraine, Macedonia and for the last year and for the new album we had another Italian guy, the lead guitar seems to come and go.
"We've had people from all over the world: our bass player is Japanese, we have loads of Italian guys, the lead guitar player was from Macedonia, the guy before that was from Ukraine… so really, the band kind of embodies the Berlin music scene."
As a brit, the Berlin music scene that Pat spoke of sounded like another world to me, but from an inside perspective it seems things are not entirely straightforward:  "Berlin is a great place to play music, but a hard place to earn money. For professional musicians it's not always so easy. There are lots of scenes in Berlin, but they don't pay any money unless you do private stuff. We do private events sometimes, and we do bar circuits, but in Berlin it's really hard."
Musicians playing private events is always something I've admired. Although the money's a bonus, Pat told me he played these events for love of playing more than anything else – they've played everything from funerals to weddings.
"It's something we've always done, we don't play many funerals but we do take every occasion we can get," he says. "The tenant activism scene in Berlin is quite strong and I'm really involved – they do demonstrations that need music so we get asked to do that, same for weddings. We love playing and if we get paid, even better, but I will continue to do this until I die."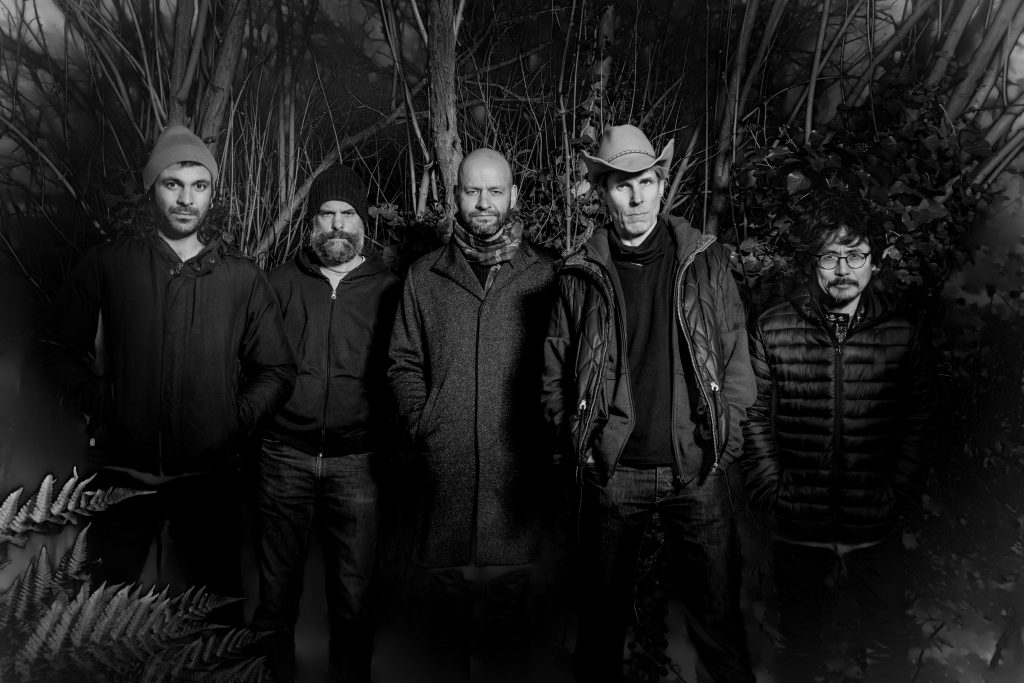 In a year where time was of the essence, the band managed to finish the recording of their third album, Upgrade of Truth, before major lockdown restrictions. "We were quite lucky with this album, we went to the studio in January or February before the lockdown and got 13 tracks recorded, so we got lucky. I took a different approach to this album and released singles every six weeks to keep momentum, we did some videos for these as well to make up for not touring. 
"The songs were all prewritten; I wrote this body of work over the last two years. It's a pretty consistent body of work, we rehearsed these songs for a while, some we had played live and then we went into a studio, did two or three takes per song and it was recorded in like two weeks – I put the vocals on top at home."
The album tagline is 'Music for the lonely, the disposed, heartbroken and poor. Music to upgrade the truth.'
I knew Pat was the lyricist and the main creator in the band, but the writing of Rodeo FM's music comes from a more collaborative method.. "I do pretty elaborate demos so I know at least what the instruments should be like," Pat begins. "They're all good musicians if they just do what they do best. I show them the demos and then they listen to songs I say I got inspiration from and we go from there."
The album tagline is 'Music for the lonely, the disposed, heartbroken and poor. Music to upgrade the truth.' A powerful statement, with a weighted thought process behind it.
"The  upgrade of truth is an ambiguous concept. There's lots of fake news, fascism is on the rise and there's all sorts of people that believe in things that aren't happening. I feel a lot of young people are beginning to see through the inner workings of capitalism or neoliberalism and they are seeing what other processes could look like in the 21st century – they are reimagining this world and looking for a way out of this crisis. This feeds on the crisis and this is the main topic going through the album. It's an analysis of the status quo portrayed through the story of an individual."
A lot of the band's music revolves around this concept of reminagnation through storytelling, an element of songwriting that seems to come and go. I asked Pat how crucial this was to his songwriting: "It's an integral part of me and of course it comes out in the music. People realise that there's so much going on and these stories are a good way to explore them."
As the interview drew to a close our chat turned to the inner workings of a self-published band, especially one trying to navigate through a pandemic. "It's a lot of work, we're pretty much daling with everything.We rent a studio or a guy who makes videos, I do all advertising and promo myself, [but] we have a PR agent now who is really good. We don't have a label or anything. The money that comes in via sales is like exclusively through bandcamp, it's not a lot but that's our revenue – there's like 20p a week coming from Spotify and that's that." We beg you spotify, pay your artists.
As our conversation drew to a close, there was one final matter to discuss. By no means a small question, it's something I've been wondering for a while now: what was the current state of country music? "There's quite a country scene in Germany, but it's very traditional – like the redneck side.There's a very small americana scene and it's more of a big crossover. There are musicians who like this kind of music, they're more indie or rock but they like to fuse genres. There are very few German constant American bands, and that's the state of it in Germany."
So, where does that leave Rodeo FM? As pioneers of the German frontier, it's clear to me that soon they'll lead the country renaissance, spreading from Berlin, to the rest of the world.
Listen to Rodeo FM on Spotify and Apple Music.