After spending most of the early 2000s in a band called The Minus Scale, this northeast-US based trio found each other once again to form a new power-pop project called New Norde. Like most artists, they spent the better part of the pandemic workshopping songs remotely and are now on the precipice of releasing their debut EP, Whatever's Clever. It's a lovely amalgamation of bands like Nada Surf, The Promise Ring and The Get Up Kids, with enough modern flair to sound like it's not just cashing in on the nostalgia of the moment. In other words: it's catchy as hell, and a lot of fun.
In celebration of the release, lead singer/songwriter Ryan Levasseur has taken us through the new EP, track by track. We asked him to cover a few basic topics:
About the song
Favourite lyric from the song
Micro-review (5 words or less)
On a scale of 1-10, how clever it really is
Whatever's Clever is out this Friday, April 15th via Trash Casual/Mint 400 Records.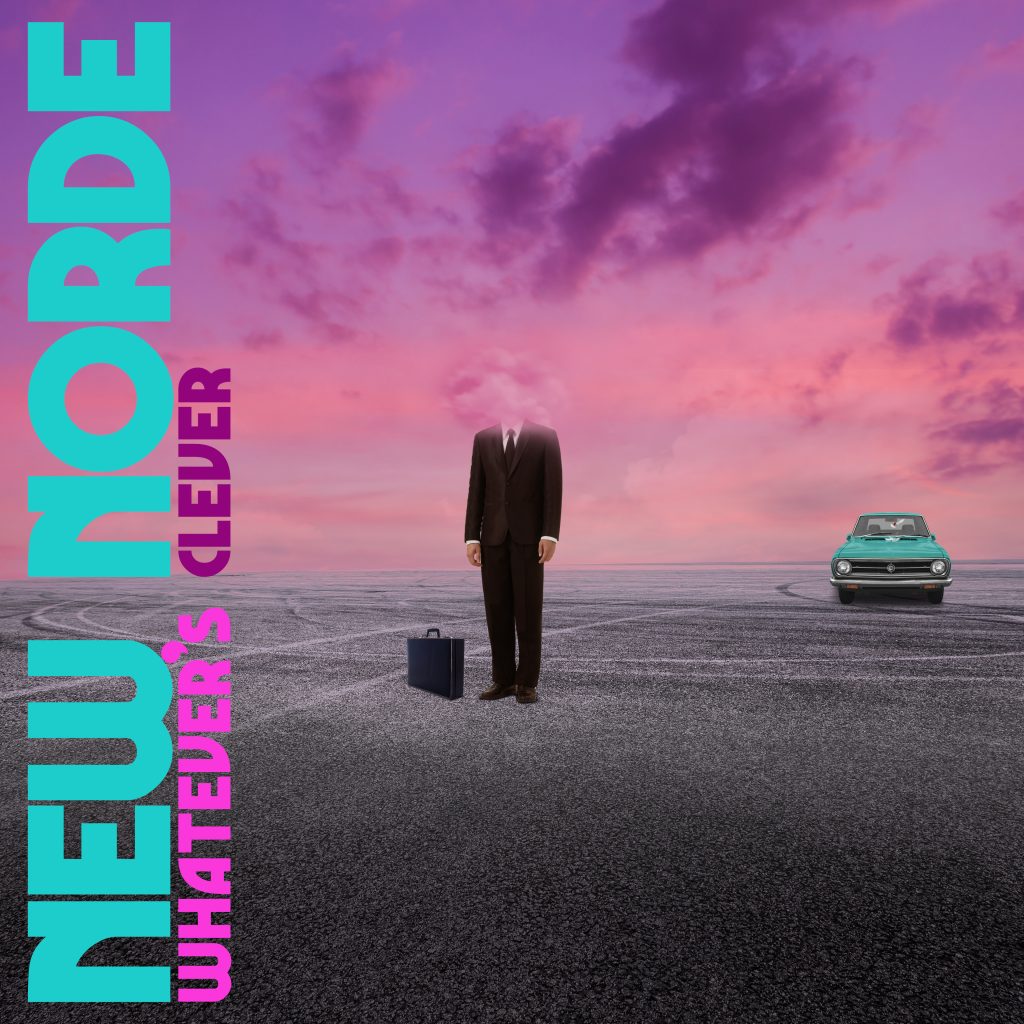 ---
'BLEEDER'
About: 'Bleeder' kind of came out as a blur of imagery from childhood and young adulthood. It's all kind of muddled, but I think that's what makes it beautiful and maybe relatable. I just kept thinking about 'Bed Are Burning' by Midnight Oil while working through it. It was also a long experiment with translating mumble tracks until they sound like words a la Jeff Tweedy. Still not 100% what Tylenol Chalk is, but I like it. 
Favourite Lyric: "Swearing to a god/We weren't sure we could believe in" 
Micro-Review: Fuzzy Wuzzy Big and Buzzy
Cleverness (1-10): 9
'WANT ME'
About: This one I went in with an actual premise. As someone whose always struggled with weight and staying healthy, it was this idea that if I eat all the junk food in the house in one day, then the next day I can start over with a clean slate… unless my wife brings home, like, something from the bakery or whatever. That, you can say you're over something when you avoid it for a long time; but at the same time, are you really over it if it pops back into your life. The real test is when it's back in your life and you can control it. But, no one likes a song about cake, so, in this case, cake is a person.
Favourite Lyric: "I'm kind of exercising mindfulness"
Micro-Review: Duston's donuts are that good
Cleverness (1-10): 9

'AMY'
About: I was really kind of reeling from the loss of Adam Schlesinger back in 2020. And this started as a straight Fountains of Wayne rip-off… I guess it sort of ended there too (it even had that radiation vibe riff in the original demo). But the way those guys just wrote a story. I also got thinking about how a lot of us talk about doing big things; making big moves, but when someone in your circle goes from talking about it at the bar to actually doing it and you're sad they're gone, but you're happy they did it, and you sort of hope it fails so they come back, but you also want them to find happiness. That's happened a few times. So this is about that. My friends Jon and Amy's courtship was kind of like this so I used that to turn into a more easy-to-digest FoW feel. 
Favourite Lyric: "It's like I'm living a bad dream this year/ A little cooped up/ A lot of cannabis and beer"
Micro-Review: Maybe a little too real
Cleverness (1-10): 7

'JUST YR LUCK'
About: When I graduated from catholic school, some of the kids went back later that night and changed the sign outside our high school to say "Congrats Satan '69." So, while I didn't actual scramble up the letters of a church as a kid, I've kind of been living vicariously through individuals who would ever since. This one is kind of inspired by that Steven Pressfield book The War of Art in that, when it comes to creating, whether or not you're doing good work is not important. You've got to get up and do the work. And also John C. Maxwell and this idea that a rubber band isn't really working until it's stretched… That we don't grow or improve without pushing and when it's scary and uncomfortable, that's when you're getting to the good stuff. I saw one of my favorite songwriters, Mike Viola, say that someone had popped into the window in his mind the other day and I thought that was a beautiful idea. That, you don't see some people, sometimes for years (or ever again for that matter), but that when they do pop into your mind it's like they're just stopping by to say hey.  
Favourite Lyric: "Every once in awhile you're there peeking through the window in my mind"
Micro-Review: Go do work 
Cleverness (1-10): 4

'SLACK' 
About: This was another mumble track experiment. It's more or less about taking the long way home from work on the harder days so that you can regulate yourself and not let the work day eat into your real life. This is the oldest of the tunes and grew out of a demo from 2011 or something like that. 
Favourite Lyric: "Wound tight enough to need the long way back"
Micro-Review: Stop. Take a deep breath
Cleverness (1-10): 5