Having established themselves as 'one to watch' back in 2020 with debut EP Redevelopment, Home Counties have spent the first half of this year proving that the initial buzz was well and truly justified.
Follow-up project In A Middle English Town – released in February via Alcopop! – is a satirical commentary on the middle-class suburbia many of the band members experienced growing up. Spotlighting off-kilter percussion, angular guitar lines, and synths indebted to '80s new wave, the EP's 4 tracks employ scathing lyrics and tongue-in-cheek characterisation to paint semi-fictionalised vignettes of life just outside the M25.
Recently, we caught up with Home Counties to talk about their inspirations, the post-COVID live circuit, and how they're not taking their foot off the gas any time soon.
Hi guys! I hope you're well? What've you been up to recently?
Hiya! We're still recovering from our first headline tour in support of our new EP back in February, but have been keeping ourselves busy by writing some new tunes for our next run of shows. After all the mayhem that comes with a new release, it's nice to take some time to reflect and plan what comes next.
Jumping straight in, A Middle English Town keeps the band's lighthearted and scrappy sound brilliantly well. Now that it's been out a couple of months, how is the band reflecting on it?
It's crazy to think that it's already been a couple months, things have been so hectic since that release that we haven't noticed the time passing. We wanted to take a few risks with that release and so we're immensely grateful that people have responded to it so warmly, it's given us more confidence when writing songs and planning for the future.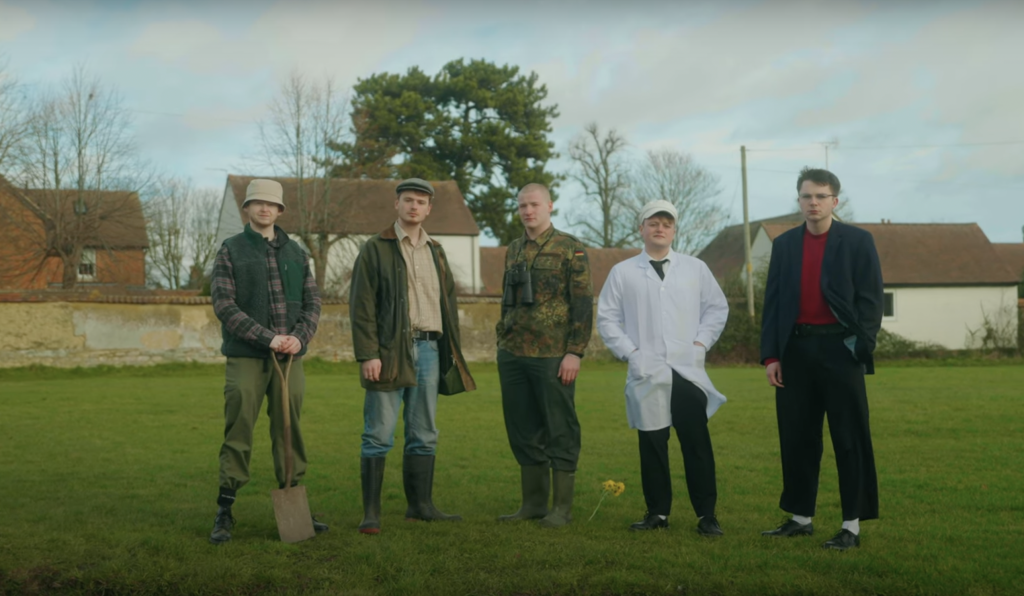 Obviously, your band name and the EP's title tie in very well together. Does any of your thematic interest in those insular middle-England communities stem from your own experiences?
Our lived experiences certainly informed this new EP, which is something we wanted to do after the more detached Redevelopment EP. We were all born and raised in the Home Counties, with most of us coming from rural Buckinghamshire, so we're all familiar with the quaint living of Middle England. Living away from the place you grew up for a prolonged period of time, particularly with the reset of lockdown, made us more reflective of what was home and what this meant.
Students in Bristol but originally from Buckinghamshire; I wondered if you have any specific types of people in mind when you're sketching out the kind of banal middle-class characters that appear in your lyrics?
The characters are the amalgamation of countless people we've met over the years, both in Buckinghamshire and in Bristol (where you will find a lot of people from the South East). They are never based on a specific person and are more fictitious exaggerations of what we imagine the model Middle Englishman to be.
We've always thought that Home Counties bring a bit of an edge to the more mundane sides of being 'British' – whatever that term actually means… How would you conceptualise your national identity in relation to your creativity? What is it perhaps represented in to you, and what are some of its defining characteristics?
I think it would be a generalisation to say that our music portrays any wide side of Britishness. It's more a very localised sense of Englishness, that of the South of England, which we often take a pretty cynical view of in our lyrics. Despite this localised conception of identity, there are more universal themes going on which reach further out of the narrow lived experience of 'The South'. A lot of the lyrics on how recent historic change has shaped identities, particularly the longing for community in an increasingly individualistic age – a theme which underlies all four tracks of In a Middle English Town. I often write with a sense of detachment, and don't think about my own national identity a lot, although the way I'm always drawn to themes of nostalgia and historic change is probably emblematic of a confused sense of identity.
Tell us about your use of images involving real people from small villages in the promo for your latest EP, what was the thought behind these lovely photos? (reference HERE)
We wanted to show the faces we associate with village-living. It resulted in a collage of all the different characters and professions we were used to seeing growing up: the newsagents, the market seller, the postman, the dog-walkers, etc. Getting to know these people was a treat when we were growing up and something that is sadly missed when you grow up in a busy city. It was nice to be able to incorporate it into the promotion for the EP.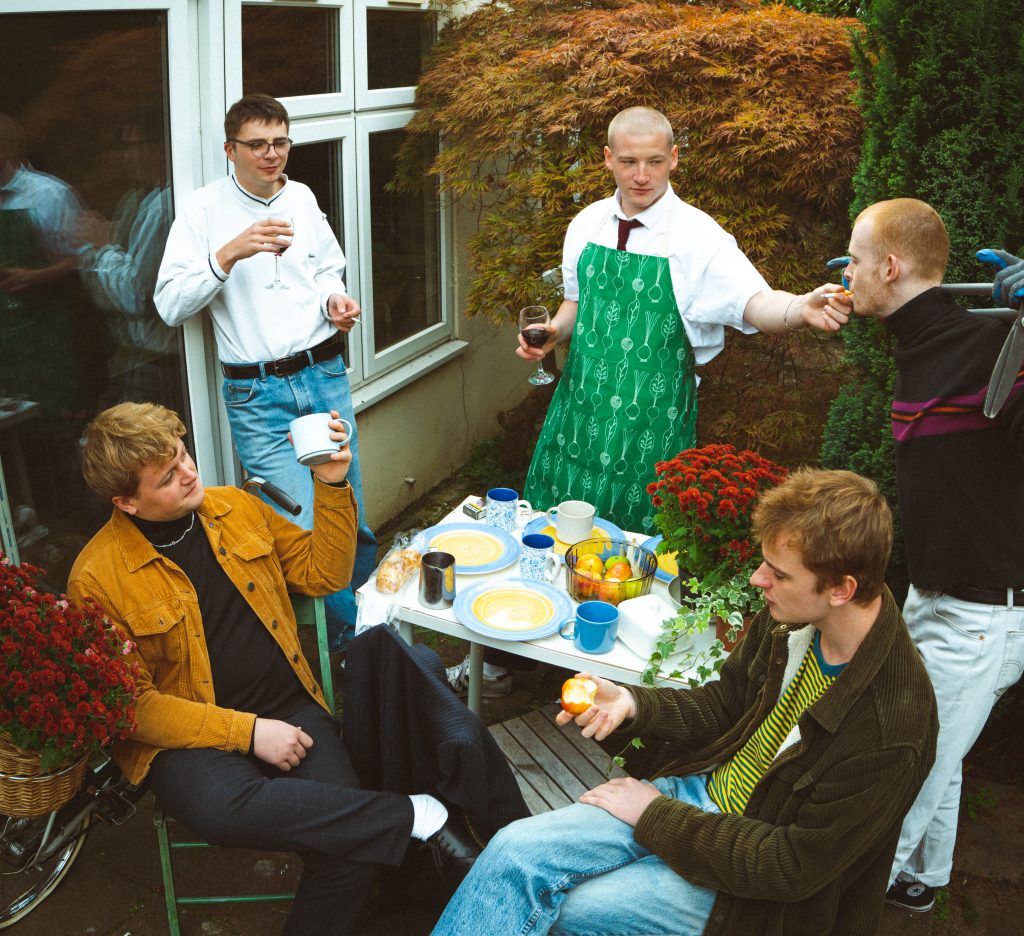 Your lyrics are dryly humorous yet also somewhat bleak, giving your songs a sense of disillusionment. Is this something that you feel has become a strong part of modern life? Especially as young people?
Absolutely. A dissatisfied and nihilistic youth is certainly nothing new, but it does feel that this sentiment has developed deeper roots in our culture nowadays. Our generation has spent our childhood and teenage years watching the same political and environmental issues become worse, and so it's often hard to be overly optimistic about the future.
Your distinctive use of synth and guitar give your music a Devo-like edge, and sets you apart from others. What contrasting things do the five of you bring to the table that help set you apart? How have you found merging them?
Three of the members from the band have been playing together for over 10 years, so there's a lot of cohesion in our playing styles. However, we've recently been developing our songwriting process to be more inclusive and to draw upon a larger pool of ideas and influences. Although we might disagree with each other, we always keep working on it until we make something that we're all happy with.
You've played/are soon to play a string of day festivals in different cities across the UK, how's it been readjusting back to life on the road and what's your ambitions for the rest of 2022?
It's been great! After being in COVID for so long, being able to get back on the road again and comfortably plan for the future has been a blessing. Our last tour reminded us how much we'd forgotten from pre-COVID and was certainly a learning experience. We're planning for the summer and are planning on writing some new material for these shows.
Listen to Home Counties on Spotify and Apple Music now.