Karma Gambit definitely puts their best foot forward on their new LP: The first four songs on When Does Rock 'n' Roll Start to Get Sad? are pop-rock perfection. Each one is as catchy and well-crafted as the one before it, with roots dug deep in the early 2000s.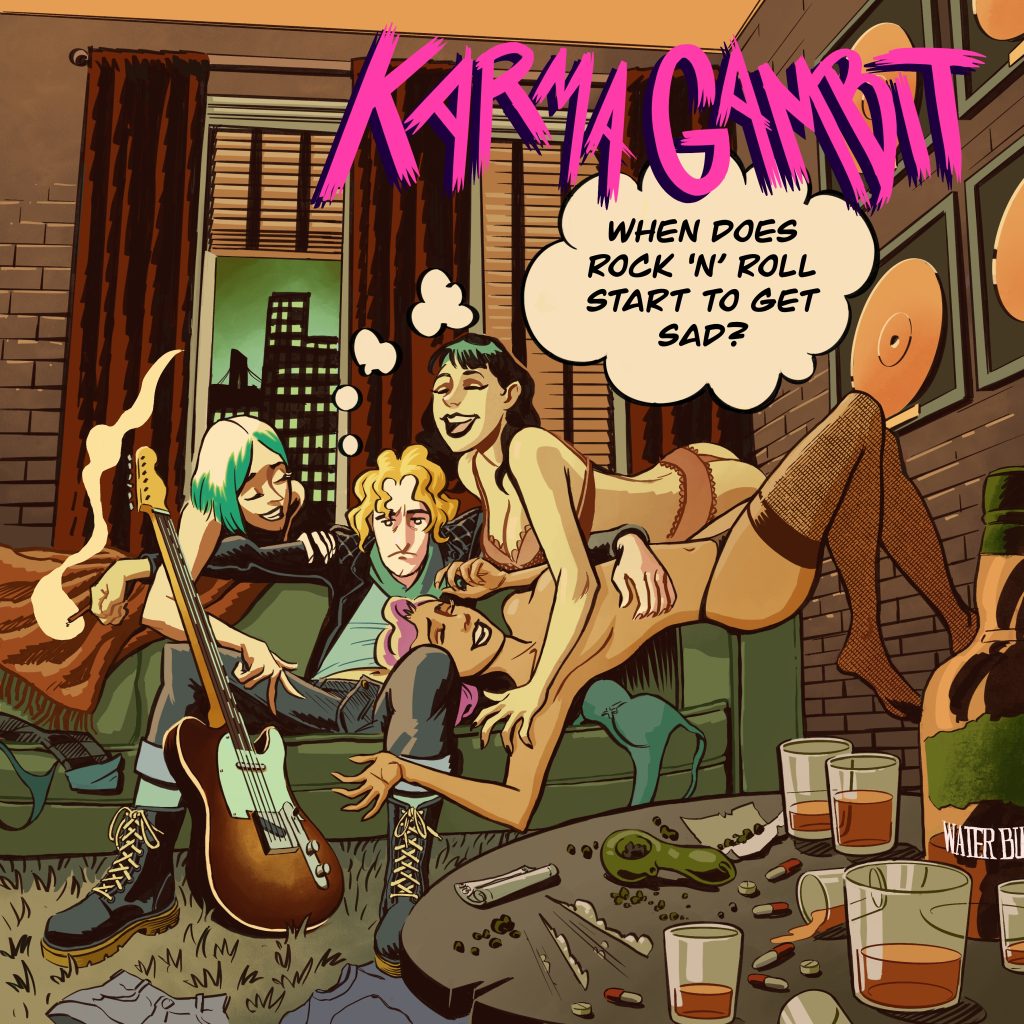 Opener 'Aphrodite' immediately sucks you in with an undeniable energy that doesn't let up for tracks two and three. These are almost guaranteed to be live favourites, with lines like 'You want your life to be more like what is on your screens…' tailor-made for hollering right back at the band from the crowd. Even 'Last Night I Dreamed,' a somewhat softer output, manages to keep up the momentum thanks to another strong chorus – that's four in a row! – and clever lyricism.
It's that knack for storytelling – along with their expertly crafted hooks – that is Karma Gambit's other strength. The band's lyrics are often humourous and tend to get so specific that you can't help but be transported accordingly: 'Amy I could listen to you talk for miles / With your feet on the dash and Harry Styles / on the radio singing about assorted fruits…' they sing in lead single, 'Cable Knit Sweater'. Nice.
Singer Jack Linden's nasally vocals – which can be an acquired taste, I suppose – come off as charming and authentic, not unlike a young Ben Folds. It's Linden's voice that steers the band into nerd-rock territory – yeah, that's not an official genre, but you know what I'm talking about: Weezer… Wheatus… Ween… Despite not beginning with the letter 'W', Karma Gambit actually hold their own among such acts.
Sure, the album never quite gets back to the apex that kicks it off, but there's no denying the expert songwriting present throughout the entire record. Take penultimate track 'I'm In Love with The Sun' for example – it may not rock as hard as 'Aphrodite' but its chorus is an absolute earworm that you'll not soon forget. Even the side B head-bopper 'Dorothy, Let's Go Home' – a cute little nod to Wizard of Oz – is welcome, despite emitting some subtle 'Island in the Sun' vibes. (It's thankfully far less annoying.)
Overall, the New Jersey natives have gift-wrapped an infectious full-length record for us. I'm not sure how to answer the question they pose in the album's title, but if it's any consolation, Karma Gambit will most certainly put a smile on your face with this one.
Karma Gambit's new LP is available tomorrow, 23rd September, on all major streaming platforms via Mint 400 Records.