There are loads of artists with the 'one hit wonder' seal of shame. In this brand new feature, we revisit albums that spawned the one-off megahits we know and love to see if perhaps there's something we've been missing out on all these years.
---
Remember the subculture of dreams? Frosted tips; DC trainers; three-quarter length trousers; Tony Hawk's Pro Skater… This community partly derived from pop-punk making a name for itself, with the likes of Green Day, Good Charlotte and Blink-182 ruling the mainstream.
Around this time in 1999, a Californian band named Lit released their second album, A Place in The Sun, a slightly softer sounding record to their debut. It featured the ultimate pop-punk anthem, 'My Own Worst Enemy'. It was huge among other big tunes of the time, winning Modern Rock Track of the Year at that year's Billboard Music Awards, and it remains a classic today. However, what happened to Lit? And please, tell me why the rest of the album is not as widely appreciated?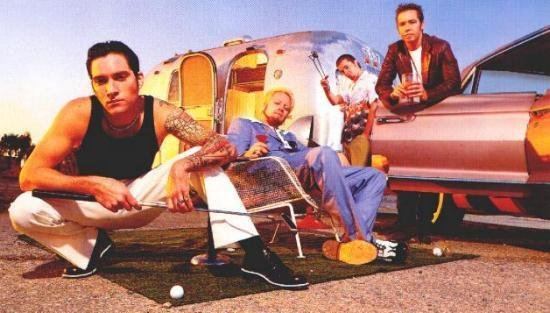 For a genre that doesn't seek perfection, A Place In the Sun is awesome. There's no flow or consistent sound to it, just plenty of fun guitar riffs and catchy choruses. So, basically the definition of pop-punk: it didn't need to be a masterpiece for people to love it. However, the lack of a unique sound drowned their music in a pool of more distinctive artists, like The Offspring, for example. Anyone can recognise the voice of Dexter Holland, but A. Jay Popoff, whose name I bet you haven't even heard of, just didn't stand out.
The record does hold some badass tracks that are worth a mention, though. 'Zip-Lock' is super catchy, as well as 'Miserable,' which came with a music video featuring Pamela Anderson that's really worth checking out. Additionally, 'Down' is a real 'sign of the times' song, with driving guitars and blase vocals for long-haired head banging. Ultimately, the songs blended in perfectly with the trending genre, but it wasn't enough to keep fans invested past the one huge hit (even if the record was certified Platinum less than a year later).
'My Own Worst Enemy' is a genius song about a hangover, because people saw it as more than that. They added their own inner, deeper meanings to the easy sing-along chorus. Rock music at the time was good at being a comfort to angry teenagers who felt like losers, therefore always thinking, anxiously, they were their own worst enemy. People keep coming back to tunes like this they can shout in frustration. You know the tune when you hear it, and you know all the words. Although, it's one of those songs that's good for a tough pub quiz intros round, because no one ever remembers the band's name or anything else they've done. That iconic guitar riff begins and everyone is left pondering: "Oh, this one's by that band…um…nope, can't remember…" Then the next day, you're kicking yourself when you randomly think of it and become your own worst enemy.
After the sad passing of their drummer and a long hiatus as a band, the guys are making music together again. They've experimented with country and even released some more pop-punk-ish stuff earlier this year. But, honestly, they clearly haven't been able to, you know, *cough cough*, reclaim their place in the sun.
We will never recreate a time like that late-90s, early-00s pop punk era. It was too precious. We were spoiled. Alas, A Place in The Sun remains Lit's most successful work. They should be very proud of it, and we should be glad it exists. It holds plenty of catchy, teen angst tracks that deserved the same success as its one megahit, and is a great album to blast while reminiscing over a period of music and culture that was, sadly, so short lived.
The Verdict: Banger. Lit's sophomore record is criminally underrated.