There's honestly no better way to describe The Umlauts than the way they describe themselves: "Your average trans-European, multi-lingual, art-school, post-punk, techno-inspired, über-group/circus-troop…" Intrigued? If for some reason you're not, you should be after reading their walkthrough of their new EP, Another Fact. The band, errr circus troop, was kind enough to answer our foolproof questionnaire about each track on the album. Dive in below.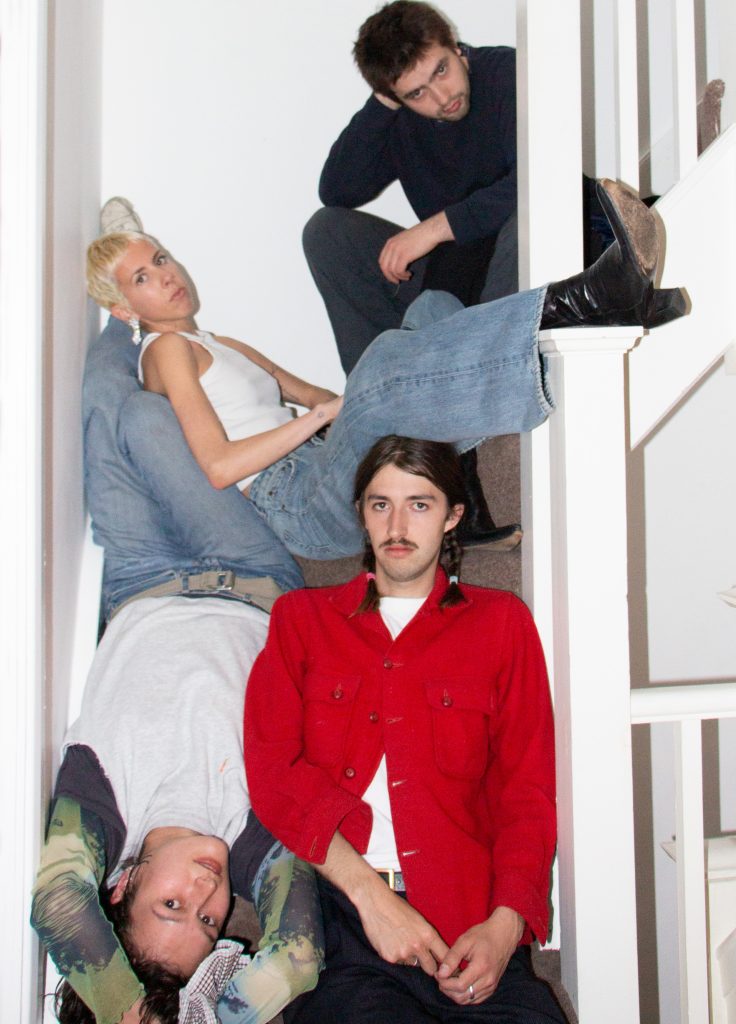 THE QUICKENING & THE COMMUTER
About: A field recording of an organ being tuned in St. Bavo's Cathedral in Gent that slowly morphs into a series of musical motifs, which are underpinned by a repeated arrangement of drums and bass which feel somewhat like the clattering of train tracks and escalators. They are joined by a deep oracle-like voice telling of a travel from a central London high-street, through wastelands and eventually to the Garden of Eden, in some sort of recriminating anti-fall.
Favourite Lyric: 'Lame and empty is the sea so I followed you to a tree / Big, brown, with green leaves / With the sky above it, the ground beneath…'
Micro-review: Pitch shifts are fun
Another fact about the song: The Quickening is the moment when winter turns to spring.
FRIGHTENED
About: A song in which a French and German character hurl insults at each other in two different sections. We wanted to write something that had some of the musical tropes of dance music but with a rhythmical indifference to that genre. The track is a tightly packed concoction of percussion and bass moving between 3/4 and 4/4 time signatures. In a sense, there is very little music to this track as we made a lot of the synthesisers feel more like percussive instruments.
Favourite Lyric: 'Tu m'portes du mal / Dans toute cette haine germinal…' ['You hurt me / In all this germinal hatred…']
Micro-review: A bit scary
Another fact about the song: 'Frightened' was originally an attempt to cover The Fall song of the same name, albeit a failed attempt.
NON è ANCORA
About: An ode to 'Annarella', the last track recorded from CCCP – Fedeli Alla Linea's last album Epica Etica Etnica Pathos written by Giovanni Lindo Ferretti.
Favourite Lyric: 'Non lascarmi qui così…' ['Don't leave me here this way…]
Micro-review: Bittersweet symphony – sexy and fierce
Another fact about the song: Our Violinist Magda sheds a tear every time we play it live.
SWEAT
About: 'Sweat', like 'Frightened', is a song of two conflicting voices. One presents an idealistic and perfect summer romance: sun, sea and sex; whilst the other speaks from a place of pessimistic experience. Musically we wanted this song to feel almost like an italo-pop pastiche.
Favourite Lyric: 'When feeling hits, it sits in the pocket of my gender…'
Micro-review: A twisted and silly romance
Another fact about the song: 'Sono cosí sudata' means 'I am so sweaty' in Italian.
ANOTHER FACT
About: 'Another Fact' is our ode to the euphoria and strangeness of clubbing. Instrumentally we moved into a slightly different terrain, the track has violins, balalaikas, a bicycle pump and acoustic drums. Dispersed across the track are sections which we call 'the phantoms' , an atonal and anxiety-inducing melody which breaks up the solid blocks of Annabelle's lyrics. When Alf and Ollie were writing and mixing the music they wanted it to sound like it was being heard from outside a nightclub. We were thinking throughout the lockdown of all of the empty nightclub spaces, those big empty silent rooms must have had a sort of spooky haunted feeling, so we were interested in inserting some of those qualities into the music.
Favourite Lyric: 'As I whisper in your ear, verfängt sich dein Silber an mir…' [your silver (jewellery) gets caught on me]
Micro-review: Anxiety in its rawest form
Another fact about 'Another Fact': The song was originally started in the sessions for our first EP Ü and it underwent a lot of musical and structural changes. It ended up being one of the last tracks we finished writing at the final recording sessions.
Catch The Umlauts on tour this November all across the UK, and pick up their new record on Bandcamp.