Every time a new supergroup forms, there's always a fear that it'll stretch too far into "novelty" territory, and be a complete disaster. Thankfully, within the last couple of years, that's become much more of an exception than a rule. Groups like The Highwomen and boygenius, while residing in completely different genres than the artist in question here, have made it clear that in the right hands, supergroups can be both massively successful and shine new light on the parts that make up the whole. L.S. Dunes is the latest inductee in that camp, and boy, are they coming in hot.
When I first learned of this new group formed by various members of early 2000s emo/post-hardcore gods Thursday, My Chemical Romance, Coheed and Cambria and Circa Survive, I was overcome with a bit of disbelief. It almost seemed like something the internet made up and tried to will into existence. Thankfully for all of us, I was dead wrong. With no one the wiser, the five members of L.S. Dunes got together and recorded an entire LP that takes the best parts from each of the aforementioned bands and puts them in a blender to create a smoothie with equally familiar and refreshing tastes.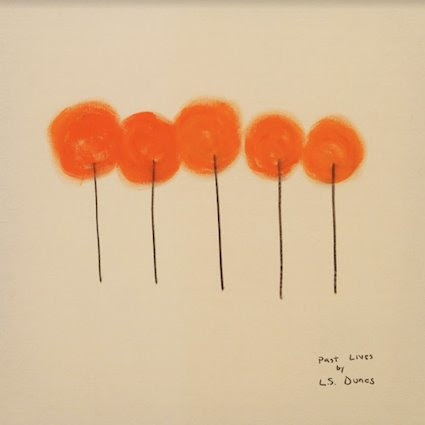 After so many years – and projects! – of Anthony Green helming the mic, you sort of know what you're getting yourself into in that department. But behind him, Tim Payne and Tucker Rule (of Thursday) bring their rhythmic liquidity that is a force to be reckoned with after all these years, while Frank Iero (of MCR) and Travis Stever (of Coheed) take turns trading both intricate riffs and power choruses that will blow your mind. It takes everything in your power to not stand up and start thrashing.
Green is still as frenetic and commanding as ever. Unlike most vocalists in his genre, he somehow seems to have gotten better with age, which doesn't seem biologically possible, lending more credence to my theory that he's actually part robot. It's difficult, at times, to truly make out the lyrics, as there are often multiple vocal layers to decipher, but when you do catch a glimpse of the tales he's weaving, it's clear he's gone through some stuff in the last couple of years. A "fast and loose" project like L.S. Dunes feels like the perfect type of project for him to release some of this pent up energy.
Opener '2022' reflects on his struggles with drugs over the years, and in particular, a recent overdose. 'If I can't make it to 2022 / At least we'll see how much I can take…' he sings in the chorus. It's both a somber reflection on a near death experience, and an affirmation that he lived to see the year in question. By the time the waltz-paced closing track 'Sleep Cult' rolls around, Green comes full circle: 'I'm sorry that I wished that I was dead…' he sings, his voice fading further into the distance.
At the end of the day, L.S. Dunes' debut feels like a gift. For fans of these four bands – and of the era of music which spawned them – Past Lives will be both a welcome trip down memory lane, and a detour into new, uncharted territory. In the midst of a massive revival, it's just another reminder of the impact this genre made in the first place. And, despite such heavy thematic overtones, it really is a lot of fun.
HAIKU REVIEW:
L.S. Dunes is loud,
Frenetic and nostalgic.
Screamo perfection.
---
Past Lives is available now on all major streaming platforms. What are you waiting for? Make sure you turn it up. Like, way up.