tinyumbrellas is the moniker of 20-year-old Leeds-based artist DT, making elegant bedroom pop inspired by artists like Phoebe Bridgers and Adrienne Lenker and – most fittingly for this feature – their love of film. Having written most of these songs whilst still a teenager, it is clear they are wise beyond their years, with lyrics that explore worlds both real and imagined. Below, DT takes us through your new favourite EP, Somewhere to Fall Asleep, track by track, and pairs it with one of their favourite films. As an avid fan of both music and film, I had an absolute blast reading this one. Enjoy.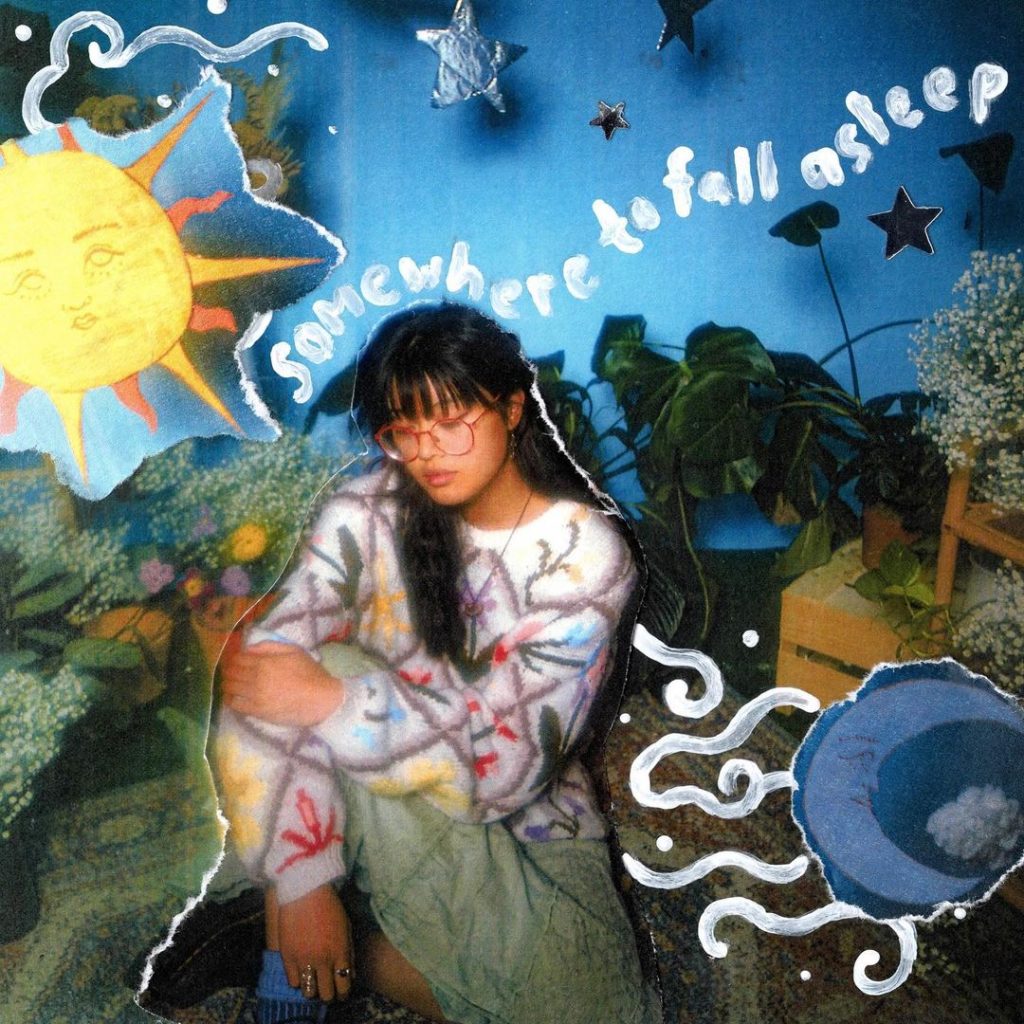 'Zombies' & Little Women
I feel that the storyline of 'Zombies' really reflects Jo and Laurie's relationship in Little Women in that they grew up as childhood best friends. I guess this song would be through the eyes of Laurie towards his adoration of Jo and his longing to spend the rest of their lives together as lovers. Sonically, this is one of my more high energy songs and I think that really reflects the exciting nature of the friendship between these two.

'Zombies' tells the story of two childhood best friends growing up together and always being each other's favourite person. The song follows the wondering thoughts of whether this relationship will be a best friends to lovers story, while the other person is seemingly blissfully ignorant from the narrator's point of view. I feel that there are prominent themes of innocence and discovery weaving throughout this EP, and this song reflects my personality very much in the way that I would always be too afraid to ask what a friendship really meant to someone else. I wrote this with the wonderful Josh Scarbrow back in summer 2021, with this being one of my first studio sessions and co-writes. We wrote and recorded the basic bones of the song in one day, and lived with it that way for about a year before returning to give it the life it now does!

'Between The Same Lines' & Portrait of a Lady on Fire
Portrait of a Lady on Fire is a queer film following the story of a painter (Marianne) who is commissioned to do the wedding portrait of Heloise (a young woman who's reluctant to marry) but must paint her without her knowing. This results in the women spending a lot of time together where they develop feelings for one another, but ultimately Heloise marries as planned. I think 'Between The Same Lines' mirrors this film in terms of storyline, as the protagonists share such a deep connection which they fear will change with time and circumstance. Marianne and Heloise also share a lot of silence which mirrors the main theme of 'Between The Same Lines': trying to read another's feelings through their actions and not their words. This film is quite slow paced but largely cinematic, really focusing on small moments that convey great emotion, and in a similar way, 'Between The Same Lines' is one of the slower songs on the EP, with the lyrics savouring the intricacies of a lovely day like a cool summer breeze.

I wrote this song before moving away from home for the first time, and as a sentimental person I felt like I was missing my friends before we had even said goodbye! Lockdown seemed like the small goodbye before the big goodbye, and I became more and more aware of the fact that I'd be facing so much change in the near future, bracing myself for the changing dynamics of old relationships along with the anticipation of new ones.

'Life of an Extra' & Amelie
Amelie has to be one of my favourite films set in Paris, and definitely inspired this song with its theme of being solitary in famously the 'most romantic city in the world'. In some ways, the plot of this film is oddly 'Life of an Extra' but on its head; the song talks about 'weaving through' other people's fantastic lives; meanwhile Amelie secretly dabbles in unknown people's lives to give joy to people who deserve a brighter day. In a society that perceives being in a romantic relationship as a better and happier way to live, I really enjoy how this film empowers the charm in spending time alone and finding joy in solitude.

'Life of an Extra' revolves around the sinking feeling of perceiving everyone around you living their fantastic, fun and fulfilling lives, while you, on the other hand, are not. I imagine the song to be set in Paris (famously the most romantic city in the world) – the setting for so many great stories and films centred around people living their lives with purpose, with loved ones. The song talks about everyone seeming to be 'dancing in pairs' and 'unfolding fairytales', referring to seeing people waltz through life with ease, and feeling so far away from that state of life.
'Paper Planes' & Moonrise Kingdom
Moonrise Kingdom is one of my favourite Wes Anderson films. This warm and hazy story centres around two children, Suzy and Sam, who make a secret pact and run away from their homes together. During their time in the wilderness they form a deep connection to each other and the ordinary spaces that they make into home. 'Paper Planes' dances around the same theme of creating comforting spaces using your imagination and excitement as a child. I really enjoy the whimsical cinematography in this film and how the children's relationship is portrayed.
'Paper Planes' is a nostalgic song about finding solace in the imagination. It is an ode to life as a child, and the warm excitement that would come with each new day. It's through these memories that we can find joy in the past, with the bittersweetness that we cannot go back. There is comfort in knowing that we would not be who we are now without the experiences we lived through as children. Playing shows to sold out crowds 'without an ounce of stage fright' was only a dream, but here we are! This song, along with 'Between the Same Lines' and 'A Small Village', were produced with Steph Marziano in her studio in North East London. I had such a great time building a world around these songs and connecting to the meanings even more by sharing my experiences with her, feeling that Steph was able to bring another dimension to these songs.
'i don't know' & Kiki's Delivery Service
Watching Studio Ghibli films is one of my favourite things to do in my free time. 'i don't know' focuses on the excitement and nerves that come with new adventures, a bit like the protagonist in this film. Kiki is a young witch navigating her way through her first year of independent life. The story focuses around finding new places to belong and new people to care about, much like the experience I was about to have moving away from home.
I wrote 'i don't know' in my final year of A-levels during lockdown and self produced the song this year alongside Che-Yu Wu, a dear friend of mine. This song is a long ponder over the idleness of life at that time, while also feeling that lots of things were about to change in regards to moving out of home and growing into the world I was building for tinyumbrellas. The EP name is a lyric from this song, coming from the line 'Spin me 'round until I'm dizzy and make me walk until I find somewhere to fall asleep…,' which relates to being busy with all the things that you want to try and places you want to go, but also constantly looking for a place and community to call home. I think the feeling of belonging is one of the best things in life, and Somewhere To Fall Asleep is a big metaphor for that!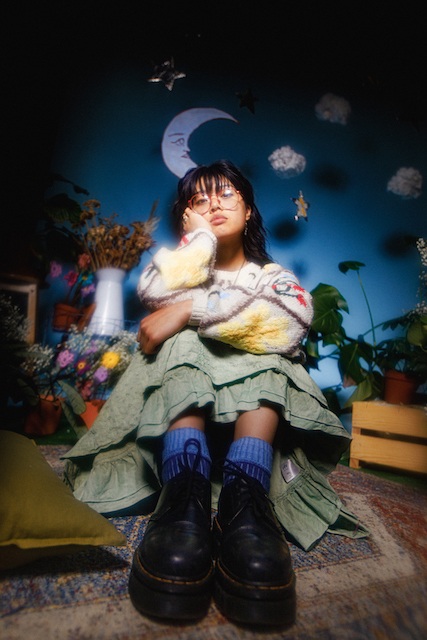 'A Small Village' & Spirited Away
Spirited Away is such a special film to me- it's the first Studio Ghibli film I watched as a child! This film feels like an obvious choice for this song as it's directly mentioned in the lyrics, but it also has parallels in the relationship between the protagonists Chihiro and Haku. When they meet for the first time they don't realise that they were always destined to be friends; something between them just clicks and they feel at ease even in the chaos of the spirit world they reside in. If this song was a moment in time I think it would be a picturesque clear night's sky filled with stars, and the beauty of Spirited Away's animation was such an inspiration for the feel of this song.
'A Small Village' was inspired by my love for the moon and Studio Ghibli films. It's a very soft sounding song, which emulates its theme of meeting somebody who feels like comfort and the warm fizzy feel of getting to know them deeper. I really wanted this song to feel cozy, and with Steph Marziano producing the track I feel we definitely did that!
The debut EP from tinyumbrellas is out now on Spotify and all other major streaming platforms.