After over 50 years in the film industry, Martin Scorsese has become one of the most renowned directors in American history. He's been nominated for 13 Oscars, and finally collected the grand prize for 'Best Director' in 2007 for The Departed.  
The unifying factor of his success is the soundtrack. Cream, The Rolling Stones and Aretha Franklin are just a few go-to artists that have featured in the celebrated works, like Goodfellas (1990) and Mean Streets (1973).
But, it's in his 1995 gangster film, Casino, where these influences reach a crescendo. An amalgamation of the director's familiar tropes – an epic story, violent characters and lavish costume design – the film documents the rise and fall of casino kingpin Sam 'Ace' Rosthein, played by Scorsese's long-time collaborator, Robert De Niro. 
Joe Pesci also stars as Ace's friend and pint-sized enforcer, Nicky, while '90s 'it girl' Sharon Stone dazzles as 'Ginger', the love interest and femme-fatale counterpart to De Niro's leading man. With the film recently turning 25, now is as good a time as ever to pick apart the tunes that make it a classic. 
A story of excess and wealth, it's only right that Casino begins – and, indeed, ends – with a burst of drama. Bach's 'St Matthew's Passion' fits the bill perfectly, delivering swoons of strings and operatic singing as the viewer swims through a montage of Vegas' infamous neon strip.
And, when the shit has positively hit the fan for Sam and Nicky by the film's end, that same symphony pops up again. It's equally devastating and speaks to a kind of dramatic tragedy that is usually reserved for Shakespeare and socrates.
A-Level literature references aside, this drama turns to deception in the film's first half. Firstly, through Ace's ability to dodge his gambling licenses and then in Nicky's corrupt brand of 'security' that he brandishes behind the scenes. Nearly every moment is guided by a glitzy jazz track, be it the sax work of Eddie Harris or the raucous horns of '50s collective Gone All Stars – a sly contrast between the debauchery of vegas and the unsuspecting romanticism of your grandparents favourite jukebox hits.
An extension of the two lead character's different approaches, Scorsese also uses contending voice-overs to pit the two friends against each other, having them narrate major events from their perspectives. Each tale is matched with a similarly emotive track that compounds the character's arrogance and devotion to their side of the story.
Perhaps the boldest example of this is when The Rolling Stones 1971 classic 'Can't You Hear Me Knocking?' plays in its entirety during a montage of Nicky's increasingly untamed antics, beginning with him robbing a jeweler's and coming to a bloody finale with him torturing a fellow gangster. Not only a testament to his predatory rise to power, the song's seven-minute run time further contributes to the almost superfluous focus on material wealth and excess. 
Stylistically, Casino also introduces techniques that have become familiar tropes in Scorsese's recent work. For one, his penchant for repeating tracks, at different moments throughout the film really comes to light here. Both in the aforementioned Bach symphony and also in 'The Glory Of Love' by The Velvetones, which sounds firstly when Nicky follows Ginger on her way to give her ex partner Lester money, but also when the two are spotted together in a later scene.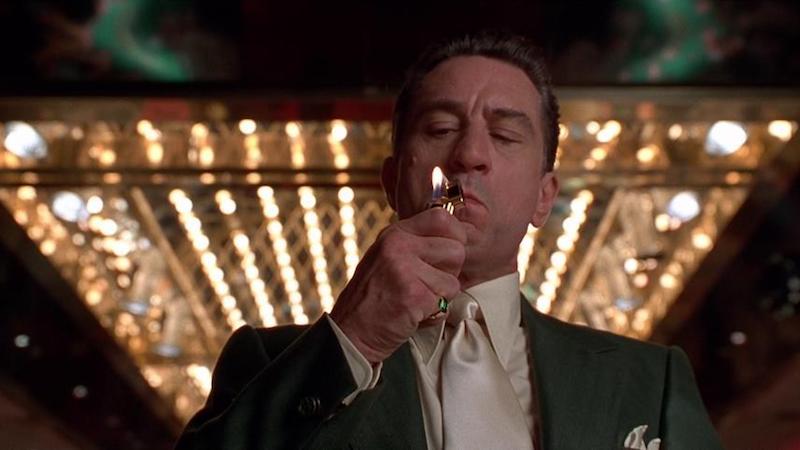 A nod to Scorsese's past and future as a filmmaker, Casino's soundtrack succeeds because of its grandiose energy and commitment to the character's journey. The persistent 'noise' that pervades so much of the film's three-hour run time encapsulates the growing sense of unease that comes with Ace and Nicky's dubious dealings.
Like the wealth and power which they so desperately aspire to, it all becomes too much and the viewer is swamped with the same feelings of uncertainty and anxiety that accompany any big gambling move. Even if Sam and Nicky aren't victors when the chips are on the table, it's safe to say that the pay off is still big.