It was just before Valentine's Day when I spoke to singer Laura Cowell and guitarist Stephen Salisbury of Sun June. So you better believe I cheekily asked them how they felt about the "holiday". As expected, they answered rather diplomatically, so as not to offend the die-hard corporate America fans. But I'm no dummy – it was easy to read between the lines.
"I mean, I'm all for celebrating love! But, I tend to be on the 'Discount Chocolate' team – I wait until the next day to buy it all and eat it then. That's a dumb answer, I'm sorry!
"The only time I've ever really embraced the holiday was last year," Laura continues. "It was also the first time I ever fully recorded a song. [I did] a cover of Yeah Yeah Yeahs' 'Maps' for a compilation my friend was doing of Valentine's Day love songs. It was fun – I made it super sad."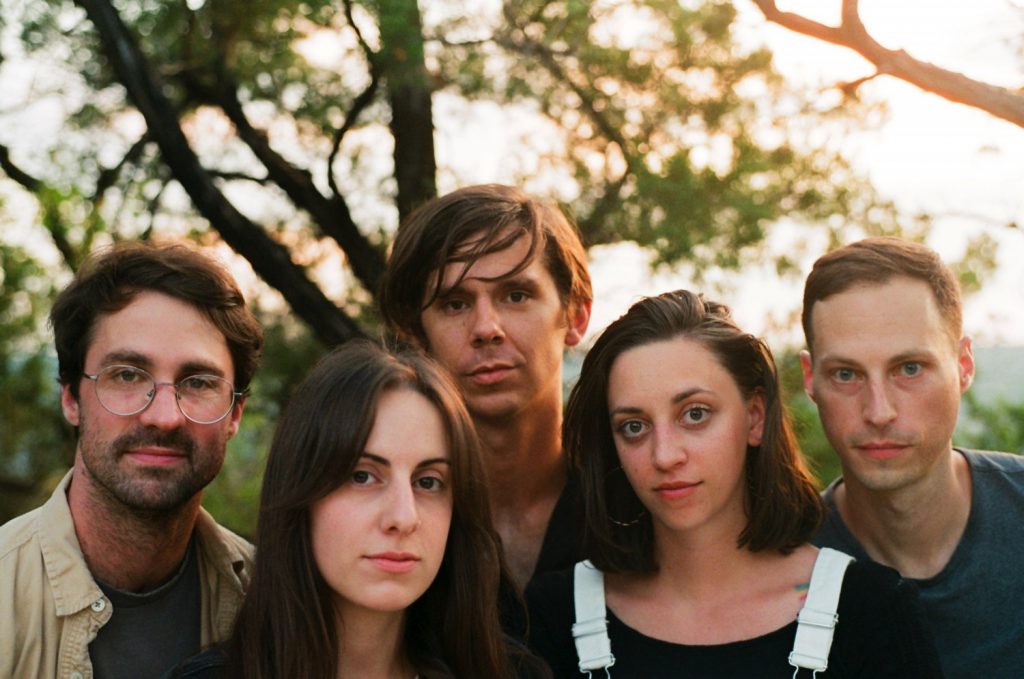 Along with that cover – which Stephen immediately expresses his adoration for – Laura and the rest of the Austin-based quintet were writing the songs that would become their fantastic sophomore record, Somewhere, which was released a few short weeks ago. And that old cliche that "timing is everything" took on a whole new meaning as they found themselves wrapping things up the day their city went on lockdown back in March of 2020. It felt like fate, if you believe in that sort of thing.
"I worked at the University of Texas, and they sent me home that morning," Stephen recalls. "I drove from work to the studio and got to annoy Laura on the last day of recording."
Although most of Sun June is still in Austin, Stephen is currently staying in North Carolina, where he anxiously awaits a reunion with the band. Their sophomore record had dropped just a few days before our chat, and he could only participate in the celebrations from afar.
"Sadly, we couldn't all be together," Laura tells me. "We got to have a little backyard, socially distanced fire pit hang. We popped a little champagne and called it a night."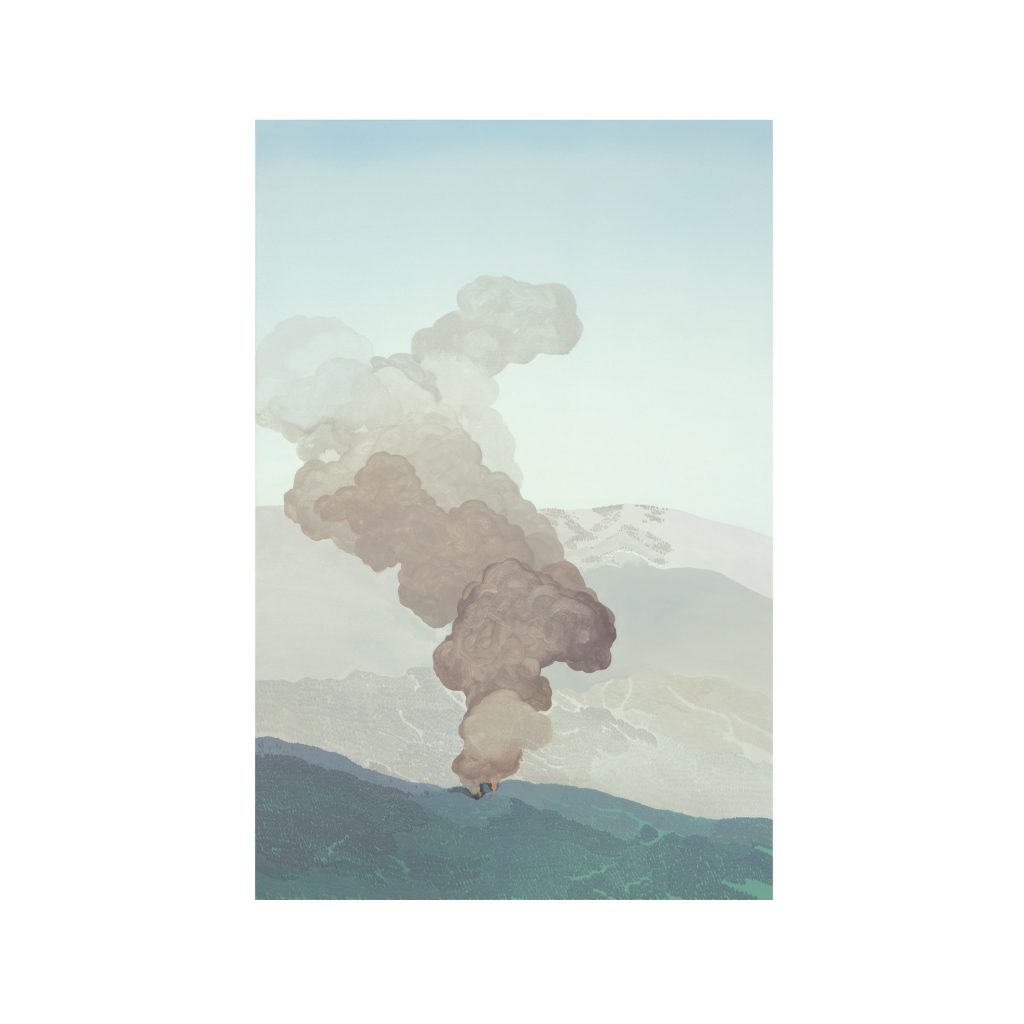 Even though there was no big release show in the cards, the band still had a lot of cause for celebration. Almost exactly a year had passed since their last day in the studio, the record sitting in limbo waiting for outside ears. It also marks their first record with indie-label Run For Cover Records who happened upon them on a whim.
"They read a piece on us on [a] blog, checked out our first record in their offices and liked it. They reached out to us and we met them at SXSW. They have a history of doing co-releases, and we wanted to work with Keeled Scales again too so it ended up working out."
This isn't the first time they've had a chance encounter like this. The band made their first record without a label, and Tony Presley – the co-founder of Keeled Scales – happened to be living above the studio where they were recording. Thankfully, he didn't call the landlord to complain; he signed them instead.
"[There are] very different audiences between Keeled Scales and Run For Cover, I would say. I think we were aware of that but not feeling any pressure by it. We were just excited to do our thing and hopefully have a wider reach between the two. We keep our expectations low," Laura says with a laugh.
I saw a fine young man in a two-thousand dollar suit / Do his best Bob Dylan for a crowded room…

Sun June – 'Karen O'
With that being the case, their expectations should be wildly exceeded. Somewhere creates an almost movie-like atmosphere, its shimmering guitars and reverby palettes laying a blanket upon which Laura's voice can comfortably rest. It's a record that takes its time, something the band is immediately self-aware of.
"Laura had this synth line for the beginning of 'Once In a while', but we had only ever played it on our electric piano," Stephen recalls. "She got to use a nice vintage synth [in the studio] that had a different tone to it. When she recorded that piece and we heard it alone at the start of a song – that was an a-ha moment."
"I would agree with that actually. That was when we had the [idea] of making it even slower! We're such turtles," Laura quips.
Despite making such a consistent record, the band tapped into a wide variety of influences while making Somewhere. With one of the record's highlights being a song called 'Karen O', it's immediately apparent they look up to the Yeah Yeah Yeahs and O's solo work. Among others, they also cite Beach House, Kevin Morby, Feist and Angel Olsen as impacting the band's writing sessions. Stephen went so far as acknowledging his long time affinity for older punk music that manages to sneak into his work.
"I heard someone describe punk music like 'they were trying to play rock and roll but they weren't good enough, so something new emerged'. Sometimes I feel like that about us! Like it's kind of embarrassing – Feist [for example] is just unbelievably good. We're aiming there! Haha. But if we don't make it, we'll just sound like us."
With each member realising their space in the mix, this appears to come naturally. Flashiness is not in Sun June's repertoire – they play as a team. Though just like every team, it's clear there is a captain.
"Laura rules all. She's constantly telling us to know our place," Stephen jokes. "It's all very collaborative, but I think it's kind of filtered through Laura's vision in the end."
A simple "maybe" is all the acknowledgment she will provide.
Now that the record is out, the challenge becomes finding momentum in the midst of a lockdown that's preventing any live events from occurring. Although they've found live streaming a bit weird – and are as anxious as the rest of us about not having to watch concerts through an iPhone any longer – they've managed to find other ways to keep the creative juices flowing.
"Making music videos has been one thing we've tried to do while isolated," Laura tells me. "Usually Stephen and I are co-directing them, but then I had to do it on my own because he left."
"It worked out great!" he quips.
Like most musicians right now – speaking from experience, here – the pair have been filling the void by purchasing new gear so they can work a bit more productively during the time apart. On Stephen's end, he tells me he recently spent way too much money on a drum machine and is "trying not to regret it."
"I'm also trying to supe up my own recording gear at home – that way we can keep demoing and sharing things together. Before this, we shared everything in one place, Stephen and I," Laura says. "Most of the band is still here. We've been rehearsing the songs and jamming every now and then when the weather is nice and we can do it outside safely. I think it has been working out well so far."
She pauses for a moment before finishing.
"I don't know. We're trying."
Aren't we all?
Listen to Sun June's fantastic sophomore record on Spotify or Apple Music, and pick up a physical copy through Bandcamp.