James Smith's music videos are generally quite sombre. 'My Oh My' sees him looking crestfallen upon a rooftop, back to fittingly moody skies, whilst 'I Don't Wanna Know' positions him alone with his guitar under a spotlight in a dark room. They're atmospheric and emotive — largely fitting his lyrics. Over the phone, however, James couldn't be further from that moodiness — he's extremely chirpy for a Tuesday afternoon, and it's something he recognises is at odds with his sound.
"I'm really not the person I portray myself to be singing," he laughs. "I feel like in real life I'd never say any of the things that I sing, ever. I'm pretty chilled about a lot of things and have a laugh, and then when it comes to singing it's my time to actually be serious. I'm definitely not the guy to wallow — my music sort of does that for me." 
His latest release, the District Line EP, is definitely heart-wrenching enough to facilitate that. It makes sense that he's so cheerful over the phone — every last bit of heartbreak seems to have been poured into each note. A collection of tracks that were born as hushed voice notes recorded on the very District Line from which the EP takes its name, it's a complete baring of the soul.
"I do a lot of that when I'm travelling — I seem to spend so much time on the tube. All four songs started as little voice notes," he recalls. "I've got so many. I try to save the best ones for the best sessions. If I'm having an off day, I'll never try and force one of the voice notes because I'll ruin the chances of that being special."
Luckily, each of the four tracks on District Line undoubtedly feel special. The authenticity of how each track was born is palpable throughout the EP — it's tender, yet vehement.
"I wanted the EP to be super natural, and not feel too forced," James explains. "It's the first EP I've put out independently, so there was no label pressure of needing to have pop songs, or hits, and that sort of stuff. With [the song] 'District Line', which is my favourite on the EP, I don't think I would have gotten away with that sort of tune when I was at the record label. But because it's a song I love, I could just put it out there and production wise, I just had fun with it."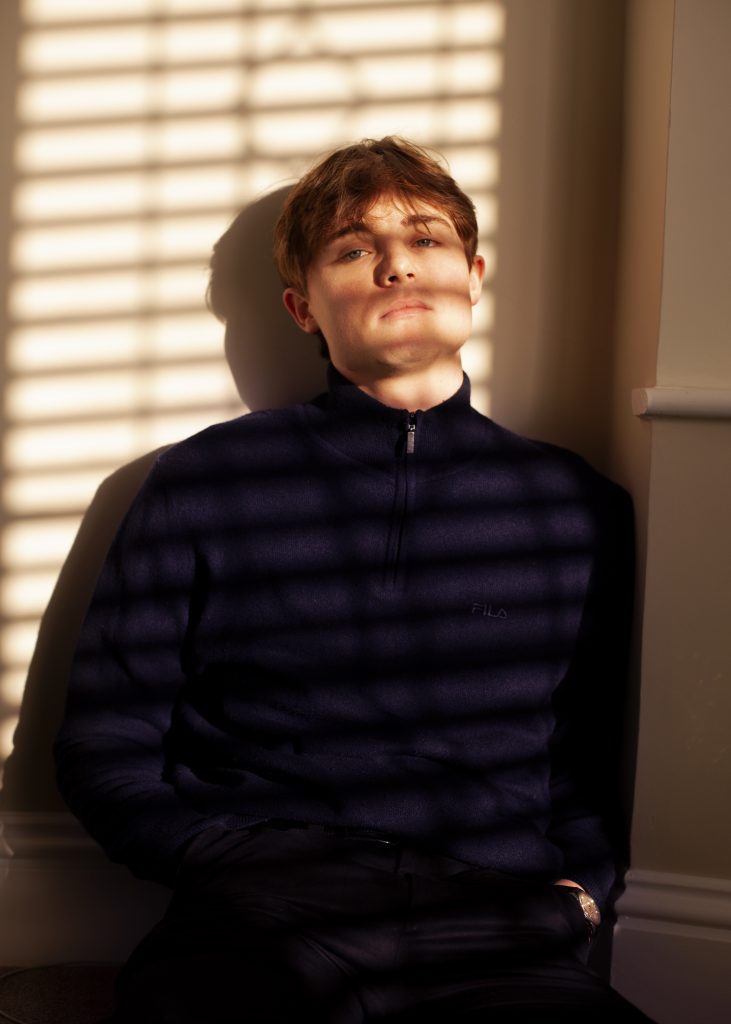 The titular track is a standout on the EP — it brims over with nostalgia, the kind that affects you even though it isn't even your experience. It's a familiar story though; one of the difficulties of navigating remaining on good terms with an ex, when every conversation becomes a time capsule of the time spent together being more than that. 'District Line' captures that liminal space the experience occupies perfectly. Laced with personal intricacies, it still somehow manages to evoke a universality to it.
"I write a lot. I'm always in sessions, and with a lot of different people as well. I find that saying things really specifically is a good way of writing," says James. "If someone comes in and says 'oh, I've just broken up with this boy, and we're rowing' and all that, I'll just ask what's going on, and what specific thing they've said, and put it over a melody — it works nowadays.
"I definitely think there's a balance of doing that in verses, but when you get to the chorus, you want to try and open the lyric up to more of a universal thing. I think that's why choruses are so hard to write and cut through. If I was to make everything specific, it would just be mad, it wouldn't work."
Clearly, the 22-year-old is more than adept at tapping into that shared consciousness. It's perhaps why so many coming-of-age films ruminate on the same themes — they may be normal and recurrent, but the emotions they evoke still hurt all the same. James plays on that: 'My Oh My' is the most colossal moment on the album, chronicling the melodrama of a relationship's dissolution but pushing it to newly ambitious heights sonically. Whilst many of his releases previously have remained stripped-back, 'My Oh My' is a play on exhilaratingly encompassing choral sounds.
"It's just me and my mate Martin screaming down the mic," says James, though a recent performance on The One Show saw him accompanied by House Gospel Choir. "I spent a lot of time on that tune particularly, because I tried a lot of different versions. I did a version that was super produced and big with massive drums and stuff, but then I felt like it was doing a bit of a disservice to the song. I thought, let me just strip it right back and have piano, a little bit of drums and the choir vibes. It seems to have more of an impact that way." The result is completely stirring.
I find that saying things really specifically is a good way of writing…
"I think it's nice to hear pop music done in this particular way. A lot of artists aren't doing this at the moment, trying to hit mainstream pop but with that real old school influence in it. I think it's nice to hear actual musicians play on these pop songs." 
In the wake of the resurgence of disco-tinged, synth-heavy pop, singer-songwriters have sat on the back-burner for the past couple of years. James' sound might seem more subdued than what dominates the charts right now, but that's part of its charm. It's inherently soothing in that signature heart-felt, folk-inspired manner, but it strays from the formula somewhat too.
"I've got a big vinyl collection, so I'm always listening to a lot of stuff. This in particular was really influenced by a lot of folk music, and even some Brazilian stuff I listen to. Those minor, weird influences put into pop music are so cool."
It's not just his extensive collection that works its way into his sound, though. Aside from his own music, he's also a bit of a production-aficionado, it turns out. This last year has seen him work with various different artists on their own projects. It also offers him a creative freedom that the perfectionist approach he adopts for his own production doesn't necessarily give room for.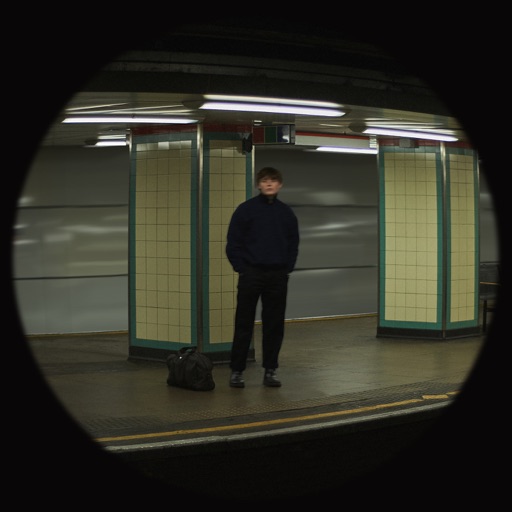 "I beat myself up on my own stuff quite a lot, and there's a lot of restrictions that I put on myself — all my music has to be live, and I'm very keen on having all live instruments in all the songs. Whereas, when I work with other people, I can be free to do whatever, and production is a lot more fun that way."
That's not to say that the making of District Line wasn't exciting, though. "[Making] it was jokes!" James laughs. "There's only three of us involved, which is crazy because usually pop artists work with so many people — this one I just produced the whole thing myself, and wrote it with Martin and my mate Ryan. We just got on the piss and had a load of drinks and stuff and it was fun!" 
It's nice to hear actual musicians play on pop songs…
It seeps into the EP a lot. Lyrically, they might be roaming around melancholic territory, but there's an infectious, earnest passion at the core of the EP. That passion is similarly present across his social media too — the pandemic saw enforced efforts at laidback covers and ventures into TikTok.
"I hate social media, I really despite it," James muses. "If I wasn't an artist, I wouldn't have social media, but TikTok and this whole new wave of music through social media is actually quite a good thing. I need to get my TikTok game up, I'm slacking! There's some really good music coming through, it's just a lot to expect from artists now. Especially when you write and make it all — that's a full time job, but then social media can be a full time job as well. To keep up your Instagram and Twitter and TikTok and Snapchat… it's so much stuff to do all the time but I think it's worth the graft."
TikTok making has definitely tapped into a creativity for James, though, one he has embraced in his music videos. 'District Line' is a particularly poignant one. 
"We went back to where I grew up," he recalls. "My girlfriend's sister directed it. I've worked with a lot of different directors in the past, and I've always struggled to be really personal. With this one, I just sent her my complete camera roll and then my nan sent her a load of videos from when i was younger and we put together this little vibe where it says a bit about me — it was fun."
It's a fitting video for the track, a montage of James' life so far. From singing karaoke, to dressing up like Elvis, to doing pull-ups on the tube line that stands for so much — it's perfectly timed. 'District Line' marks the end of that chapter that its video documents so sentimentally.
With a new song on the way shortly, District Line perfectly signifies the end of an era for James — one that he'll doubtlessly look back on affectionately.
"I felt like the EP was sort of a final goodbye to that side of me as an artist. I definitely think the topic is all the same things that I've been writing about for the last five years… especially with [the title track's] ending. The tube doors close at the end of the tune, and it's all about saying goodbye to that side of me. It's cool, I think. But I reckon it's time to do an album now."
Stream District Line now on Spotify, or wherever you stream music.