Carly McClellan, as CARR, has just released one of the best EPs you'll hear all year. I'm Just Bored is equal amounts brash and catchy. The seven songs hearken back vibes of Girl In Red or Avril Lavigne, not-so-subtlely wiggling their way into your brain as if their one goal is to erase any trace of other music in order to be the sole, dominant songs stuck in your head. If you've been waiting your whole life to sing along at the top of your lungs to a song about a guy with a tiny dick… well, this is the record for you.
In celebration of the release, CARR has taken us through the new EP, track by track. We asked her to cover a few basic topics:
About the song
Favourite lyric from the song
Micro-review (5 words or less)
On a scale of 1-10, how bored she was when she wrote the song
Read on to learn more, and be sure to stream I'm Just Bored today.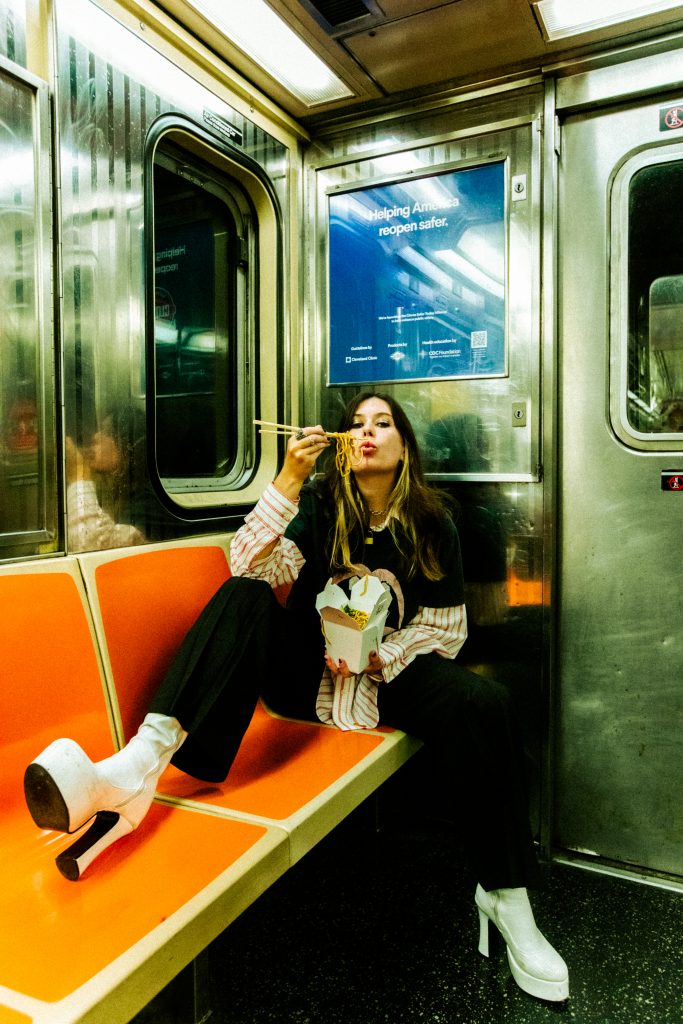 'LOSER'
About: A song I wrote about dating losers, I really wanted to make a break up anthem that people could blast in their cars to help get over someone awful.
Favourite Lyric: "Now you're all alone with your tiny dick…"
Micro-review: Chaotic but true
Boredom Rating: 9

'CARRTOONS'
About: A sweet song about hanging with someone you like and doing nothing, but having the best time. Me and my ex boyfriend used to watch a lot of cartoons and they're some of my favorite memories.
Favourite Lyric: "I like watching you watch cartoons in my room, its just you that I mess with…"
Micro-review: Cute and nostalgic
Boredom Rating: 5
'SPRINTER VAN'
About: A song about wanting to have a one night stand with someone in a band.
Favourite Lyric: "Take me to your moms house, I know you wanna do me…"
Micro-review: I love toxic men
Boredom Rating: 7
'AIRHEADS'
About: A song I wrote about a specific night I had with someone, where we laid in bed all night and ate airheads.
Favourite lyric: " I really thought you wanted me, I didn't think you'd be my sugar coated misery"
Micro-review: I got ghosted
Boredom Rating: 4
'KISS ME WHEN I'M DEAD'
About: An upbeat fun song about someone that really wants you, but can never have you.
Favourite lyric: "You can kiss me when I'm dead, you can fuck me in your head…"
Micro-review: Ended up kissing this person
Boredom Rating: 8
'SCARY MOVIE'
About: I really love horror movies and I wanted to write a song about the stereotypical dumb guy in the movie that gets murdered early, and the level headed girl next door that makes it to the end.
Favourite lyric: "'Cause you're handsome, but you're stupid…"
Micro-review: Weird but kinda cool
Boredom Rating: 10
'FRENCH FRIES'
About: A song about dating someone boring and dipping your French fries in their milkshake, which to them – 'cause they're boring – seems like a crazy thing to do.
Favourite lyric: "You let me steal your French fries, too bad you're such a nice guy…"
Micro-review: Nice guys are boring
Boredom Rating: 8
CARR can be found wherever you listen to music. Just don't sing along too loud if your mum's around.