When Gemma and I were first coordinating our interview, I had only one stipulation: "We just need to schedule this when my wife's not in labour." Sure enough, we made it.
I've been communicating with Gemma Laurence for over a year now – she introduced me to one of my new favourite bands last October, a trio I'm proud to also call my friends now. She was even in the audience for my band's first New York City show this past summer. Needless to say, when she first delivered the news about Lavender, her second proper solo record, I immediately said, "Sign me up for an interview!" despite my upcoming big life change and inevitable sleep deprivation.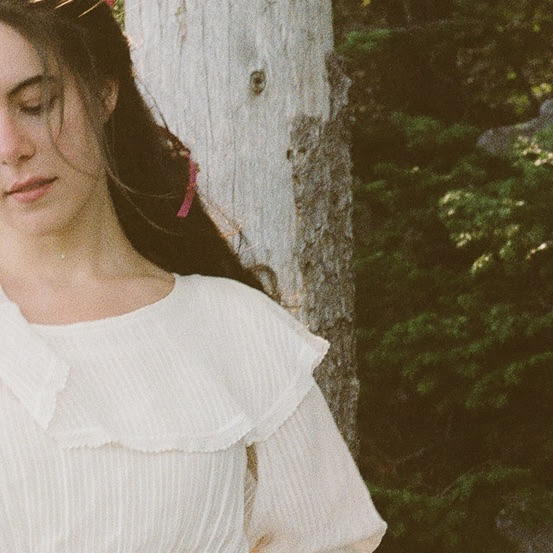 While counting down the days to the birth of my daughter, I spent a good amount of time with Lavender. Its eight tracks are meticulously thought out and arranged, simple by nature but emotionally captivating at their core. Two of Gemma's favourite artists are Gregory Alan Isakov and Courtney Marie Andrews, both of whom not only have three names, but also would gel rather nicely on the same stage with her. Sonically, she manages to embody Autumn in New England perfectly on Lavender, which makes sense given that the record was conceived in her childhood home in Maine.
"I was living in my childhood bedroom for basically all of 2020," Gemma reflects. "I had these big dreams of moving to New York after graduating college in February of 2020 – a bad time to graduate, objectively. I moved there for a week and then COVID happened. So I moved back home and applied for a bunch of jobs, but the economy was terrible, especially for the music industry. I worked on my own music and took the time to be introspective and think about memories, places and times in my life and sit down and be present. I think that was much needed after I graduated; I'm somebody who's always busy."
Revisiting one's childhood home is often an instant flood of memories. You're hit with visions of old haunts from adolescence and familiar feelings while driving down the quiet back roads behind town. For Gemma, it was the perfect bout of inspiration for an album that, at its core, is a big trip down memory lane.
"I definitely connect most with music and poetry that is very set in a place and time. You know those songs that are so transportive?" she asks, as I nod, profusely. "They just bring you to a specific space. That's definitely the goal: to create a world with [my] music and transport listeners into that world. I used to think in order to do that, you have to make songs that are pretty universal, but I'm realising now that the more specific you get in your own experience, the more universal it is."
A great songwriter is savvy enough to take specific moments from their own lives, and translate them into lyrics that can make a listener feel like they were present when they obviously were not. Gemma has a knack for this. A song like 'Adrienne' may feel immediately familiar, but the one-night stand it's about is uniquely personal. And then there's 'Morningside Heights', a song about reflecting on the simple joys of a relationship, even after it's long ended.
"Walking through Morningside Heights on an afternoon in October was the last time I saw one of my partners before we broke up," Gemma recalls. "It was such a purely happy, wonderful memory. Getting accidentally really fucked up on whiskey from free samples at a farmers market and stumbling around at golden hour – sometimes with relationships, you look back on them bitterly if they don't end very well. This album is about looking back at those relationships and the beautiful parts of them too. Not in an 'I wish I was still there' way, but simply looking back and realising it was really lovely and meaningful."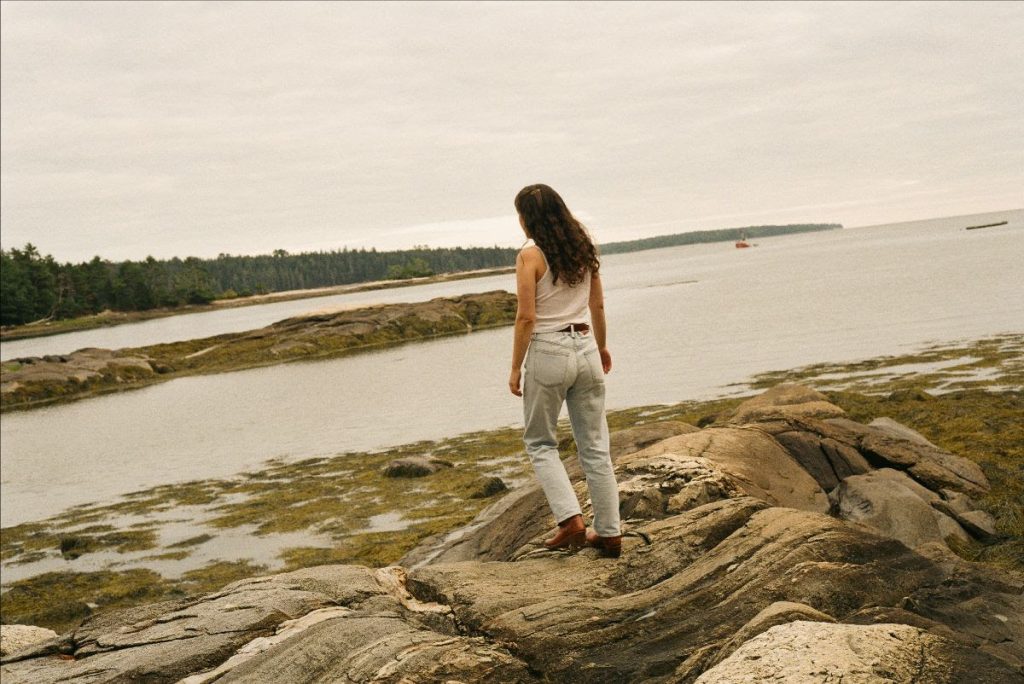 'Watchdog', the last song to be written for the record, is particularly poignant. When the lyric 'My watchdog heart is sleeping by the back door with one eye open….' first hits you, the hairs on your arms start to stand up, not unlike those on a dog's back when distressed or anxious. It took her own dog – an 11-year-old golden retriever named Scout – to provide the inspiration for the song in the 25th hour.
"I had seven songs and I knew that I wanted an eight track album – like Joni Mitchell's Blue. But I couldn't figure out what I wanted to write [the final song] about," Gemma admits. "I decided to go on this writer's retreat by myself in January of 2021. I booked this AirBnb in Vermont for like three weeks and Scout and I stayed in this tiny cabin, powered by a wood stove in the middle of the woods. My one goal was leaving the cabin with a song.
"[Scout] is very anxious and she slept by the back door of the cabin, and wouldn't get up. She would sleep there so that any time I left, she would wake up and be really alarmed and startled. It was annoying, and I [remember thinking] 'why can't you just trust that when I leave I'm going to come back?'"
It was near the very end of their stay that this flippant thought spawned a lightbulb – the universe sent her the perfect metaphor right when she most needed it.
"I also have an anxious attachment style and this feels exactly like what my heart's doing all the time – any time somebody new comes in, I'm scanning the horizon for threats. 'Watchdog' is about learning how to trust somebody again."
The song itself also inspired the most ambitious project Gemma's been a part of to date: an eight minute mobster film that doubled as a music video, filmed in just 48 hours. She recalls showing the album to a film industry friend who took an initially simple concept to grandiose heights (as creatives often do).
"After a couple weeks, he pitched me something: 'Mafia film, make it gay, all female cast," she laughs. "I was immediately all in. It's a song that's all about learning how to trust again after you've been betrayed, and learning how to be infatuated again. He said there's no better genre of film to explore that in than a mafia film. So he wrote a script and four months later, we had this 60 person crew all jammed into a one bedroom apartment in Williamsburg. It ended up being so much bigger than I thought it would be."
Collaborating with film industry folks was just the cap on a long, collaborative process making Lavender. Perusing the album's credits, you'd be surprised at the sheer amount of names behind what is otherwise a pure solo record. For Gemma, it was hardly a "too many cooks in the kitchen" sort of scenario – in fact, just the opposite. It expanded her creative horizons and left her feeling more inspired than ever before.
"Every voice and every musician on the record really brings it to life," she gushes. "I never intended that to be the case but it ended up being this showcase of so many different people in my life. It's very rich with texture too because of everybody's different styles and personalities.
"I've always been a solo artist. I've never had a band before [Lavender]. It was kind of serendipitous and I think I'm only going to record that way now!"
Serendipitous is an apt descriptor for Gemma's musical journey as of late. One of her collaborators ended up being Steve Varney, the banjo player and backing vocalist for one of her favourite artists, Gregory Alan Isakov. He also lent his voice to Lavender, which came out of one of those strange, wouldn't-happen-if-not-for-COVID encounters.
"Steve was offering banjo lessons on Zoom, so I signed up. Once a month, I showed him my music and we workshopped my songs. It's crazy to me because he's someone I've seen on stage multiple times and totally look up to. I'm so used to hearing him in one ear with Gregory in the other, and now I have Gemma in one ear and Steve in the other!"
And as if that isn't enough, she recently had the opportunity to meet one of her heroes, on national television. When she and her friends learned that Norah Jones was going to be on The Tonight Show with Jimmy Fallon, they waited in line for tickets. After making it inside, a pre-show call for musicians landed Gemma and her music the most visibility to date.
"It was crazy! We were in the audience and one of the people behind the scenes came out and asked if there were any musicians in the crowd. I was like, 'yeah!' They selected me and this one other guy, and they gave us a prompt: we each had one hour to write a song. It's this bit they do like once a month. I'd seen it before so I knew of it, and I was kind of disassociating the entire time. When I was up there and doing the thing, it just felt so weirdly like a dream – 'I'm on stage with Jimmy Fallon!'"
At the end of the day though, Gemma isn't in this for the surreal experiences. Lavender is a three-year-long journey of documenting memories and tales of human existence – "a collection of vignettes from moments of my life with different characters that all interweave" as she so eloquently puts it. She holds one of these vignettes to a higher standard than the rest – the title track, which is not only one of the most memorable songs on the album, but an anthem to the queer community that she's proud to be a part of.
"It's a song I wrote for my best friend," Gemma tells me. "I went to college with her and I wrote that song in the aftermath of her transition. I've been friends with her for a very long time, I was there for her throughout her transition and she came out on stage – it was an absolutely beautiful thing. She was really embraced by our community but, like for so many trans folks, it's really hard coming out. Even when you're surrounded by people that love you. I don't know that experience personally – I'm a queer but I'm a cis woman. I wanted to write her a song telling her I loved her basically. It's a song honouring her transition and the hardships but also the joy that comes with it."
It's hard not to see it as the backbone of the record, lyrics like 'Anxiety is little league and fear is the locker room,' and 'I know it's not easy to be the woman you were born to me…' particularly hitting home, regardless of whether you identify as LGBTQ+ or not. It covers not feeling totally seen by the people in your life, and it's all the more poignant that the lyrics draw on images from actual conversations she and her friend have had throughout their friendship.
"I wanted to capture the feeling that she was talking about in our many phone conversations over the pandemic and beforehand. When I showed her an iPhone demo, she was crying. She felt so seen and really appreciated it. That's when I knew I wrote a song that I was really proud of. Even if nobody else connects with it in the world, this person that I wrote it for did, and that's the most meaningful thing to me."
---
Lavender is out now on Better Company Records. You can stream it wherever you enjoy music, or pick up a copy directly from Gemma on her Bandcamp page.