If you're anything like me, January's grey skies are wrapped around your neck while its bitter temps prick your entire being from eyebrow to pinky toe. Thankfully, swooping in to save us is J.W. Francis and his sunny new lofi record, Dream House. 
Armed with poppy ditties, relaxed jams, and lyrics that melt your heart, this infectious record will not only put a grin on your frozen, grumpy face, but make you want to get up and dance. Each song on this album was derived from one of the hundreds of tunes J.W. has written over the past three years around Valentine's Day for listeners who send him the name of their valentine and the reason they love them. Yeah, I know, this man is the definition of pure.
The record starts off strong with 'Going Home to a Party', easing listeners in with what begins as a typical indie pop tune that sets itself apart in the chorus. He keys into his weapon of choice for the album, a nice layering of keyboard melodies, to accompany the quick-stepping drums and guitar. It features some of my favourite lyrics because of their simple, beautiful vision of love: 'I'll get there somehow/You always show me what to do…' followed in the pre-chorus a bit later by 'Now it's time you enjoy you…' Platonic or romantic is for you to decide, but what's more definitive of love than the idea that your other person is your guiding light and deserves to love themselves just as much as you love them? 
He shows us the clouds to his sunlight on the title track, 'Dream House,' a laid-back track driven by the floating melodies of the keyboard and electric guitar which oscillate between centre-stage and background, leaving the listener grasping for it the whole song. This longing sensation couples perfectly with lyrics that grapple with the loss of a loved one while appreciating all that they've given you in your time together. Particularly gut-wrenching are the lines  'Wish I could show you how far I roamed / Borrowed so much from you / You would feel home,'" with J.W. kicking me down again in the chorus with 'God, which god would it take to be in your arms again?' I mean, seriously, just leave me here while I simultaneously sob and am comforted by his calming voice. 
Now, despite all my praise, I have to admit that I couldn't get on board with the experimental interlude 'All Night Long.' The only lyrics are 'all night long' sung in a low, gravelly voice. I understand what he's aiming for with this repetition, it's an album about love and I've had the birds and the bees talk, but I just didn't jive with it.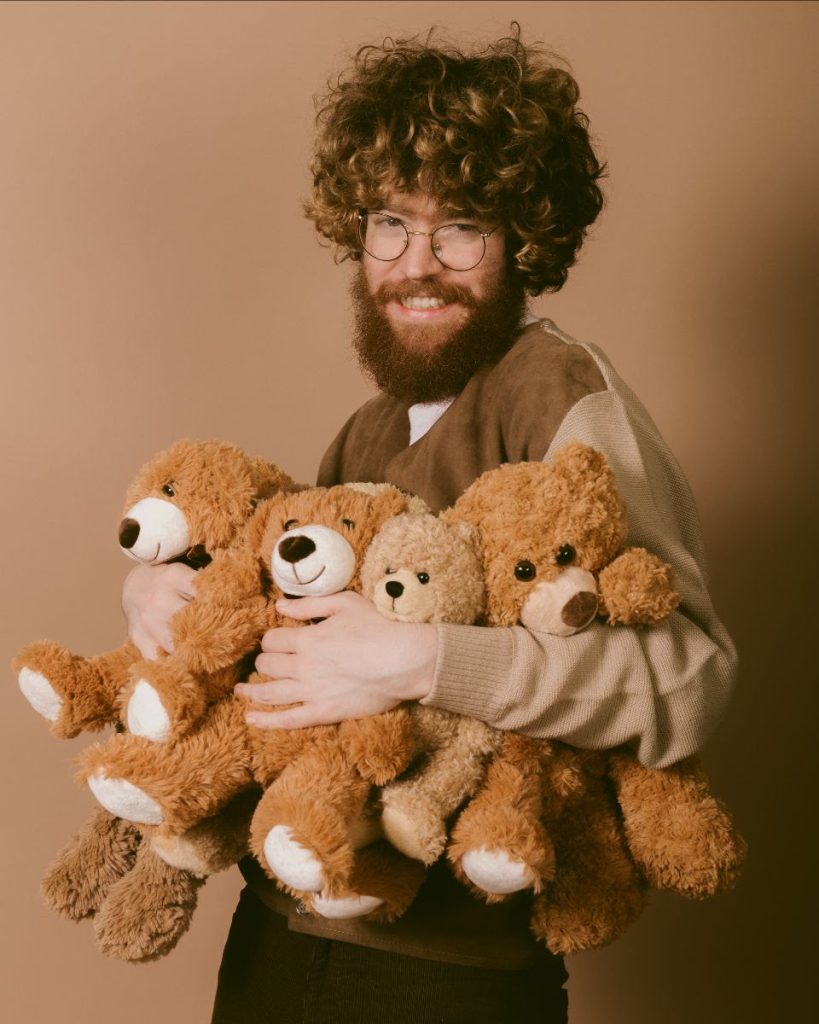 On the other hand, 'I Wanna Be Your Basketball' features Margaux Bouchegnies, who provides a lovely contrast to J.W.'s baritone. Together they sing what is perhaps the most relatable lyric on the album for anyone with FOMO: 'Don't tell me how much fun you have, don't wanna hear about it…' Then there's 'Dream Big,' another standout due to its capacity for childlike wonder and captivating musical structure. What if everyone really did have the same dreams and we could chat about them over jam and toast? Moreso, what if our actual goals aligned and we could work together to achieve them? J.W. thinks about this as his vocals glide across the smooth instrumentation, before kicking things up at the three-minute mark, driving it home to a breaking of the fourth wall where we hear the distorted recordings of a conversation. It's enough to be a little freaky, but still gives that same giddy feeling of "Hey! This artist is real! They're talking right here!" 
While at first glance J.W. may seem like another 21st century hippie hopping on the lofi bus (he even calls himself a "lo-fi slacker"), he's clever with his music and lyrics. He reminds us that we're all facing moments of grief and love, but rather than run away from their complexities, he has chosen to invite them to a party in the comfort of his own home. After a few listens, perhaps you'll feel empowered enough to do the same.
Haiku Review: 
Party in your ears 
I may have shed a few tears
It grooves nonetheless 
J.W. Francis' new record can be streamed and purchased over at his Bandcamp page.